Laura Ingraham Mocks Pete Buttigieg Over 'Village People' Outfit
Fox News host Laura Ingraham used a segment of her nightly show on Thursday to mock Secretary of Transportation Pete Buttigieg for appearing at the site of a train derailment in Ohio that led to a toxic spill dressed in a hard hat and a high-visibility vest.
The newscaster compared Buttigieg's look in East Palestine to children's cartoon character Bob the Builder, and also likened it to the construction worker's outfit in the famed Village People music video for their 1978 song "Y.M.C.A."
Buttigieg made his first visit to the crash site on Thursday—three weeks after the derailment occurred on February 3 and a day after a visit by former president Donald Trump, who criticized the federal response to the accident while there.
The transportation secretary himself faced criticism from both sides of the aisle for a perceived lack of response to the toxic spill, waiting until February 14 to comment publicly on the incident. He has also been questioned on why he had not visited the site sooner, saying he refrained from doing so to allow for an independent investigation by the National Transportation Safety Board (NTSB).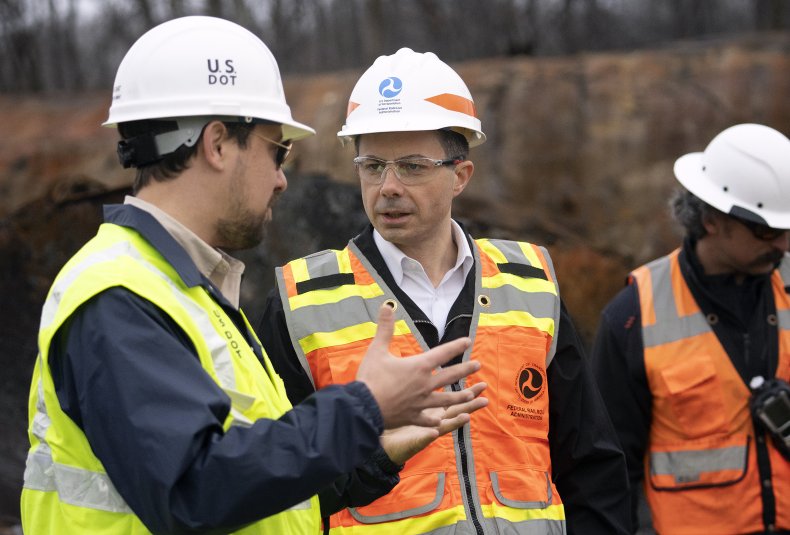 Republicans have also hit out at President Joe Biden for visiting Ukraine on Monday before any visit to Ohio. Trent Conaway, the mayor of East Palestine, described the trip to Kyiv as a "slap in the face."
During his tour of the crash site, Buttigieg defended the administration's response to the toxic chemical spill and made barbed remarks to reporters about Trump's sincerity.
He said if the former president—who is chasing the 2024 Republican nomination—felt strongly about increased rail safety efforts, "one thing he could do is express support for reversing the deregulation that happened on his watch," according to the Associated Press.
During Ingraham's segment, Buttigieg's face was photoshopped onto an animated clip of Bob the Builder, before the character and the transportation secretary were shown side-by-side.
"After seeing the reception Trump had in East Palestine yesterday, Pete finally realized it was time to show up—but did he really need to dress up?" Ingraham commented.
"Did he not know that if you want to be taken seriously then you can't look like you just stepped out of a Village People's music video?" she added. "That does not work."
When asked to comment, a Department of Transportation spokesperson told Newsweek: "Secretary Buttigieg was at the scene of the Norfolk Southern train derailment where personal protective equipment (PPE) was required of everyone, as every single picture shows."
The derailment of 38 out of 150 rail cars—11 of those containing hazardous materials—sparked a large fire. Fearing a massive explosion, emergency responders intentionally breached five cars of vinyl chloride, a toxic carcinogen, and burnt it off, releasing toxic gases phosgene and hydrogen chloride into the atmosphere.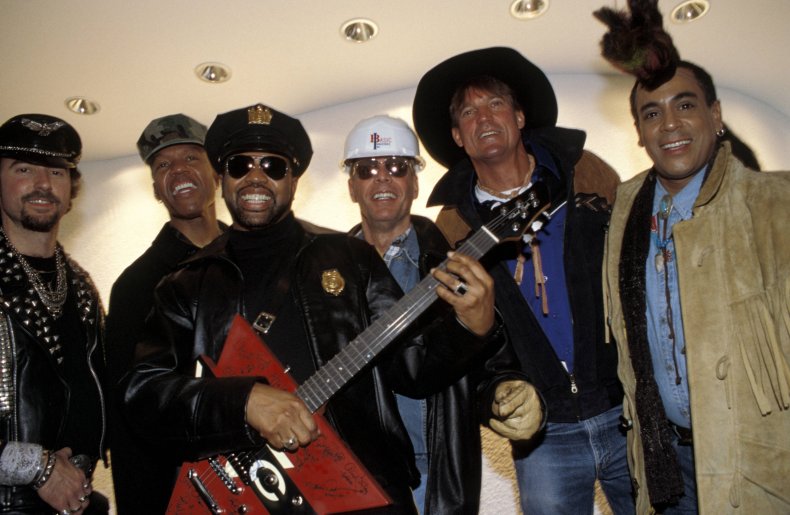 Environmental Protection Agency officials have detected toxic substances in the nearby water and soil, some of which remains contaminated, but have stressed air contamination remained at safe levels.
However, since being allowed to return home after being evacuated, residents have complained of symptoms associated with exposure to toxic chemicals, and experts fear spilled chemicals could leach into nearby private wells used for drinking water. Residents with private wells have been told to drink bottled water.
"We will never forget the people of East Palestine, and we will support them with everything we've got," Buttigieg said at the crash site,.
"The best way to deal with an ecological disaster is to stop it from happening in the first place," he added.
On Tuesday, in a series of media appearances ahead of the trip, Buttigieg told ABC that when he did go to East Palestine, "the focus is going to be on action."
The interviews came as part of a push to improve rail safety in the wake of the derailment. The Department of Transportation is looking to require a minimum crew of two people on trains, and is calling for Congress to increase the maximum fines for violations of safety rules.
In a preliminary report on the Ohio derailment, issued on Thursday, the NTSB said an emergency alarm system had detected an overheating wheel bearing, which failed as the crew tried to slow the train to a stop, leading to the derailment.
Update 02/27/23, 5:10 a.m. ET: This article was updated to include comment from the Department of Transportation.