Lindsey Graham Calls Out AOC for Conflicting Border Reactions Under Trump, Biden
GOP Senator Lindsey Graham of South Carolina asked, "Where are you?" to Democratic Rep. Alexandria Ocasio-Cortez of New York, calling her out for not visiting the Southwest border, where he said conditions are "worse" for migrants than those under former President Donald Trump.
"There used to be Democrats who understood to get legalization on the table, you had to address the underlying causes of illegal immigration," Graham said to reporters on Wednesday. "Those voices have been silenced. The open borders crowd is now firmly in control of immigration."
Graham's comments refer to a situation at the U.S.-Mexico border, where about 7,700 children are in the care of the Department of Health and Human Services.
There has been facing a major influx of migrants since President Joe Biden's term began earlier this year, and the care of unaccompanied migrant children in immigration custody has become a major flashpoint for Biden's critics.
Graham added that it was not an "unreasonable request" to "most" Republicans to address the underlying issues with immigration in order "deal fairly with those who've been here a long time." But he posited why a progressive member of Biden's party like Ocasio-Cortez hasn't been as outspoken on the president's border policy as she was against Trump.
"Why aren't you at the border looking at the things being reported?" Graham asked to Ocasio-Cortez. "If you were worried children under Trump being in bad conditions, this is worse. If you're worried about people having COVID outbreaks, this is the biggest COVID spreader in the entire country. So where are you?"
Ocasio-Cortez was a major critic of the Trump-era "zero tolerance policy," which resulted in the separation of thousands of immigrant families. In 2018, she visited detention camps at the border to protest Trump's policy. She posted to Twitter: "I confronted the border officers myself. Using their names, I told them exactly what they are responsible for."
Biden has since repealed the policy. Unlike Trump, Biden is keeping unaccompanied migrant children in the country while he rejects single adults and entire families, and his administration has refused to notion its policy is "tearing" away kids from their parents, White House press secretary Jen Psaki told reporters last month.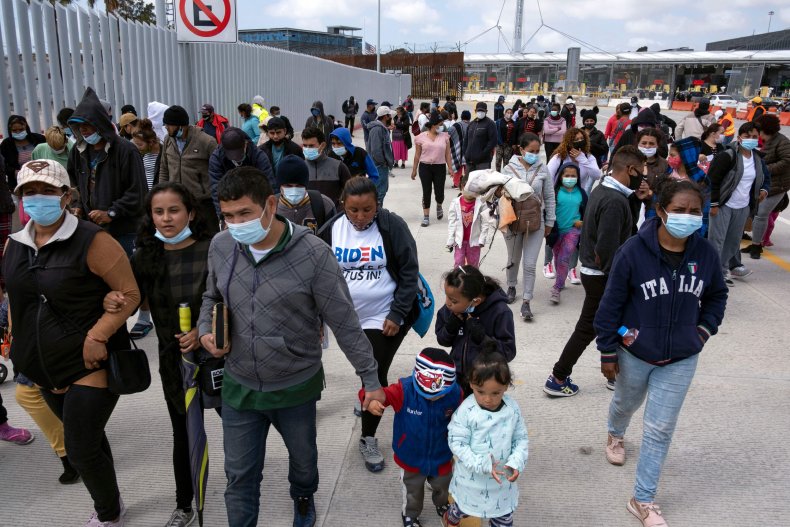 While the Biden policy does not call itself an "open border," as Graham said, some of the dangers facing migrants the senator mentioned are true.
The surges of solo child arrivals have overwhelmed border stations and immigration facilities, forcing kids to wait beyond legal limits to have their cases processed and be relocated with guardians or sponsors. In order to accommodate the crowds of children— amid a global pandemic—the Biden administration chose to open five new intake sites and extra care facilities to temporarily house migrant children—increasing bed capacity to 13,500. High rates of migrant children have tested positive for COVID19 in immigration facilities.
Ocasio-Cortez was immediately critical of the move to open the facilities for children last month.
"This is not okay, never has been okay, never will be okay—no matter the administration or party," Ocasio-Cortez said in a tweet in response to Biden opening the facilities for children. She also went on to say U.S. Immigration and Customs Enforcement "gotta go" and DHS "shouldn't exist."
"Our immigration system is built on a carceral framework," wrote the congresswoman. "It's no accident that challenging how we approach both these issues are considered 'controversial' stances."
But Graham's comment to Ocasio-Cortez calls into light his own actions to support the lives of migrants. He said to Fox News' Sean Hannity on Tuesday night that migrant children could "easily be terrorists tomorrow," further spreading the message Biden's actions at the border are accountable for national security threats.
Newsweek has reached out to Ocasio-Cortez for comment in response to Graham, but did not receive a reply by publication time.