Manchester's Muslims Fear Further Radicalization After Concert Attack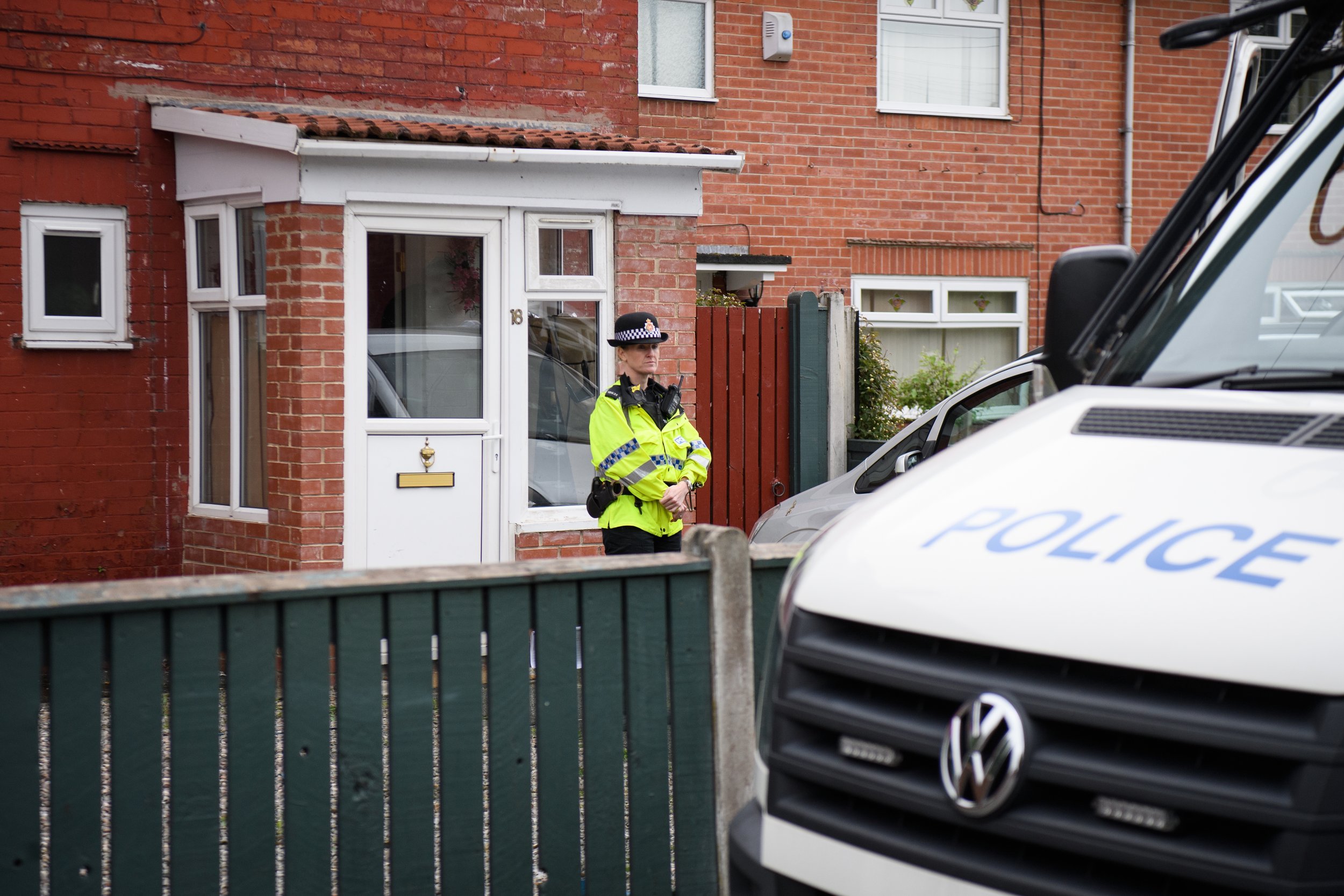 The names of businesses and restaurants along Wilmslow Road in Manchester's Rusholme district—affectionately known as the Curry Mile because of the density of Pakistani, Bangladeshi and Indian restaurants—read like a guide to Islamic culture.
At one end is My Lahore, a British-Asian chain restaurant named after Pakistan's second-biggest city; the Beirut restaurant and takeaway, after Lebanon's capital; the World of Islam, a shop stocking clothing, books and "all things Islamic;" and, just off the main strip, Saladin Online Gaming, presumably named after the Kurdish warrior who led Muslim armies into battle against Christian crusaders in the 12 th century.
The area is a reminder of the contribution of Islamic culture in Manchester, a multicultural northern English city of half a million people with a substantial 15.8 percent Muslim population. Rusholme lies just a few miles from the southern Manchester suburbs of Fallowfield and Whalley Range, where armed police raided two properties on Tuesday in connection with an attack Monday night at Manchester Arena that left 22 people dead and 59 injured—the U.K.'s worst terrorist attack since 2005.
Read more: The Manchester bomber was a promising young man who went off the rails, says a religious leader who knew him
A 23-year-old man was also arrested near a local supermarket, Morrison's, in the nearby Chorlton-cum-Hardy on Tuesday. Police announced Wednesday that three men had been arrested in connection with the attack; no details were provided on the suspects and it is unclear whether the arrests include the man detained near Morrison's.
Police have identified Salman Abedi, a 22-year-old British man of Libyan descent, who was born in Manchester, as the bomber who died at the scene after detonating an improvised explosive device reportedly containing metal nuts and bolts. The Islamic State militant group (ISIS) claimed the attack, describing the perpetrator as one of its "soldiers."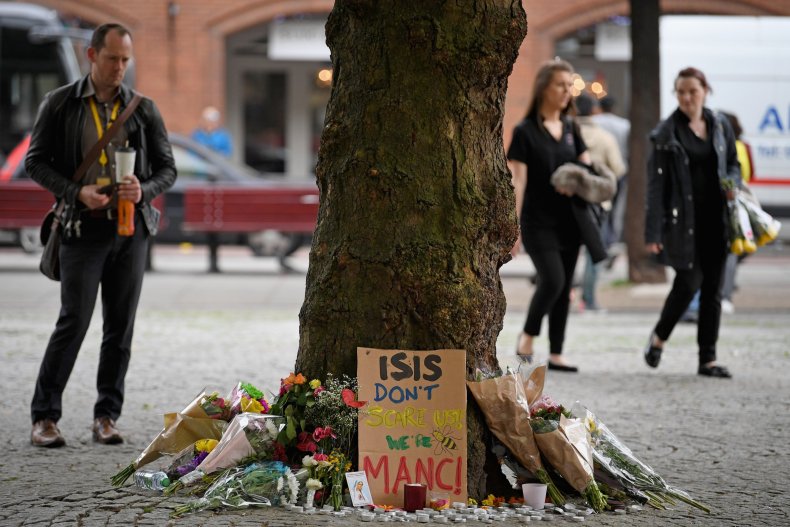 At the Manchester Central Mosque, a five-minute walk from the Curry Mile, a group of Muslim leaders, representatives of other faiths and academics gathered for a meal on Tuesday before attending a vigil in the city center for the attack's victims.
Over a solemn meal of biryani in the mosque's library, Musa Naqvi, who lives in Chorlton-cum-Hardy, tells Newsweek that he can hardly believe what has happened not only in his city, but in his own neighborhood. "There's been police and helicopters encircling my area, and just down the road, a two-minute walk from where I live, they arrested that guy at the local Morrison's, which I shop at," says Naqvi, who works for the National Health Service and is the secretary-general of Manchester Council of Mosques, an umbrella group for Islamic communities in the city.
"That a bomb of this kind has been prepared here in Manchester, I just feel really sick and disturbed that such a thing could be happening in some house that I could be living next to."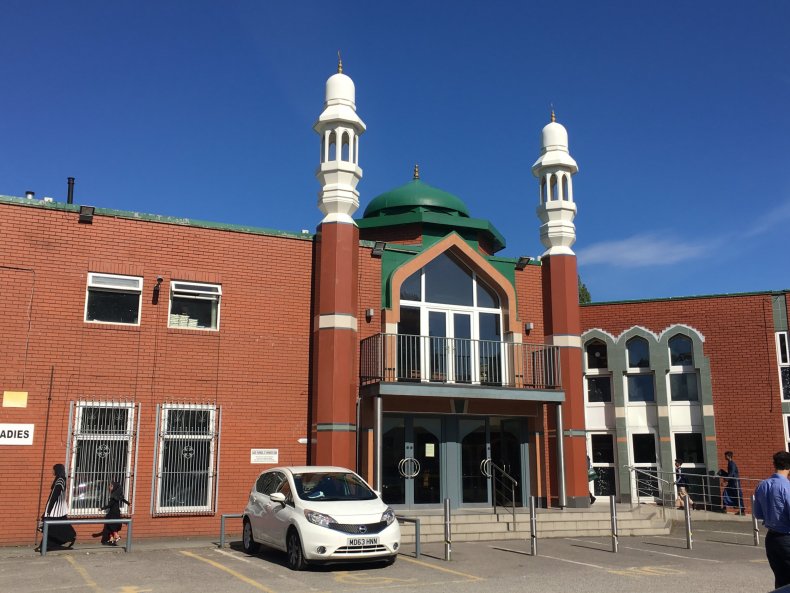 A former manufacturing hub that is best known for Manchester City and Manchester United, the city's two juggernaut football teams, Manchester has never before experienced a terrorist attack on the scale of Monday's bombing.
But the 230,000 Muslims that live in Greater Manchester—the wider urban area, comprising of the city and surrounding suburbs and with a population of 2.7 million—have not been immune to the kind of radicalization that has affected other British Muslim communities in cities like London and Birmingham.
In 2014, 16-year-old twin girls, Salma and Zahra Halane, fled from Chorlton to Syria in 2014 and tweeted detailed accounts of their life under ISIS rule. In 2015, an investigation by regional newspaper the Manchester Evening News revealed that authorities had flagged 350 children to authorities over fears they had been radicalized .
As recently as February 2017, a 50-year-old Manchester-born Muslim convert, Jamal al-Harith—born Ronald Fiddler—carried out a suicide attack near Mosul, the Iraqi city that ISIS is seeking to defend as its last stronghold in the country. Harith was a former prisoner at Guantanamo Bay, and the British government paid him £1 million ($1.3 million) in compensation after his release in 2004.
Following Harith's death, an investigation by The Guardian revealed that 16 convicted or deceased Islamists, who had either joined or attempted to join militant groups or died fighting for ISIS, lived within 2.5 miles of Harith's home in Moss Side, an inner-city area within walking distance from the Curry Mile. It was believed that the 14 men and two women were part of the same radical network and prayed at the same mosques.
Ahmed Ali, a councillor for the opposition Labour Party in Rusholme, says that the Muslim community in Manchester is "unanimous" in condemning Monday's attack and its perpetrators. "There's no reluctance, there's a total expression of saying that the people who've done this cannot be Muslim," Ali tells Newsweek over the meal at the Manchester Central Mosque. But he admits that he is concerned that extremist ideology appears to have won over some supporters from Manchester's Muslim community. "I should think it's a one-off [attack], but who knows? These people are in stealth, they're hiding," says Ali.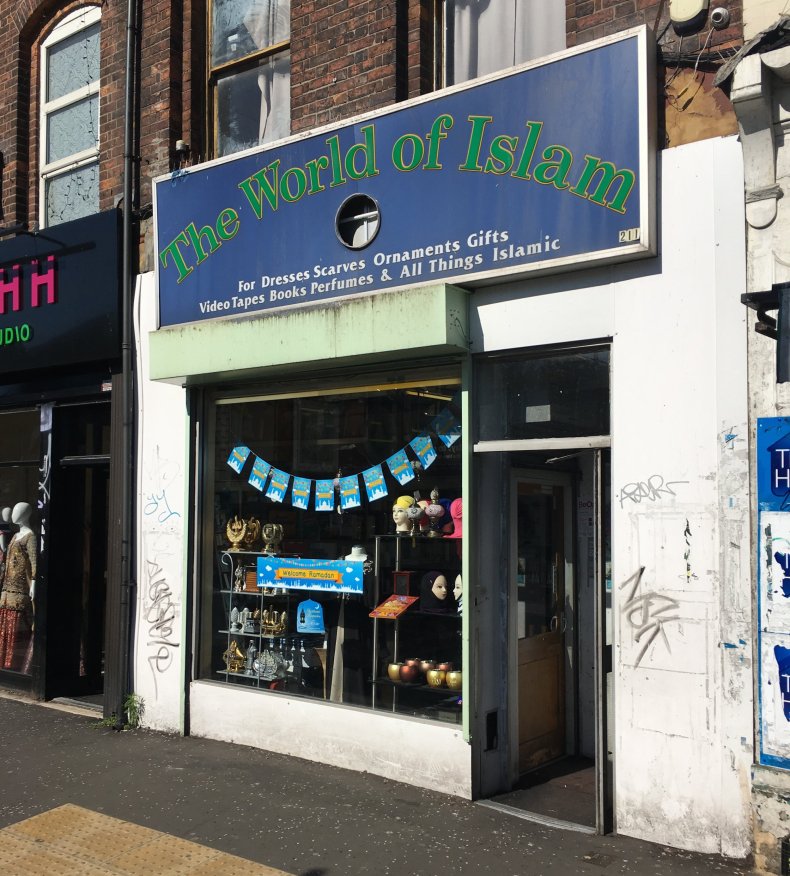 The attack has also cast a spotlight on Manchester's Libyan community. The U.K. has the highest Libyan migrant population in Europe—just under 6,500, according to 2015 U.N. data —and Manchester is home to Britain's biggest expatriate Libyan community, some of whom held street parties on Wilmslow Road in 2011 after an uprising toppled ex-Libyan ruler Muammar el-Qaddafi.
A former manager of the south Manchester mosque where the Abedi family worshipped told Newsweek that the attacker's father, Ramadan, is a Salafist —a follower of an ultraconservative Islamic school of thought. The former mosque manager says he believes Abedi's father is currently in the country's Western capital of Tripoli, having returned to Libya after more than 15 years in Manchester following the 2011 revolution. Investigators are probing whether the attacker himself traveled to Libya in the run up to the bombing.
In the wake of the violence, city leaders have stressed that Manchester will not be divided. The city's Lord Mayor, Eddy Newman, said at the Tuesday evening vigil that the people of Manchester would "defy the terrorists by working together to create cohesive, diverse communities." At the same vigil, one of the thousands of mourners and well-wishers held up a banner reading: "Solidarity is our strength."
In some of the many Middle Eastern shisha bars lining the Curry Mile, people were defiant that the city's community spirit would not be broken. Mo, a 32-year-old from north Manchester, sips sweet tea and smokes a shisha pipe at the Rotana café on Wilmslow Road. "Everyone was shocked. It's Manchester, we don't have this type of thing happen in Manchester, you don't hear of stuff like this," says Mo, who declines to give his last name. "Manchester is a big community, you can go anywhere and anyone will offer you anything, a cup of tea or anything, so hearing what's happened is a shock."
The aftershocks of the attack will likely continue to affect the city and beyond. British Prime Minister Theresa May announced late Tuesday that she had raised the threat level in the U.K. from severe to critical —the highest level, indicating that a further attack may be imminent— for the first time since 2007, after authorities thwarted an attempted attack on a London nightclub and a bomb exploded at a Glasgow airport. Greater Manchester Police Chief Constable Ian Hopkins said Wednesday that authorities were investigating a "network" in connection with the attack, suggesting that Abedi was not acting alone.
As the meal at Manchester Central Mosque concludes and the attendees prepare to depart for Tuesday's vigil, even as everyone speaks of solidarity, there's an undercurrent of despair. For some of those living in south Manchester's Muslim heartlands, Monday's bombing feels far too close to home. "It's quite upsetting that someone in my neighborhood would be of that inclination and would go and do something like this," says Naqvi, the NHS worker. "I don't really feel very comfortable or safe." As authorities continue to probe Abedi's links to extremists both at home and abroad, many in Manchester will be feeling the same.