Democratic West Virginia Senator Joe Manchin has suggested that congressional Democrats should hold off on passing their $3.5 trillion infrastructure bill until inflation slows.
"Let's wait and see whatever we need," Manchin told CNN reporter Manu Raju. Manchin said Democrats need to watch inflation to determine whether it is "transitory or not."
"Right now, inflation is still high, and now we understand the natural gas prices are higher than they've ever been in West Virginia too," Manchin continued. "And the people that end up paying the highest are the ones who can't afford it. So we got to worry about all these things."
Manchin said that Democrats would have "better ideas" on how to proceed after observing inflation for "a little bit longer." He didn't specify how long Democrats should wait before moving forward on the infrastructure bill.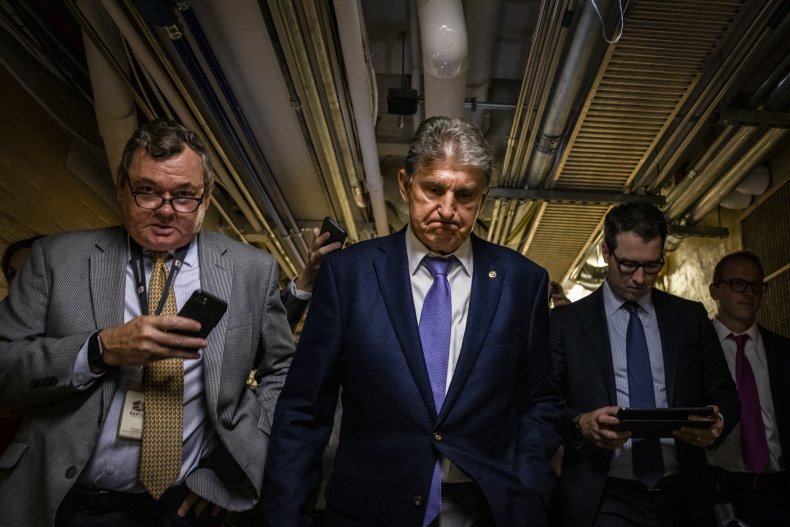 Manchin's remarks echos concern among conservatives that Biden's trillion-dollar proposal will increase inflation.
Biden's proposed $3.5 trillion "human infrastructure" legislation would provide funding for key Democratic priorities, including free community college, childcare credits, Medicare expansion, green cards for some undocumented immigrants, a child tax credit, tax increase on large corporations and wealthy Americans and other proposals.
The plan is considered an important part of President Joe Biden and congressional Democrats' agenda leading into the 2022 midterm elections.
While government spending during a recession usually helps economic recovery, government spending during an economic expansion tends to drive up inflation. Supply shortages created by the pandemic and labor shortages have also been blamed for rising inflation risks.
During CNN Town Hall in July, Biden acknowledged that inflation is rising. However, he added, "The vast majority of the experts, including Wall Street, are suggesting that it's highly unlikely that it's going to be long term inflation that is going to get out of hand."
In early August, Manchin said he would vote in support of beginning the $3.5 trillion infrastructure budget reconciliation process "out of respect for my colleagues."
Democrats want to pass the $3.5 trillion spending package using the budget reconciliation process, which requires only a simple majority vote in the Senate for approval. The Senate is currently evenly divided between 50 members in the Republican Caucus and 50 members in the Democratic Caucus.
As such, the Democrats would need all 50 caucus members to vote in support of it so that Vice President Kamala Harris could cast a tie-breaking vote as Senate president.
But, Manchin and Democratic Arizona Senator Kyrsten Sinema have said they won't vote in support of the bill.
On September 8, Senate Minority Leader Mitch McConnell, a Republican, praised Manchin and Sinema for opposing the bill.
On September 20, Progressive Democratic New York Representative Alexandria Ocasio-Cortez slammed Manchin and Sinema as "destructive" for obstructing the original bill.
In early September, White House Senior Advisor Cedric Richmond said that the Biden administration would continue pushing for the bill despite Manchin's concerns.
"I know we still have a long way to go, but I'm confident that Congress will deliver to my desk both the bipartisan physical infrastructure plan and the Build Back Better plan that I have proposed," Biden told reporters last week.
An early August poll shows that a slight majority of Republican voters support the $3.5 trillion spending plan.
The U.S. House is currently considering a vote on a $1.2 trillion bipartisan infrastructure bill. The Senate passed the bill on August 10.
Ocasio-Cortez said that she and at least 45 other House Democrats wouldn't support the bill if it's not passed in tandem with the $3.5 trillion budget package.
Newsweek contacted Manchin's office for comment.