A PAC that has targeted former U.S. Representative Madison Cawthorn from North Carolina and current Representative Lauren Boebert of Colorado is being requested by liberals online to focus next on Georgia Representative Marjorie Taylor Greene.
American Muckrakers PAC, co-founded by David B. Wheeler and Colonel Moe Davis, initially launched a campaign against Cawthorn before his reelection bid was defeated by challenger State Senator Chuck Edwards last month. The group accused the North Carolina congressman of ethical violations, including paying a staffer thousands of dollars worth of gifts, loans and other benefits that were not declared.
More recent allegations by the PAC claimed that Boebert, who has been an outspoken proponent of the Second Amendment and against abortion rights, worked as an unlicensed paid escort and had two abortions. A Boebert spokesperson has called the allegations "totally false" and said the congresswoman is exploring legal action.
Meanwhile, social media users are wondering if—or when—American Muckrakers will go after Greene.
On Wednesday, Greene and her intern, right-wing agitator Milo Yiannopoulos, went viral in a video the two recorded that contained an anti-transgender joke. That came after the representative claimed on Monday that a national tampon shortage is occurring due to tampons being placed inside men's bathrooms for transgender people, associating the shortage with a "war on women."
But based on the numbers, Greene—who represents Georgia's 14th District—is more popular than she was when she first ran for Congress in 2020. The unabashed Donald Trump supporter who has not shied away from controversy or conspiracy actually received a bigger portion of the vote in her May primary than she did when she first ran two years ago.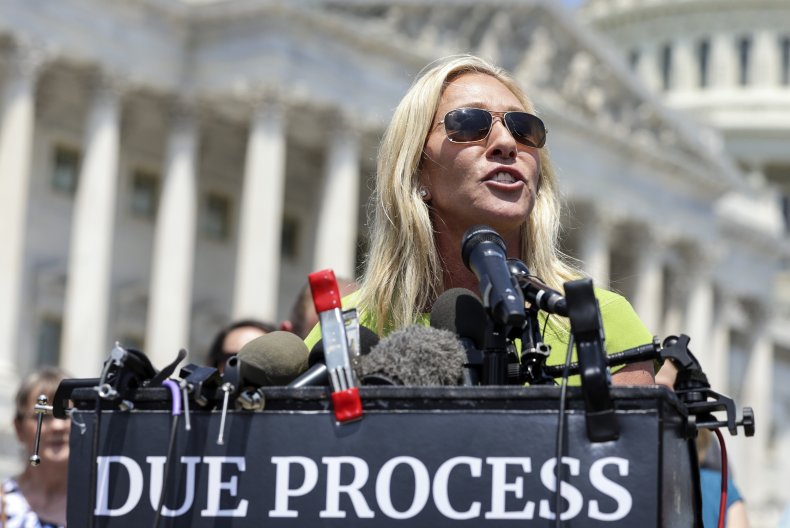 "To everyone celebrating Madison Cawthorn and Lauren Boebert being taken down...Marjorie Taylor Greene is next," said one viral tweet that has been shared numerous times on the platform.
"Can someone explain to me why they are going after boebert and cawthorn but not mtg?" another Twitter user posted. "Also, damn these people better than the fbi."
In the face of controversy, Greene has continued to speak her mind, from saying climate change may be "healthy" for humanity to calling out members of her own party when it comes to gun control legislation.
At the end of May, Greene, who had won her Republican primary a week earlier, claimed that heterosexual people would soon be extinct during a broadcast of MTG:Live, her streaming broadcast that airs on her social media pages.
According to Open Secrets, the American Muckrakers PAC has already spent a grand total of $16,190 in connection to federal elections in 2022—all against Republican candidates.