Marjorie Taylor Greene Tweetstorm Accuses AOC of Participating in Costly 'Civil War'
Republican Georgia Representative Marjorie Taylor Greene has accused Democratic New York Representative Alexandria Ocasio-Cortez of participating in a costly "civil war."
Greene made the accusation in a 12-part Monday morning tweetstorm, issued in response to an October 24 tweet from Ocasio-Cortez. In Ocasio-Cortez's tweet, she called for the expulsion of any Congress members who helped plan the storming of the U.S. Capitol on January 6.
Ocasio-Cortez's tweet didn't mention Greene by name, but it did link to a Rolling Stone article that named Greene as one of several Republican Congress members accused of conspiring with January 6 rally organizers. Many of the rally's attendees later participated in a protest at the Capitol that culminated in an insurrectionist riot in the federal building. Greene has since called the article a "pathetic piece of trash."
In a Monday morning tweetstorm, Greene challenged Ocasio-Cortez once again to a debate, something Greene has long sought. Greene added, "You have a big problem understanding our laws because you want to tear our country apart because you are a communist."
"Democrats like you @AOC declared, waged, funded, supported, & promoted civil war on the American people and American cities with daily and nightly Antifa/(Black Lives Matter) riots and terrorizing violence throughout 2020," Greene's tweetstorm continued.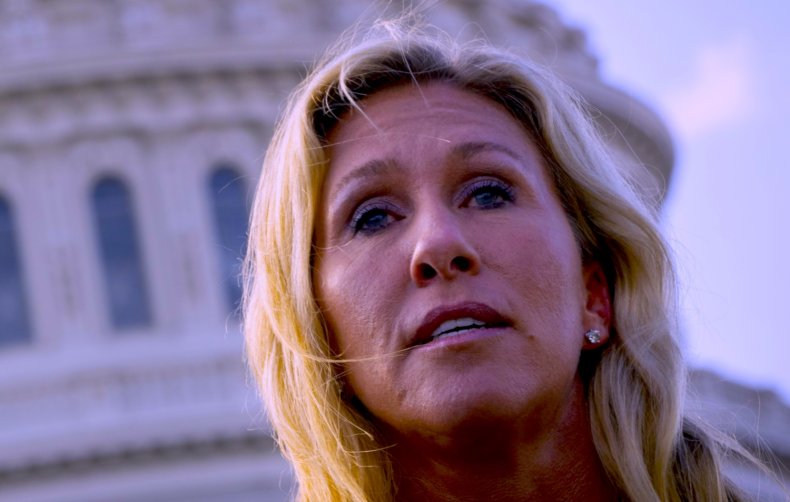 Her mention of "riots" referred to the summer 2020 racial justice uprisings that occurred nationwide following the Minneapolis, Minnesota, murder of George Floyd, a Black man, at the hands of a white police officer.
Greene's tweetstorm claimed that the resulting protests and riots in more than 140 cities caused over "$1 trillion in damage." The actual estimated damages in insurance claims reached $1 billion to $2 billion, according to the news site Axios.
Greene called for Ocasio-Cortez and other members of what she called the "Democrat Communist Party" to be investigated for supporting the riots.
Greene's tweets also referred to face masks as "useless napkin[s]" and claimed that the COVID-19 vaccines "aren't even 50 percent effective." Numerous studies have shown that face masks and COVID-19 vaccines both significantly contribute to decreases in new infections.
In an April 20 tweet, Greene called Black Lives Matter (BLM) "the strongest terrorist threat in our country." However, during the Trump presidency, the Department of Homeland Security said that white supremacist extremists, not BLM activists, pose the "most persistent and lethal threat to the homeland."
Greene has also repeatedly called Ocasio-Cortez a "terrorist sympathizer" for supporting racial justice protests and the plight of Palestinians.
In mid-May, amid Greene's increasingly aggressive demands for a debate between herself and Ocasio-Cortez, the New York legislator referred to Greene as "deeply unwell," adding that Greene "clearly needs some help."
In Greene's past social media comments, she has advocated for violence against House Speaker Nancy Pelosi and former President Barack Obama, said that an airplane never hit the Pentagon during the September 11 terrorist attacks, accused former Secretary of State Hillary Clinton of slicing off a child's face and wearing it, said that a space laser started the West Coast wildfires to benefit a Jewish bank, and many other conspiracy theories.
Newsweek contacted Ocasio-Cortez's office for comment.