Mark and Patricia McCloskey, Who Pointed Guns at Protesters, Pardoned by Missouri Governor
Republican Missouri Governor Mike Parson has pardoned Mark and Patricia McCloskey, a St. Louis couple who became well-known after brandishing firearms at racial justice protesters on June 28, 2020.
"That couple had every right to protect their property," Parson previously said while pledging to pardon them over a year ago. "They have the ability to do that as private citizens like everyone else."
The couple's pardons were two of 12 issued by Parson last Friday. The pardons were publicly announced on Tuesday.
"The McCloskeys are both thrilled to have this episode in their life behind them," their attorney Joel Schwartz told Newsweek in a statement. "They are looking forward to focusing on [Mark McCloskey's] campaign for the U.S. Senate."
The couple gained notoriety after images and videos captured them pointing guns at Black Lives Matter protesters who marched outside of their mansion in a gated community. The protestors had turned onto a private street where the couple's mansion sits while marching towards the house of St. Louis Mayor Lyda Krewson.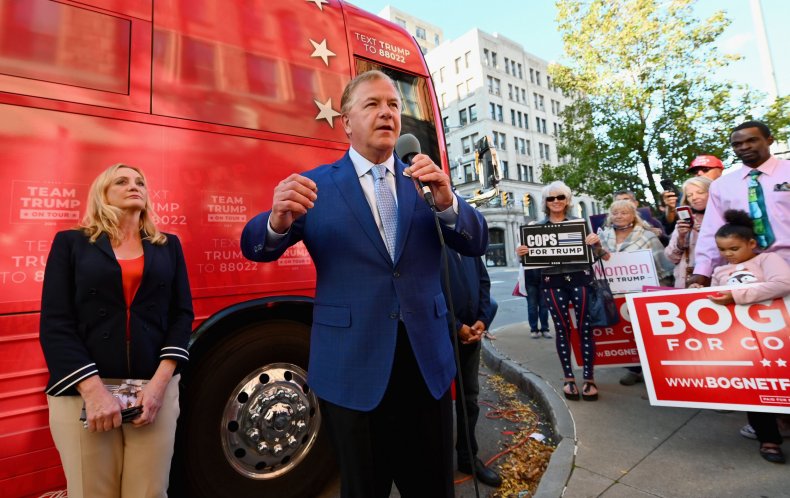 While telling the protestors to leave, Patricia McCloskey aimed a semiautomatic handgun at the protesters while Mark McCloskey held an AR-15-style rifle. He later said he was a victim of "terrorism" and had feared for his life.
"I was a victim of a mob that came through the gate," he told CNN anchorman Chris Cuomo in a July 1 interview. "I didn't care what color they were, I didn't care what their motivation was. I was frightened, I was assaulted, and I was in imminent fear that they would run me over, kill me, burn my house."
Some critics denounced the McCloskeys for threatening a peaceful protest against police brutality. Others hailed them as gun owners rightfully defending their home after oher racial justice protests had devolved into looting.
An investigation found that protesters stayed on the street and sidewalk and off of the McCloskeys' lawn. However, it also found that some protesters threatened to return armed as well.
After the incident, Mark McCloskey said he received threatening calls and emails. The threats forced him to turn off his phones and board up his office, he said. The McCloskeys work as personal injury attorneys.
Missouri Attorney General Eric Schmitt said he believed the charges against the McCloskeys should be dismissed under the Castle Doctrine. The Castle Doctrine is a law that justifies the use of deadly force by people defending their homes against intruders.
St. Louis Circuit Attorney Kim Gardner said she considered the couple's actions worthy of felony criminal charges. Parson disagreed with Gardner's assessment, however. Republican then-President Donald Trump also called the idea of prosecuting the McCloskeys a "disgrace."
In relation to the incident, on June 17, 2021, Mark McCloskey pleaded guilty to misdemeanor fourth-degree assault and was fined $750. Patricia McCloskey pleaded guilty to misdemeanor harassment and was fined $2,000, the Associated Press reported.
The couple also spoke on the first night of the 2020 Republican National Convention on August 24, 2020.
"Whether it's defunding the police, ending cash bail so criminals can be released back out on the streets the same day to riot again, or encouraging anarchy on our streets," Mark McCloskey said, "it seems as if Democrats no longer view the government's job as protecting honest citizens from criminals, but rather protecting criminals from honest citizens."
He added that "radicals" who marched outside of his home also want to "walk the halls of Congress," stating, "This is Joe Biden's party. These are the people who will be in charge."
Mark McCloskey has since declared himself as a Republican candidate for Missouri U.S. senator.
Newsweek contacted Gardner for comment.
Update (8/3/2021, 10:16 p.m.): This article has been updated to include a statement from the McCloskeys' attorney Joel Schwartz.