McDonald's Under Pressure Over Trump's Publicity Stunt in East Palestine
McDonald's has found itself in an awkward spot after former President Donald Trump used one of its Ohio restaurants as the setting for a publicity stunt on Wednesday, ordering food and handing out MAGA hats near the site of the East Palestine train derailment.
The derailment on February 3 released toxins that have spread to the surrounding area, putting the community on edge.
Trump walked into the East Palestine McDonald's with a troupe of camera operators, reporters and aides, and bought "a nice array" of fast food for first responders and East Palestine residents.
"I know this menu better than you do," Trump told the McDonald's employees. "I probably know it better than anybody in here."
Closing his food order, he added: "Knock it out fast for us… we'll be eating it on the plane back." Trump flew to East Palestine on his private jet.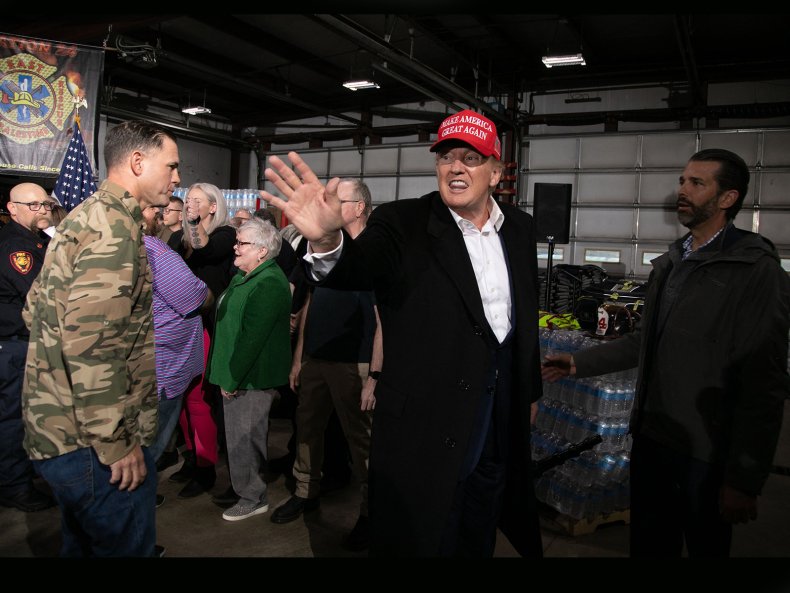 The former president also brought pallets of water to residents and first responders, saying the bottles were the same as the ones he serves at his Mar-a-Lago club.
Trump's appreciation for McDonald's might be problematic for the brand, according to public relations experts.
Although the fast-food giant has donated to political organizations, Congress members and political action committees in the past, it has never financially supported a presidential candidate. In the 2020 election, McDonald's did not direct money to either Trump or Joe Biden.
"McDonald's will be wincing at this move by Trump," Andy Barr, PR and brand expert at agency 10 Yetis, told Newsweek.
"They absolutely won't want to be associated with his brand and will do all that they can to quell the media coverage."
He added: "Not only do they face the consumer backlash risk associated with this, but they also have to take into account how competitors may try to amplify the noise around this happening."
Barr suggested that the company would struggle to contain the coverage, however. "McDonald's can do very little to stop this from happening again other than firing up its considerable communications machine and discouraging media outlets from including its brand in any future stories of this nature," he said.
"There are very few brands in the USA that are as divisive and, some would say, toxic as Brand Trump right now."
Other PR experts also felt McDonald's had been placed in a tricky position but said the company would be unwise to try to distance itself from Trump.
The company "can't start refusing entry to certain customers based on political persuasion," said James Murphy, founder and CEO of creative agency New Commercial Arts.
He suggested that the fast-food chain could instead "follow the Michelle Obama playbook and 'go high'. McDonald's will be there for all U.S. presidents—past, present and future—amongst our millions of customers."
Pauline Kent of healthcare and consumer agency Satellite PR told Newsweek that any attempt to separate the brand from "Trump's McDonald's activity would be wrong," as customers need to be allowed to make their own decisions.
This approach is "known as 'don't spoon feed consumers brand values because they might spit them out'," she added.
Some members of the public have already criticized the company over Trump's visit.
Skyleigh Heinen, an activist and U.S. veteran from North Carolina, shared a video shot at the Ohio restaurant on Twitter, writing: "This is what Trump went to #EastPalestine for, purely to campaign and pass out Trump water and MAGA hats at @McDonalds which should be ashamed for letting him to do this. As subpoenas drop for Ivanka & Jared."
On Wednesday, Trump's daughter and son-in-law were subpoenaed by special counsel Jack Smith in the criminal investigation over January 6.
Newsweek has contacted McDonald's for comment.
Trump's trip to East Palestine is one of the first big events in his re-election campaign. The photo opportunity was likely meant as a rebuke to President Biden, who visited Kyiv this week to mark one year since Russia's invasion of Ukraine.
Asked if he had a message for Biden, Trump said: "Get over here."
However, some have suggested that safety regulations lifted by the former president might have prevented the derailment or lessened its impact.
Trump scrapped a 2015 rule that would require advanced braking technology on trains transporting particularly hazardous materials.
That rule would not have applied to the train that derailed in East Palestine, however, according to a Twitter thread by National Transportation Safety Board chair Jennifer Homendy.
Newsweek has contacted the White House and Trump's office for comment.
Update 02/23/23 10:35 a.m. ET: This article has been updated to add further information on the rail regulations.