Meghan Markle's Attitude 'Alarmed' Michelle Obama After Royal Wedding—Book
Michelle Obama was reportedly "alarmed" by Meghan Markle's "attitude" during their first meeting at a book event in 2018, according to a new biography detailing the royal's public and private lives.
The publication of Tom Bower's Revenge: Meghan, Harry and the war between the Windsors has attracted considerable attention in Britain where it was released on Thursday.
Serialized extracts of the biography, written by the author who was labeled the "Witchfinder General" by the Daily Mail, made sensational claims such as Queen Elizabeth II allegedly telling a close aide "thank goodness Meghan isn't coming" to Prince Philip's funeral, and that the royal was envious of Kate Middleton.
At least one of these claims has been disputed, with a source close to the queen previously telling Newsweek that it was "unlikely" the queen was thinking of anyone but Philip at the time of his funeral.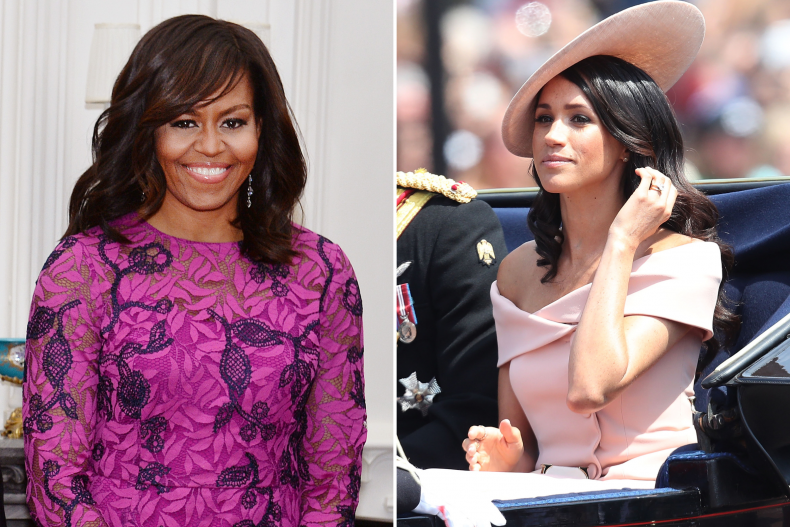 In a chapter of Revenge assessing Meghan's struggles with life in the royal spotlight following her marriage to Prince Harry in May 2018, Bower has claimed that the duchess sought out friendship with former-First Lady Michelle Obama and hoped to form a connection while the global figure was in London promoting her memoir.
"Meghan spotted an opportunity after Michelle Obama arrived in London to promote her bestselling autobiography," Bower writes of the royal's intent on meeting Obama.
"Having secured tickets to hear the former First Lady make her inspirational speech in the Royal Festival Hall on 3rd December, 2018, she went backstage afterwards to meet her hero.
"Determined to fashion a special relationship, Meghan had also arranged that they would meet again for dinner at George Clooney's house near Windsor," he continued.
"As an idol to be emulated, Michelle Obama was also a good source of advice and consolation for Meghan."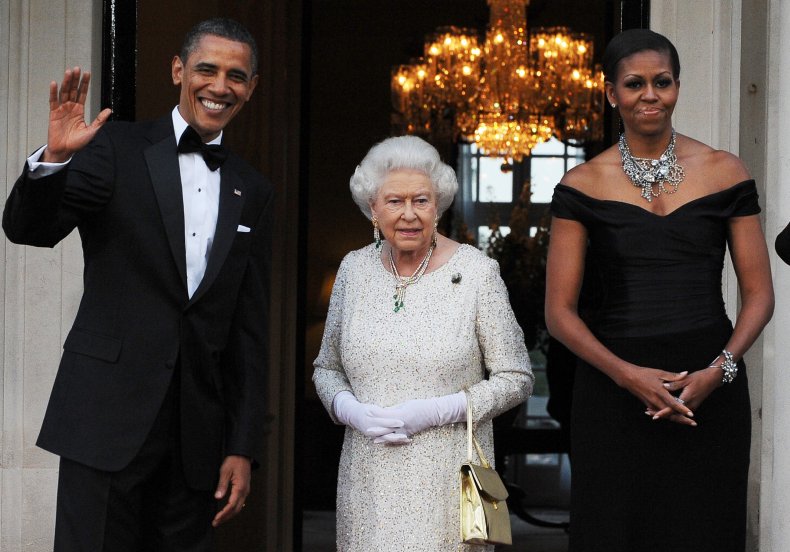 Bower then goes on to claim that Obama was somewhat taken aback by the duchess' forthright attitude and underestimation of the high level of respect that the former-first lady had for the queen, someone she has praised on a number of occasions since leaving the White House.
"The Duchess," Bower wrote, "appears not to have appreciated how much the Obamas admired the Queen.
"Meghan's attitude alarmed Michelle. Her advice to Meghan was delivered in public."
"'Take some time,' Obama said in an interview, 'and don't be in a hurry to do anything.'
"In a warning note, she added: 'Like me, Meghan probably never dreamt she'd have a life like this; no-deal, the pressure you feel can sometimes feel like a lot.' Meghan, Obama suggested, should be reasonable: 'What I'd say is that there's so much opportunity to do good with a platform like that and I think Meghan can maximise her impact for others, as well her own happiness, if she's doing something that resonates with her personally.'"
Since their first meeting, and despite Bower's claim that Obama felt "alarmed" by Meghan's attitude, the women have had several public interactions since, displaying a shared respect and sense of intimacy.
In 2019, during her official tour of South Africa with Harry, Meghan met with leaders of the Obama Foundation at the British High Commissioner's residence. A photograph of the duchess posing with the group was posted to Instagram by Obama with a glowing caption calling Meghan a "friend" and "inspiration."
It read: "Thank you to my friend, Her Royal Highness The Duchess of Sussex @sussexroyal, a thoughtful leader who is breaking the mold and making our world better for it. Whether meeting with our @ObamaFoundation Leaders or helping girls around the world seek the education they deserve, she is an inspiration to so many."
Also in 2019, Meghan interviewed Obama for her special guest-edited issue of British Vogue during which she called the global figure "endearingly frank" and "down-to-earth."
Bower dedicates an entire chapter of his book to Meghan's Vogue collaboration in which he claims animosity existed between the duchess and the editorial staff who found her demands "superficial" and "lacking rhyme or reason."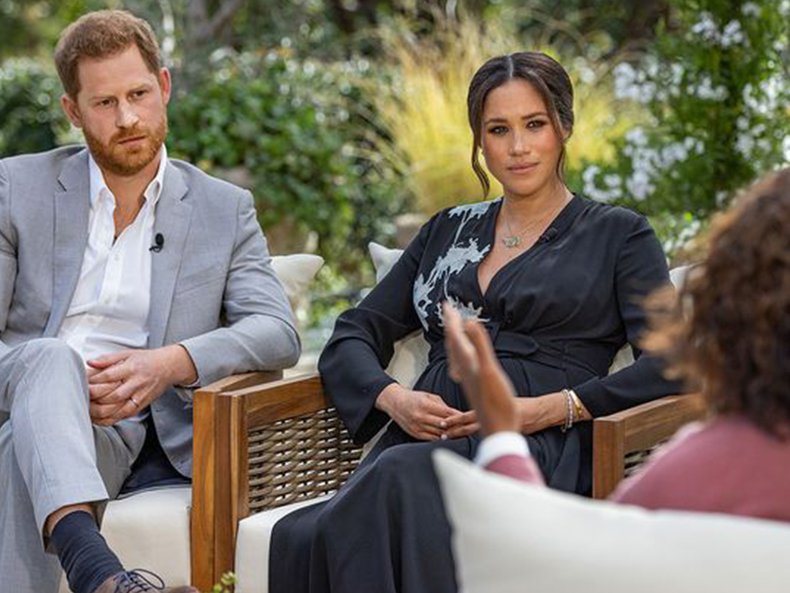 After Meghan and Harry gave their landmark March 2021 interview to Oprah Winfrey in which they discussed their treatment by the press before stepping down as full-time working royals the year before, as well as racism faced by Meghan as a bi-racial member of the royal family, Obama was repeatedly asked her opinion on the situation.
When she did respond in an interview with NBC her comments focussed on the role of public servants and her hope that the royal family would find a way to learn from their different experiences.
"Public service, it's a bright, sharp, hot spotlight and most people don't understand it nor should they," Obama told Jenna Bush Hagar.
"The thing that I always keep in mind is that none of this is about us, in public service, it's about the people that we serve. I always try to push the light back out and focus it on the folks that we're actually here to serve."
She then went on to add that "the thing that I hope for and the thing that I think about, is that this first and foremost is a family and I pray for forgiveness and healing for them so they can use this as a teachable moment for us all."
Newsweek has approached representatives of Meghan Markle and Michelle Obama for comment.