Meghan Markle's British Vogue Editor Friend Praises Kate's 'Graceful' Style
Edward Enninful, the British Vogue editor who worked closely with Meghan Markle on her landmark guest editorship of the magazine in 2019, has praised Kate Middleton's "graceful" and "inspiring" style at a recent fashion event.
Kate presented the Queen Elizabeth II Award for British Design at a special presentation hosted by the British Fashion Council at London's Design Museum in Kensington on Wednesday, where sportswear designer Saul Nash was the honoree.
Kate wore a statement dress by Canadian-British designer Edeline Lee whose focus on dressing women for the future is channeled through bold tailored looks which have won a host of celebrity fans including Olivia Colman and Solange Knowles.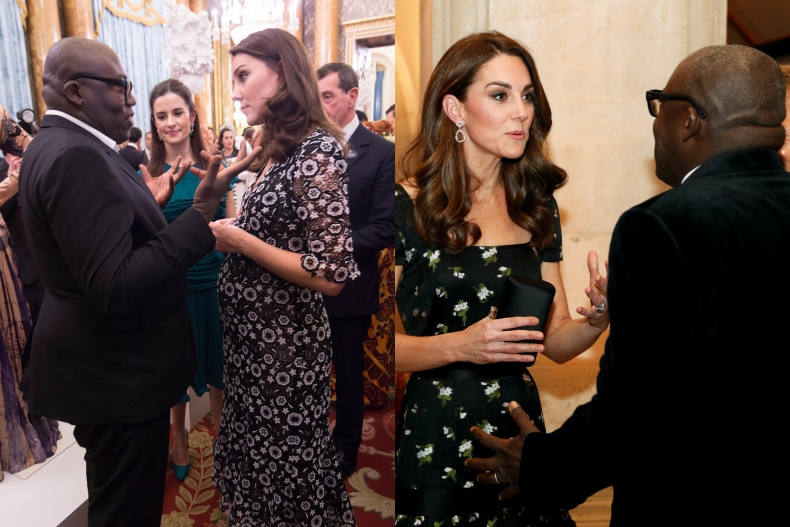 The event was attended by Enninful, who took over as editor of British Vogue in 2017 having worked at the magazine's American counterpart under Anna Wintour.
Speaking after the event, as reported by the Daily Mirror, Enninful was full of praise for Kate who appeared as British Vogue's centenary cover-girl in 2016 shortly before he took the helm.
"I feel like she has been able to grow so gracefully," he said of the royal's fashion transformation which has been widely reported on in recent years.
"Her style is inspiring to a lot of people, they relate to her, but without losing what's important to her."
This was by no means Enninful's first brush with royalty—the queen, Prince Charles' wife, Camilla, Duchess of Cornwall, Prince Edward's wife, Sophie Countess of Wessex and Kate, are all active patrons of the British fashion industry. Perhaps his most famous collaboration to date came in securing Meghan Markle as the guest editor of British Vogue's September 2019 edition titled "Forces for Change."
Meghan's collaboration on the issue was done under strict secrecy, with decoy pages being mocked up by Vogue staffers to cover their tracks. The magazine's content included a list of women the duchess found inspirational which included New Zealand Prime Minister Jacinda Ardern and activist/actress Jane Fonda, as well as an interview undertaken by Meghan with friend Michelle Obama.
As a result of the collaboration, Enninful and Meghan became friendly, with the duchess describing themselves as "like-minded thinkers, who have much in common," in her essay for the publication.
The issue became the magazine's fastest-selling in its 103 year history, selling out within 10 days of its newsstand release, but it was not met with universal approval.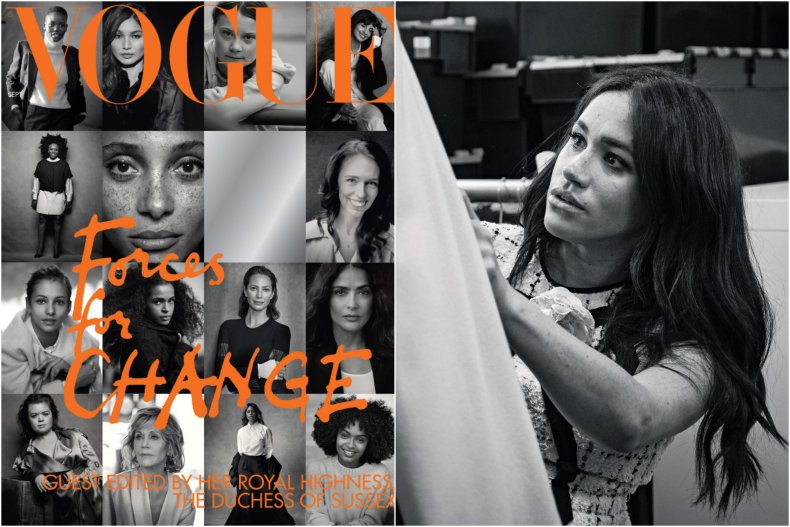 Meghan's decision not to star on the magazine's cover was, as Enninful wrote in his editor's letter, down to her feeling that it would be a somewhat "boastful" act and this was interpreted in the press as a veiled dig at sister-in-law Kate who had been on the cover only three years before.
Meghan's omission of the queen from her list of female role models was also picked up on as a mark of disrespect to the monarch.
A discussion as to whether a proportion of the criticism leveled against Meghan and the issue of Vogue had racially motivated undertones was also discussed at the time. In an interview with The Guardian, Enninful acknowledged this but implied that it was perhaps a wider, more personal dislike of Meghan that was really the root cause.
"Was the criticism racist? Some of it, yeah," he said, "Actually it was more than racism...I thought it was personal, attacking someone you don't know, attacking her."
In a 2020 interview with Sky News, Enninful clarified his thoughts, saying of the criticism that: "I think you know, the Duchess of Sussex is a brave woman, I feel that... part of the problem was racism but it was more institution, she walked into an institution and everybody expected her to know the rules. And I think sometimes it takes a minute to understand the rules. But she did get a very unfair treatment, I thought. It was harsh, but I wouldn't just blame it on racism."
The backlash at the time of the magazine's release compounded issues that Meghan and husband, Prince Harry, were facing in the press following criticism of multiple private jet trips and the apparent refusal of an invitation to spend a summer holiday with the queen.
"It was the Vogue project that was Meghan's Waterloo," author of The Palace Papers, Tina Brown wrote, attributing the issue to a chain of larger events which ended with the Sussexes stepping-down as full time working royals and moving to California.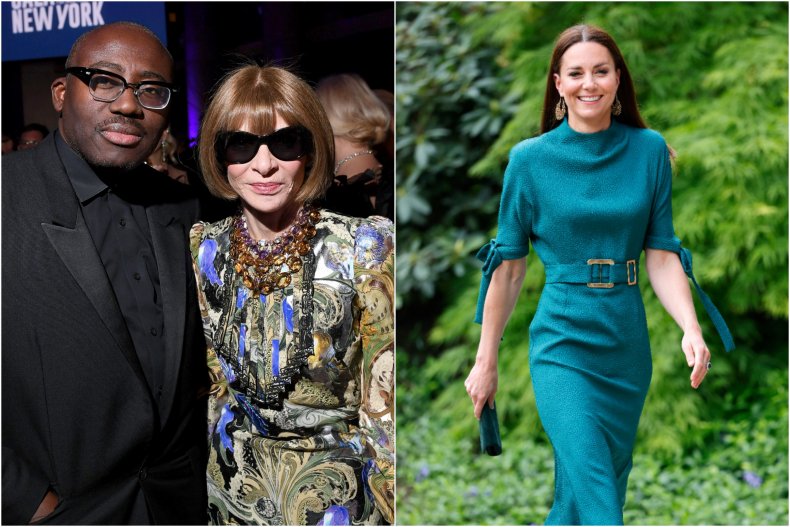 Kate has been a subject of fascination for Vogue since her entree into royal life in the 2010s and her style is still widely reported on by the title both in print and online.
The famously reserved editor-in-chief of American Vogue, Anna Wintour, has spoken in as equally glowing terms about the royal's style as her British counterpart, Enninful. In a 2019 video on the magazine's YouTube channel, Wintour called Kate "impeccable" when asked how best to dress for the holidays.
"I don't think you can go wrong with the Duchess of Cambridge who always looks impeccable," she said.
"You look at what she wears to church—it could be a Catherine Walker dark red princess coat or when she has to go out at night with her husband, something a little bit more glamorous like a McQueen—but she always looks impeccable."
The editor also revealed in a 2019 interview ahead of her famed Met Gala at the Metropolitan Museum of Art that she counted Kate among her dream guests.
When asked by Today show host Jenna Bush Hager: "Is there a dream guest that's never come that you wish would make their attendance?" The usually reserved Wintour answered: "Yes, definitely. I would love to have the Duchess of Sussex and the Duchess of Cambridge—together. That would be my dream couple. They can leave their husbands at home, it's the two of them I want."
Given the events of the past two years, with the Sussexes relocation to California and reports of tensions between the two duchesses which were compounded in the 2021 interview with Oprah Winfrey during which Meghan claimed that Kate made her cry, Wintour's dream seems a distant prospect.
For Kate though, her style will be closely watched as 2022 progresses with many high profile events planned to celebrate the queen's Platinum Jubilee this June. Royal watchers and the fashion press are poised to see just what the fashion minded royal will wear.