Meghan Replicates Royal Outfit With Layered Associations for U.N. Visit
Meghan Markle wore an outfit with layers of meaningful symbolism as she accompanied Prince Harry to the United Nations building on Monday to watch her husband present a keynote speech commemorating Nelson Mandela International Day.
Meghan, who has previously been fiercely proud of the fact that she does not use the services of a professional stylist, has developed and curated a form of dressing that has become widely celebrated by the fashion press—from regal outfits such as the Dior Haute Couture ensemble worn to the Platinum Jubilee in June, to relaxed denim shorts and shirt combinations worn to watch Harry play polo.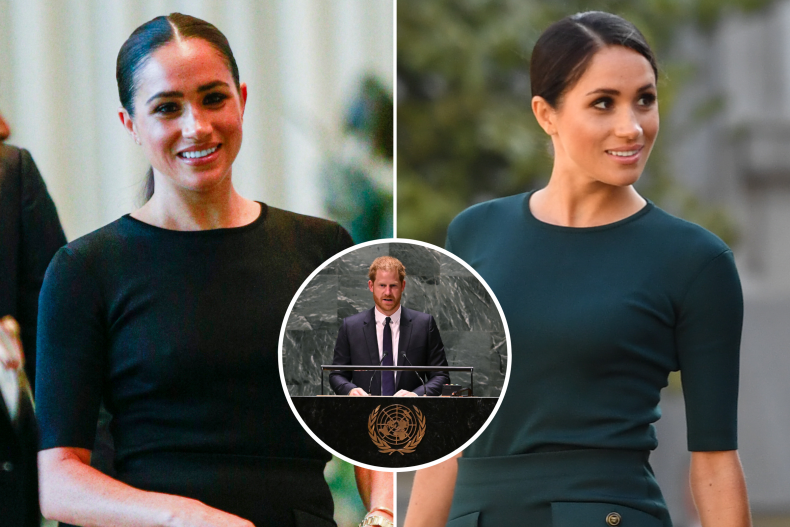 For her visit to the U.N. on Monday, Meghan appeared alongside Harry wearing an all-black outfit comprising a soft jersey short-sleeved blouse and calf-length patch pocket pencil skirt.
The skirt was made by the French fashion house that Meghan dedicatedly patronized throughout her time as a full-time working member of the royal family from 2018 to 2020: the house of Givenchy.
The soft jersey blouse is also likely to have come from the designer, the whole outfit being an identical replica of one worn by Meghan during a 2018 visit to the Republic of Ireland.
The visit was Meghan's first official overseas visit as a member of the royal family. For the trip, the new Duchess of Sussex took a style lead from previous royals—including Queen Elizabeth II, Princess Diana, and sister-in-law Kate Middleton—by dressing in a tribute color to her host nation.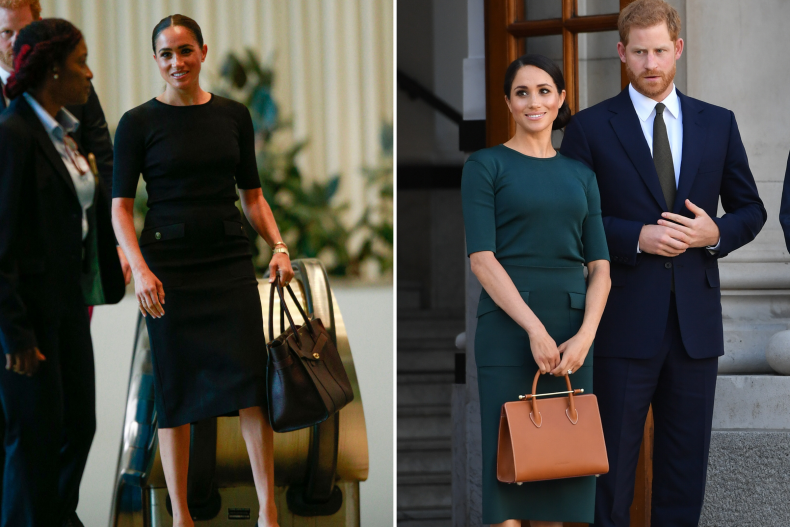 At the time, Meghan arrived in Ireland wearing an emerald green soft jersey short-sleeved blouse and patch pocket pencil skirt confirmed at the time to have been made by the house of Givenchy.
The creative director of the fashion house, Clare Waight Keller, and Meghan had formed a close working relationship after the designer had been commissioned to create the royal's wedding dress.
Coming from a French fashion house, Meghan's dress broke with the convention of royal brides patronizing British dressmakers for their bridal ensembles. As she was an American-born royal bride, this allowed her more freedom to make or break traditions as she saw fit.
With her all-black version of the 2018 Ireland outfit worn on Monday to the U.N., Meghan paired black suede high-heeled pumps and carried a statement handbag that has been in the royal's collection since before her marriage.
Meghan carried a large leather handbag by the British luxury leather goods label, Mulberry, in the "Bayswater" style and oxblood colorway.
The duchess was seen wearing the bag in 2016 shortly after her relationship with Harry became known to the public, and she used it again in London some time later.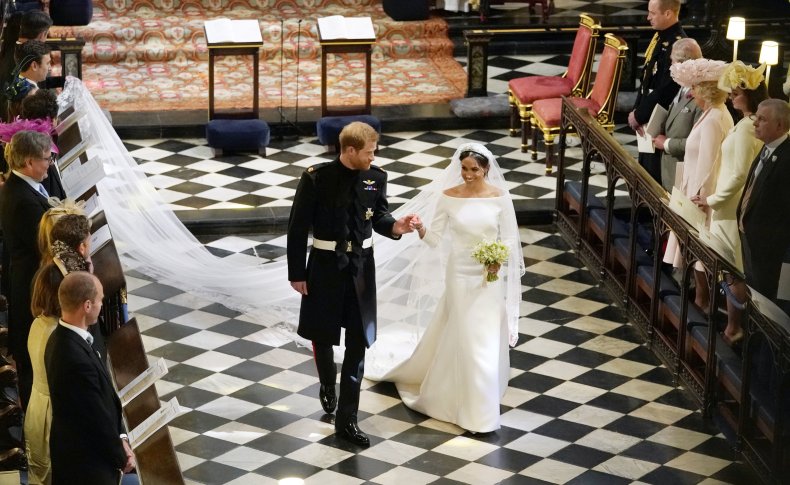 For her jewelry at the event, Meghan wore her favorite styles of layered pieces including multiple rings and a pair of simple stud earrings. One of the rings that the duchess wore to the U.N. was the 1972 tennis pinky ring by Shiffon Co.
This women-led brand has been a favorite of Meghan's for a number of years and it runs a mentorship program to help women founders of businesses reach their full potential.
Shiffon Co. founder and CEO Shilpa Yarlagadda told People magazine last month that she has always been "super inspired" by Meghan.
"Everything she does is with intention, thought and meaning behind the impact that she could have," she said.
"I know that when she's wearing a piece of jewelry, there's a lot of intention behind it. We both care so much about empowering women and she's a fellow female founder with what she's built, too."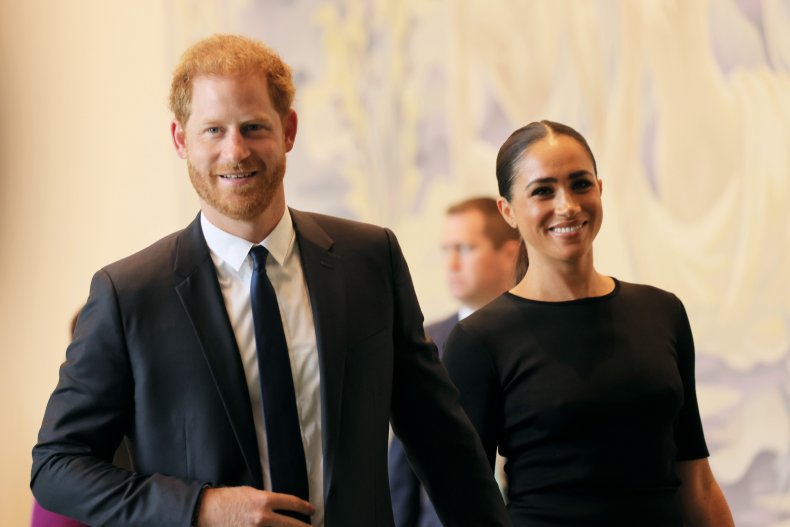 Prince Harry paid a special tribute to Meghan, calling her his "soulmate" during his keynote speech honoring the life and legacy of Nelson Mandela.
Speaking about his love of South Africa, Harry said:
"Since I first visited Africa at 13 years old, I've always found hope on the continent. In fact, for most of my life, it has been my lifeline, a place where I have found peace and healing time and time again.
"It's where I've felt closest to my mother and sought solace after she died, and where I knew I had found a soulmate in my wife. And it's why so much of my work is based there."
Harry and Meghan celebrated their fourth wedding anniversary in May.