Michael Flynn Endorses Mo Brooks for Senate as 'Sedition Is Un-American' Banner Flies Overhead
Retired General Michael Flynn, who briefly served as former President Donald Trump's national security adviser, endorsed GOP Representative Mo Brooks of Alabama in his 2022 Senate bid at a Republican fundraiser in Birmingham on Friday.
As the GOP event moved forward with Flynn as a featured speaker, liberal groups MoveOn and Vets for the People flew a banner blasting the former Trump administration official. The banner said "Sedition is Un-American" and included the hashtag "#TRAITORFLYNN."
In late May, Flynn appeared to suggest that he would support a violent military coup to overthrow the U.S. government during a Texas event, but he later argued his remarks were mischaracterized by the media.
"Insurrectionist, white supremacist, & former Trump Adviser Michael Flynn was invited by the Jefferson County GOP to speak at their fundraiser this evening. So, we partnered with @vetsfortheppl to fly an aerial banner above Birmingham 'SEDITION IS UN-AMERICAN: #TRAITORFLYNN,'" MoveOn tweeted, sharing a video of the banner flying over the Alabama city.
Flynn spoke at the GOP's Salute Their Service fundraiser, which was also attended by Brooks' rivals for the Republican nomination Katie Britt, former U.S. ambassador to Slovenia under Trump, and Lynda Blanchard, president and CEO of the Business Council of Alabama, according to local CBS affiliate channel 42.
During the "For God & Country Patriot Roundup" in Dallas at the end of May, Flynn was asked by an attendee: "I want to know why what happened in Myanmar can't happen here?"
Flynn responded: "No reason. I mean, it should happen here. No reason, that's right."
In February, Myanmar's military launched a violent coup to overthrow the Asian nation's civilian government. Elected leaders were detained and hundreds of pro-democracy demonstrators have reportedly been killed. Flynn later argued that his remarks were misreported by the media.
"Any reporting of any other belief by me is a boldface fabrication based on twisted reporting at a lively panel at a conference of Patriotic Americans who love this country, just as I do," he said.
Flynn said that he meant to say that there was "no reason" a coup should happen in the U.S., but video of the remarks seemed to imply he was backing the audience member's suggestion.
Ahead of the Friday event, some in Alabama criticized the Republican Party for inviting him to speak.
"With all we have been through I refuse to believe that folks in AL, or anywhere, support someone like Flynn who backs the idea of a military coup in the USA," former Democratic Senator Doug Jones of Alabama tweeted. "They should withdraw this disgraceful invitation immediately. History is watching."
"It's a shame. He ought to be in a federal prison right now," local attorney Bill Smith told CBS affiliate channel 42.
Flynn was pardoned by Trump in November before he left the White House—after the former national security adviser twice pleaded guilty to lying to the FBI about his contacts with Russia. The retired general has since been a key promoter of Trump's baseless claims that the 2020 election was "rigged" or "stolen" by President Joe Biden and the Democrats. These groundless allegations have been thoroughly litigated and wholly debunked.
Like Flynn, Brooks has been instrumental in spreading misinformation about the 2020 election. Ahead of the January 6 insurrection by Trump's supporters against the U.S. Capitol, Brooks told attendees at a pro-Trump rally near the White House that "today is the day American patriots start taking down names and kicking ass."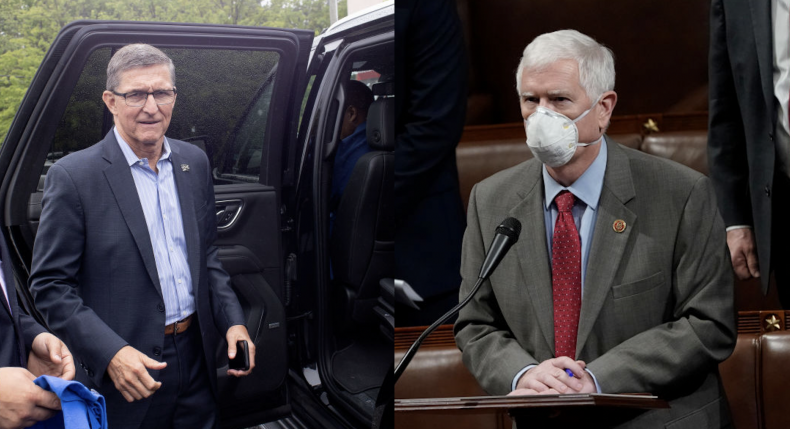 "Now our ancestors sacrificed their blood, their sweat, their tears, their fortunes and sometimes their lives to give us—their descendants—an America that is the greatest nation in the world's history," the Republican congressman said before Trump's supporters violently attacked the Capitol. "So I have a question for you: Are you willing to do the same?"
Trump endorsed Brooks' Senate bid in April. "Few Republicans have as much COURAGE and FIGHT as Alabama Congressman Mo Brooks," he said in an official statement.
The former president described the congressman as a "great Conservative Republican leader."
Newsweek reached out to MoveOn and Brooks' press representatives for comment, but did not immediately receive a response.