MyPillow Guy Mike Lindell's Phone and FBI—What We Do Know, What We Don't
MyPillow CEO Mike Lindell has not been quiet after FBI agents seized his phone this week in connection with election-tampering allegations.
The outspoken businessman (aka "the MyPillow guy") and staunch Donald Trump supporter was recently confronted by the bureau, which is seeking information related to misuse of election machines from Dominion Voting Systems.
With so much of the story playing out across social media and a characteristically tight-lipped response from the FBI, Newsweek has examined the timeline so far, while looking back at the various controversies and claims involving Lindell.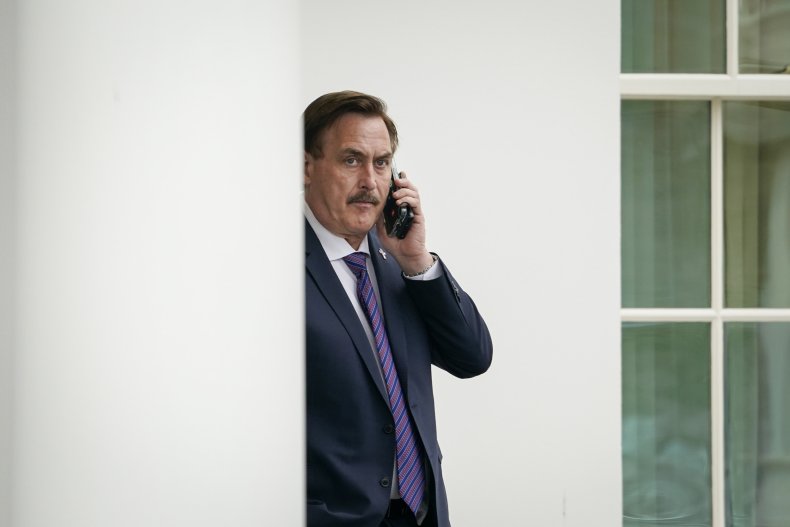 What We Do Know
Lindell said FBI agents surrounded him on Tuesday at a Hardee's restaurant and demanded that he turn over his phone.
During a two-hour broadcast of his podcast, The Lindell Report, he said that after returning from a hunting trip in Iowa, he and a friend stopped at the Hardee's and were suddenly surrounded by vehicles that turned out to be from the FBI.
Lindell said he protested after an agent told him the FBI had a warrant for his cellphone. After the agent showed the warrant, Lindell handed it over on the advice of his lawyer, he said.
Lindell further said he was questioned by the FBI about Tina Peters, a Colorado clerk who is under indictment over allegations of tampering with election voting equipment. Peters, a local elections official in western Colorado, is charged with breaching a voting security system. She has falsely said that the 2020 presidential election was stolen.
Lindell said he was also asked about Dominion Voting Systems and fellow 2020 election denier Doug Frank.
During The Lindell Report, Lindell produced a document that he said agents gave to him and appeared to be from the U.S. attorney's office for the District of Colorado, as well as a search warrant.
A copy of the FBI search warrant's "items to be seized list" says the phone was seized in connection with investigations into misuse of Dominion's voting technology.
Lindell has long alleged that Dominion's voting machines were used to facilitate massive voter fraud in the 2020 presidential election. Dominion launched a $1.3 billion lawsuit against him in February 2021 for these claims, calling him a "schoolyard bully" and indicating that it would not try to reach a legal settlement with the MyPillow executive.
Lindell countersued for $1.6 billion, saying that because Dominion's machines helped administer a national election, the company operates as an agent of the U.S. government. As such, Lindell said, Dominion's lawsuit is a governmental violation of his constitutional right to free speech.
Last month, U.S. District Judge Carl Nichols—who was appointed by Trump—ruled that the Dominion lawsuit against Lindell could move forward. Nichols said that "it is simply not the law that provably false statements cannot be actionable if made in the context of an election."
While Lindell mocked Dominion earlier this year, saying that its legal case was "coming apart at the seams," he has not provided any information that credibly disputes the outcome of the 2020 presidential election.
He is also being sued by a Dominion Voting Systems employee, who says Lindell defiled his character with his false election fraud claims. Lindell was served with the suit's legal notice at an "election truth" rally in April.
The FBI has been coy about the phone seizure but offered a brief comment.
"Without commenting on this specific matter, I can confirm that the FBI was at that location executing a search warrant authorized by a federal judge," Public Affairs Officer Vikki Migoya said in a statement to Newsweek.
"Generally speaking, allegations of criminal conduct are reviewed by the FBI for their merit with consideration of any applicable federal laws, but such a review does not necessarily result in the opening of a full investigation," Migoya said.
"When warranted, we take any actions appropriate to the matter, such as seeking further information, referring the matter to a partner agency or referring our findings to the appropriate U.S. attorney's office," she said.
This new development is the latest chapter in Lindell's long-running attempt to overturn the 2020 presidential election's results, despite the lack of any evidence to support his campaign.
He said he has spent $35 million of his own money to prove President Joe Biden was not the election's winner. Other election deniers are seeking office in the November midterms, including Pennsylvania candidate for governor Doug Mastriano and Arizona Republicans Kari Lake and Mark Finchem, who are running for governor and secretary of state, respectively.
Lindell's campaign appears to have caught the attention of the House committee investigating the January 6, 2021, riot at the U.S. Capitol. That panel has subpoenaed his phone records. Lindell filed a lawsuit against the committee to try to block Verizon from handing over records from November 1, 2020, to January 31, 2021.
The committee has also sought records from the National Archives, asking for "all documents and communications" from April 1, 2020, to January 20, 2021, "relating to challenging the validity of the 2020 election, to, from, or mentioning Mike Lindell."
In April, Lindell said he was willing to testify before the committee provided the hearing was "televised nationally."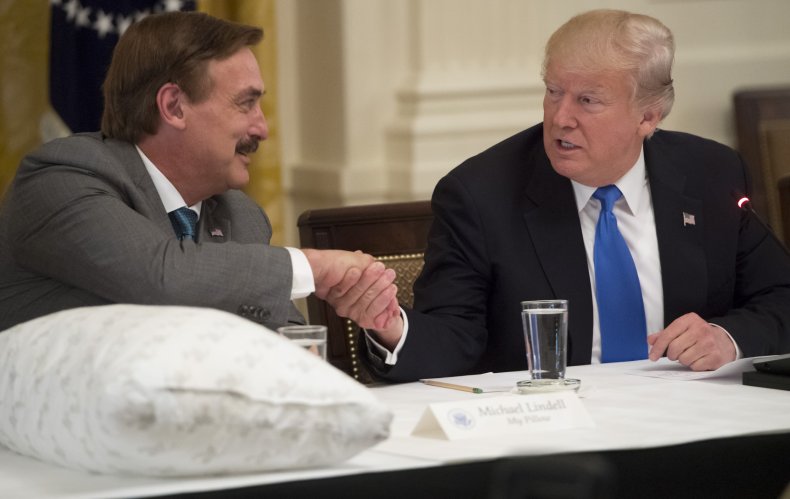 What We Don't Know
The FBI search warrant and its seizure list say that Lindell's phone was taken in connection with information on damage or unauthorized access to Dominion's voting systems. However, it doesn't specify if it is directly related to Peters' indictment (although her name is mentioned in the seizure list), and it doesn't otherwise state the specifics of Lindell's involvement.
It may be that Lindell's phone records may assist in the indictment of others on the list. Or the purpose of the investigation is to target Lindell specifically, although that is entirely speculative.
It is also not clear if or when the data could be shared with the January 6 committee.
Until the FBI releases further information about the outcome of the seizure, a judge is compelled to release an affidavit (if one was required) or official charges are brought, it's unlikely we'll learn much more, apart from further admissions or statements from Lindell.
Newsweek has contacted Lindell and the FBI for comment.