Putin Ally Wanted China to Shoot Down Pelosi's Plane: 'Good' for Russia
Aleksey Zhuravlyov, a Russian politician and ally of President Vladimir Putin, said on state television that it would have been "good" for Russia if China shot down the plane carrying U.S. House Speaker Nancy Pelosi because of her visit to Taiwan.
Zhuravlyov is a member of Russia's State Duma and leads the nationalist Rodina political party that supports Putin. During an appearance on the 60 Minutes show on the Russian state-owned television channel Rossiya-1, he said that an attack on Pelosi's plane from China would open up a "second front" in Putin's conflict with the West, the Daily Mirror reported Thursday.
"It would be important for us if this plane was either squeezed out [intercepted] or was shot down," Zhuravlyov said of Pelosi's aircraft.
"For us, opening a second front is good. No matter how the situation with the island [Taiwan] develops, we will anyway win," he added, according to the Daily Mirror. "The whole world understands that the only country which can resist the U.S. is Russia."
Pelosi became the most senior American elected official to visit Taiwan in a quarter-century when she traveled to the island's capital of Taipei this week during her tour of Asia. News reports had been circulating since July that Pelosi would stop at the East Asian island, but Pelosi did not confirm the trip until she was already there.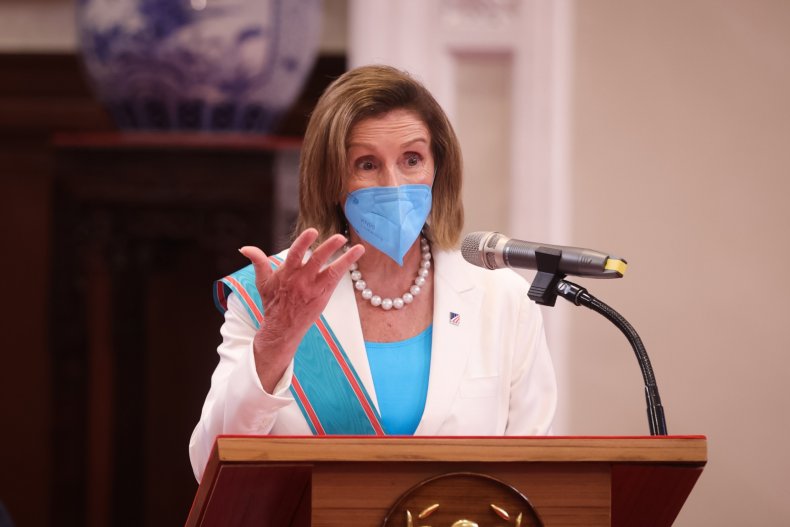 China has sharply condemned the move and issued repeated threats in the weeks leading up to the visit that it could result in "consequences" for the U.S. When she followed through on the trip despite these warnings, China announced that it would conduct "targeted" military actions in response.
The exact date on which Zhuravlyov made the comments about Pelosi's plane was not immediately clear, but it appears that it was after Pelosi's visit to Taiwan. Pelosi, who is third in line to the presidency, landed on the island Tuesday and left Wednesday.
Taiwan, officially called the Republic of China (ROC), has been governed independently from mainland China since 1949, but Chinese officials have stressed that they view the island as an "inalienable" part of China under the One-China Policy.
Pelosi stressed in a statement Tuesday that her visit "in no way contradicts longstanding United States policy" in regard to Taiwan. But China officially began four days of military exercises around Taiwan on Thursday in response to her trip, which a spokesperson for China's foreign ministry decried as a "provocation."
Russia has condemned the visit and vowed to back China amid the heightened tensions with the U.S. and Taiwan.
Newsweek reached out to Pelosi's office and Russia's foreign ministry for comment.