North Korea Targets U.S. With Missile Upgrade as Seoul's Spies Brace for New Tests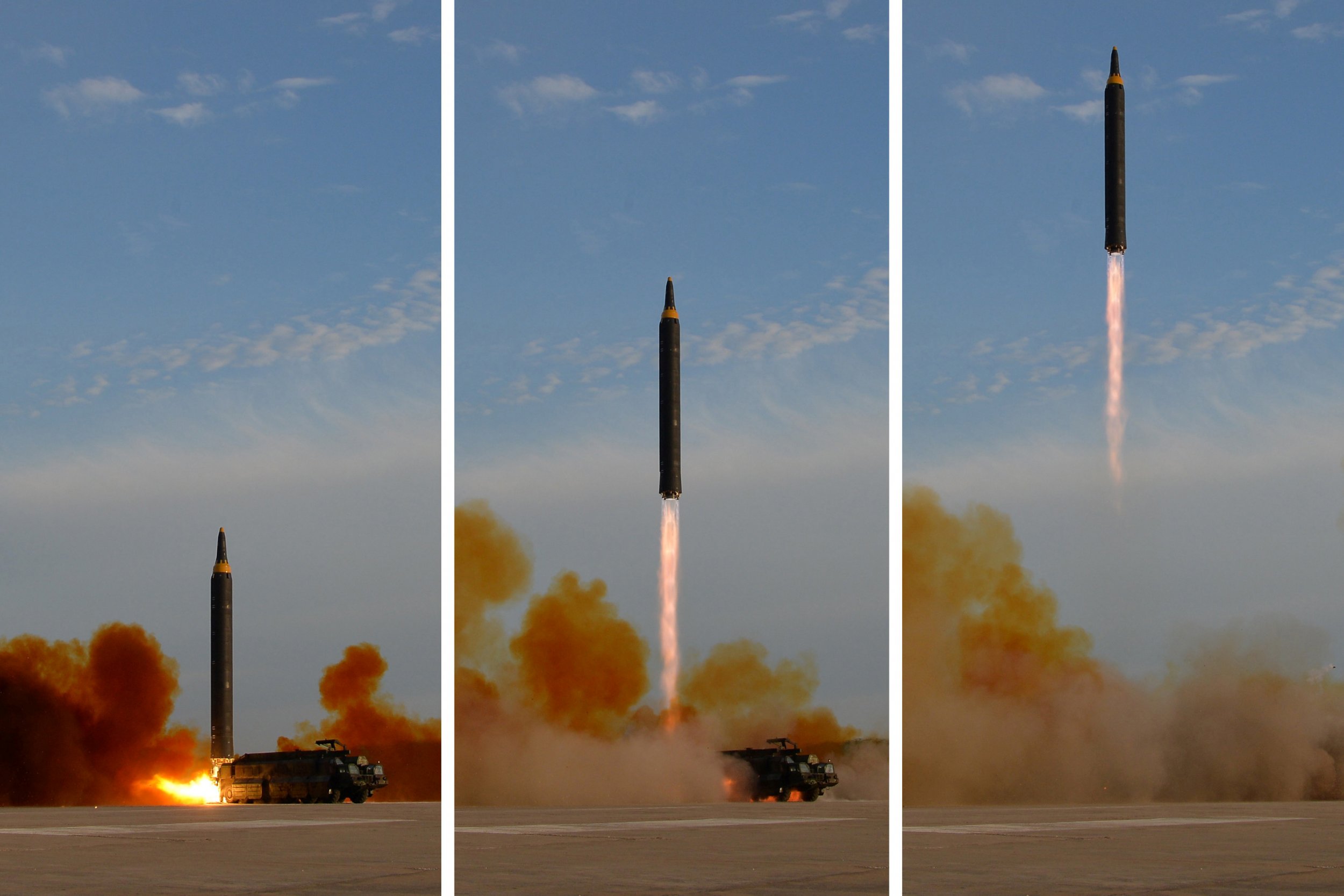 North Korea's missile development program is raising new concerns among U.S. and South Korean officials.
After two successful intercontinental ballistic missile (ICBM) tests in July, which experts said could reach the U.S. mainland, Pyongyang is now looking to develop a more advanced version of its Hwasong-14—also known as KN-20—rocket, U.S. sources told CNN. The report comes as South Korean intelligence officers warned of Pyongyang's relentless push to miniaturize warheads to fit on the missiles, a landmark development American officials say North Korea could achieve at some point in 2018. The National Intelligence Service (NIS) representatives told Seoul's lawmakers they observed increased activity around Pyongyang's missile research facility, an indication the regime could be preparing for a new test.
"The North will carry out additional nuclear tests and continue to push for the development of miniaturized, diversified nuclear warheads," members of parliament who attended the intelligence briefing on Thursday reported to South Korean news agency Yonhap.
A Russian lawmaker who visited Pyongyang in early October also reported North Korea was preparing for such a test. "As far as we understand, they intend to launch one more long-range missile in the near future. And in general, their mood is rather belligerent," Anton Morozov told Russian news agency RIA after the trip, quoted in Reuters.
American and Japanese officials were closely observing Pyongyang for signs of a new missile test launch on October 9 or 10, dates that matched national holidays both in North Korea and the U.S., but the occasions passed without detecting provocations. President Donald Trump's upcoming trip to Asia, which will include visits to Japan, South Korea, China, Vietnam and the Philippines, may present another opportunity for Pyongyang to provoke its neighbors and taunt the U.S.
North Korea's most recent missile launch was in mid-September, when the regime shot an intermediate range ballistic missile (IRBM) Hwasong-12 over northern Japan and into the Pacific Ocean. The launch followed the country's sixth and most powerful nuclear test to date on September 3.
At the parliamentary briefing, NIS officers also warned of the possibility for new nuclear tests. They said the North Koreans may likely begin reprocessing used fuel rods at its main nuclear facility in Yongbyon, around 50 miles north of Pyongyang. According to the U.S.-based Union of Concerned Scientists, nuclear reprocessing is "dangerous, dirty and expensive," but separating plutonium and uranium from other nuclear waste is nonetheless one way to make nuclear weapons from fuel used in nuclear power reactors.
Seoul's spies also said the nuclear facility in Punggye-ri may be ready to accommodate a new test "at any time," although they said the site could have been damaged in the hydrogen bomb test, citing a series of small earthquakes as evidence. Japanese media reported in October that a tunnel collapse at the underground facility killed more than 200 people, while an unspecified number of North Korean soldiers deployed to the site were receiving radiation exposure treatment at a military hospital.
North Korea dismissed the reports as "false" and as "misinformation" intended to badmouth the country and its nuclear development, the country's state-controlled news agency KCNA reported Thursday.