Alex Jones Is Off Social Media—but His British Infowars Sidekick Paul Joseph Watson's Accounts Are Still Live
Twitter has followed YouTube, Facebook and other platforms in taking punitive action against the conspiracy theorist Alex Jones and his outlet Infowars, but the highly followed accounts of his colleague and surrogate Paul Joseph Watson are still live.
London-based Watson is a longtime editor of, and contributor to, Infowars, which has peddled conspiracy theories such as the Sandy Hook elementary school massacre being a hoax, that the 9/11 terror attacks were a false flag, and that Barack Obama was born in Kenya. Watson also co-founded the conspiracy website Prison Planet.
Watson is now best known for making hard-right videos in front of a map, railing against the likes of immigration, Islam and feminism, and spreading disinformation on his social media accounts.
A self-described "classical liberal," Watson has over 1.3 million subscribers on YouTube, more than 670,000 likes on Facebook, and over 900,000 followers on Twitter. It's what sets him above garden-variety social media users who post similar content.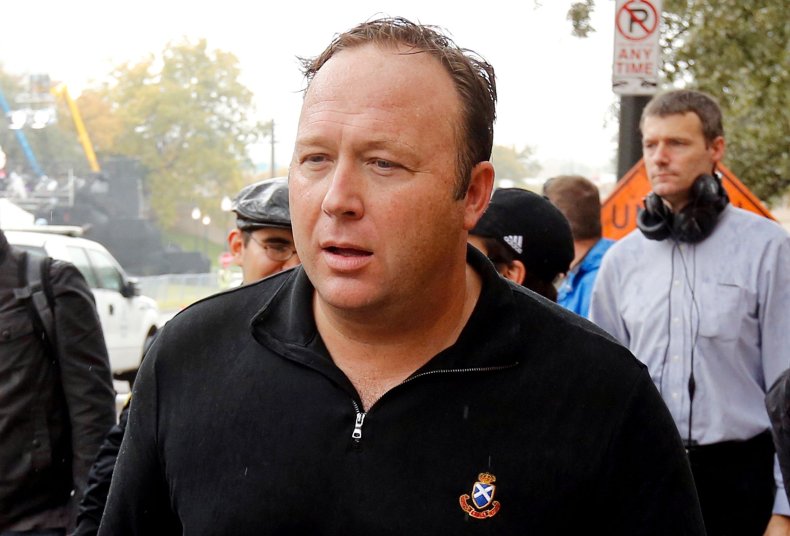 Now Jones and Infowars are off those platforms and others, including Spotify and Vimeo, after years of breaching their rules on the likes of hate speech, Watson is using his social media accounts to campaign vociferously against what he calls "political censorship" by "big tech," in between his usual output.
Watson's accounts remain as yet untouched by the platforms despite his relationship with Jones and Infowars, and his history of using them to push false and inflammatory material.
YouTube, Facebook, and Twitter did not immediately respond to Newsweek's requests for comment on Watson's accounts and his future on their platforms.
Alex Jones' ex-wife Kelly Jones, who is in a custody battle with her former husband over their children, told The Daily Beast that Watson will soon "surpass" his boss in popularity.
"I think PJW is a smarter, more conniving version of Alex. He's definitely better educated, more erudite, way more savvy," she said. "Paul has endured what he has from Alex because he is going to surpass him. He's popular with the today crowd and I think he knows absolutely what he's doing."
According to that profile of Watson, Kelly Jones ran payroll for Infowars and said he was "making monthly what people make in a year."
While Facebook, YouTube, Spotify and others gave Jones and Infowars permanent bans for rules violations, Twitter has only handed the accounts a week-long ban. This came only after the pressure of a backlash against the social media company when it said Jones had not violated its rules, and therefore would remain on the platform. Critics said Jones had already violated the rules multiple times in the past.
However, Jones then posted a video to his Twitter-owned Periscope account calling on supporters to prepare their "battle rifles," against the media and anti-fascists, which he called "the enemy."
"We're under attack and you know that. You've pointed out that mainstream media is the enemy," Jones said. "But now it's time to act on the enemy before they do a false flag... Get together the people you know who aren't traitors, or cowards, or who aren't hedging their frickin' bets like all these other assholes do, and let's go, let's do it.
"Because they're coming... This is it. So people need to have their battle rifles and everything ready at their bedsides, and you've got to be ready."
That, Twitter, said, broke its rules on incitement to violence. "Our enforcement actions escalate, ultimately ending in permanent suspension," Jack Dorsey, the Twitter CEO, wrote on his account.
A recent Infowars broadcast that grabbed attention featured Jones calling special counsel Robert Mueller—who is investigating possible collusion between the Trump 2016 campaign and Russia—a pedophile and mimicked shooting him.
"It's going to happen, we're going to walk out in the square, politically, at high noon, and he's going to find out whether he makes a move, man make the move first, and then it's going to happen," Jones said as he pretended to shoot at Mueller.
"It's not a joke. It's not a game. It's the real world. Politically. You're going to get it, or I'm going to die trying, bitch. Get ready. We're going to bang heads," Jones continued, fake firing at Mueller.
Critics had long called for platforms such as YouTube, Twitter and Facebook to permanently ban the likes of Jones, whose misinformation and hate-spewing content can inspire violence, such as the shooting related to the "Pizzagate" conspiracy.