DeSantis 'In No Rush' but Pence 'Strong' for 2024—Trump's Ex-Campaign Chief
Donald Trump's former campaign manager recently said that he believes Florida Governor Ron DeSantis should hold off trying to become president until after 2024 while former Vice President Mike Pence would be considered a "strong" candidate should he choose to run.
Paul Manafort, a key part of Trump's 2016 team who was jailed for tax and bank fraud charges, told Newsweek that while he considers both DeSantis and Pence potential future GOP candidates, neither of them would beat the former president should he choose to run in 2024 as expected.
"DeSantis is in no rush," Manafort said. "He's gonna get reelected, he's been doing a tremendous job as governor of Florida. His second term will end in 2026, and—if Trump is elected [in 2024]—he will have an open seat in 2028.
"Pence has his own base he can build from and he's a strong candidate in many respects," Manafort added. "I don't know if he'd run against Trump. He would also be a prospective candidate for 2028. They're both young enough, unlike the Democratic Party."
Manafort, who was pardoned by Trump in December 2020 after he was jailed over charges in a case stemming from Special Counsel Robert Mueller's investigation of Russian election interference, spoke to Newsweek ahead of the release of his memoirs, Political Prisoner: Persecuted, Prosecuted, but Not Silenced.
The book details how Trump secured the GOP nomination in 2016 against the odds, the factors which led up to him choosing Pence as his running mate, as well as Trump's eventual victory.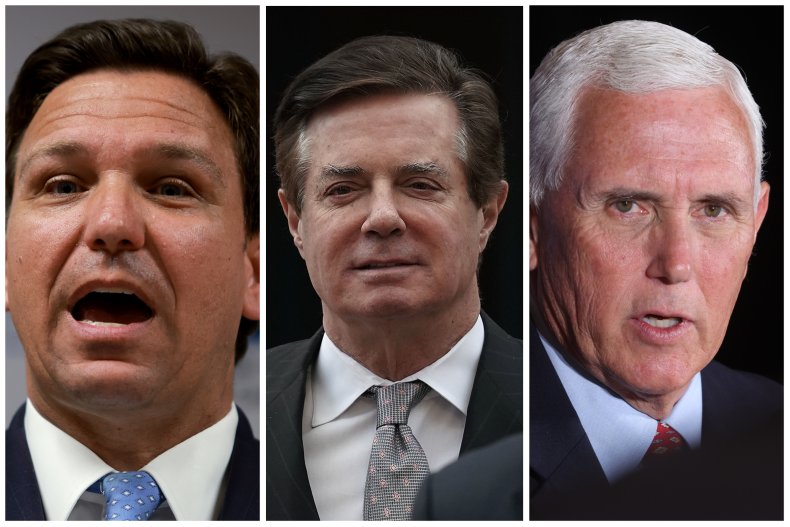 Unsurprisingly, Mueller's investigation into alleged Russian interference in the 2016 Election also features heavily in the book, with Manafort attacking the special counsel's probe and denying there was any collusion at every opportunity.
Since Manafort's pardon by Trump seven months after he was released from federal prison to home confinement due to COVID-19, the longtime GOP political consultant has mainly shied away from public life, and has not spoken out about Trump's false claims the last election was rigged.
"I have not gotten into that discussion," Manafort told Newsweek. "To me, Biden is president. And that's the reality."
With regards to the next election, Manafort says Trump is still the candidate to beat in a hypothetical GOP primary.
There has been speculation that DeSantis is gearing up to announce his intentions to run for president, but with polls frequently suggesting the governor is still way behind Trump.
There is also talk that Pence is considering a run for the White House, potentially setting up a match-up between him and Trump.
The recent GOP gubernatorial primary in Arizona was seen as a proxy war between the pair and signs of where the party is heading, with the Trump-backed election denier Kari Lake ultimately beating Karrin Taylor Robson, who was endorsed by Pence and Arizona Governor Doug Ducey.
Despite the pair's fractured relationship and Pence refusing to back Trump's effort to overturn the 2020 election, Manafort said he does not believe the former vice president would run a campaign showing him to be an "anti-Trump" candidate.
"I wouldn't think Pence would call him that either. Pence will run on his own record," Manafort said. "He had a solid record in Congress, a solid record as governor, and he was a strong participant in the Trump administration until the 2020 election."
As for Trump's own chances of returning to the White House, Manafort said that Biden is "making it very easy" for Trump to run again.
"He's failing on the very issues that were Trump's successes: Improving the economy, rising wages, protecting the border, an America First foreign policy," Manafort said.
"So, Donald Trump's looking at all that and thinking 'all I have to do is stand up there and say, this is what I achieved, and this is what Biden achieved' and the case makes itself."
Elsewhere, in one passage of Manafort's new book, he describes how he was acting as an unofficial adviser to the Trump campaign in 2020 as he was seeing out his sentence under house confinement.
"There was no contact with anyone in the Trump orbit when I was in prison," he writes. "And I didn't want any, especially if it could be exploited by the MSM [Mainstream Media]," he wrote. "But when the re-election campaign started kicking off, I was interacting, unofficially, with friends of mine who were very involved. It was killing me not to be there, but I was advising indirectly from my condo."
When asked by Newsweek if he would join Trump's 2024 team if asked to return in an official manner, Manafort said: "I'm not speculating on that kind of stuff. First he's got to decide to run, second I've got to know what I'm going to be doing with the rest of my life.
"You don't make career decisions based on hypotheticals. So I'm not dealing with hypotheticals right now."
Political Prisoner: Persecuted, Prosecuted, but Not Silenced will be released on August 16.