Joey Sasso on When He Decided to Propose to Kariselle on 'Perfect Match' 
Perfect Match contestant Joey Sasso has opened up about his romantic proposal to Kariselle Snow, which took place during the season finale of the Netflix dating show.
Sasso, who won the first season of The Circle in 2020, and Snow, who starred in Sexy Beasts in 2021 coupled up during the very first episode of the series, which premiered on February 14, and remained a strong pairing throughout.
The 12th and final episode of Perfect Match, the show that sees famous Netflix stars attempt to find love with each other, landed on the streaming site on Tuesday, February 28.
The remaining couples, which included Bartise Bowden and Izzy Fairthorne, and Nick Uhlenhuth and Lauren "LC" Chamblin, were seen heading out on final romantic dates, to wrap up their time on the series.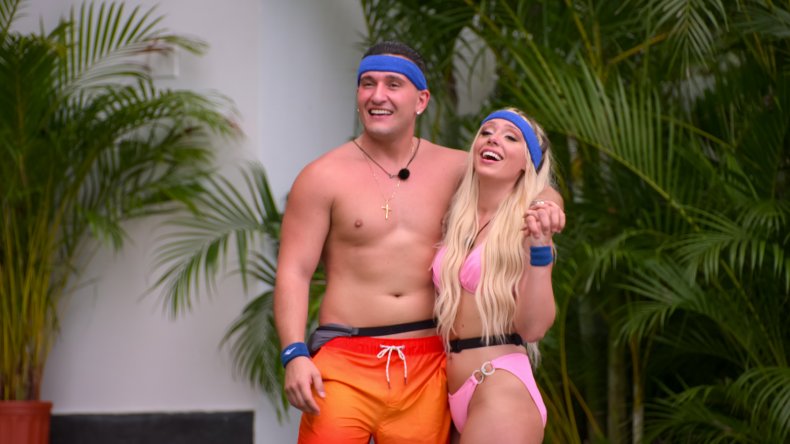 The most romantic date of all, however, was Sasso and Snow's, as Sasso popped the big question and asked Snow to marry him.
The couple had a romantic relationship in the past, prior to the filming of the show in early 2022, but came face to face once again when they both entered the Perfect Match villa in the very first episode.
"When I think about all the things that make me love you, it's such a long list I don't know where to begin," Sasso said during the proposal, before getting down on one knee to a visibly shocked Snow.
The couple kept their engagement a secret from their co-stars until the very end of the show, when all the contestants, eliminated or otherwise, reunited to find out who had won the show from host Nick Lachey.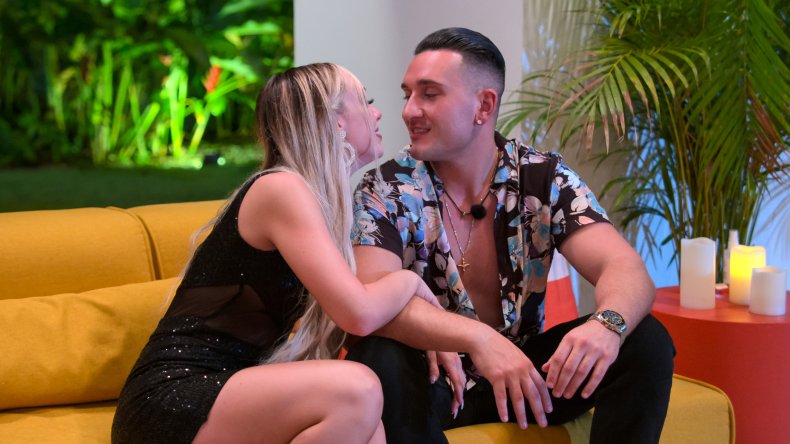 Speaking ahead of the episode's release, Sasso revealed details of the romantic proposal and said that he had decided to propose to Snow just a week before the actual moment he got down on one knee.
Revealing what made him realize he wanted to marry Snow, Sasso told Newsweek: "We would be sitting, talking about the future and what's going to happen after [the show] and I'm the type of person that, when I get something in my head I can't unsee it.
"So I remember it was lunch time and I think we maybe had a week left to go on the show and I just thought 'I'm going to marry this girl, I'm going to ask her to marry me.'"
Sasso added that he struggled to keep his big news to himself, saying: "I get so excited about things and I want to tell everyone—and obviously this is something I couldn't say to people—but it just became a mission."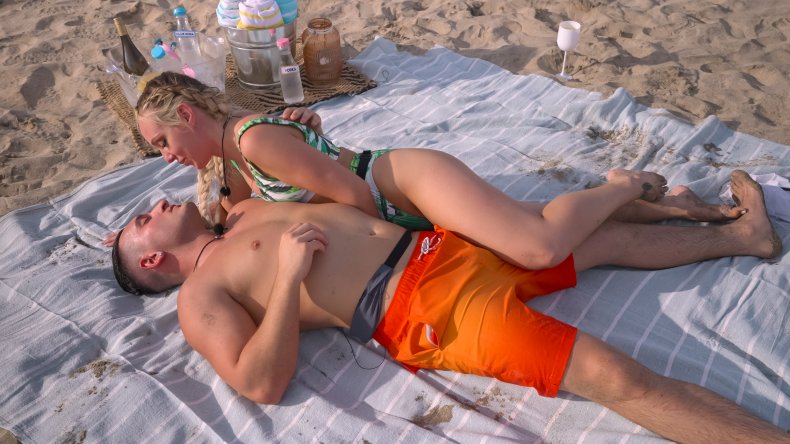 As all the Perfect Match contestants were living in a villa together during the filming of the show, Sasso had to work to get everything in order for the proposal.
"[I was thinking] we are going to get engaged, and hopefully she says yes, but then I'm thinking there are so many things [to do], I gotta call her dad, I gotta call my parents, I gotta let people know that I'm going to take the plunge right now," he explained.
At the time of his interview with Newsweek, Sasso had not seen any footage of the proposal and he revealed that he was looking forward to watching it as he was so nervous during the event that he could not remember anything.
"I can't wait to see it. I thought I wasn't nervous at all but I remember nothing! I blacked out, I was [then] so nervous throughout the entire proposal! I hope it came across good!" he said.
"I think there were a lot of tears involved but it was one of the most beautiful moments of my life," Sasso concluded.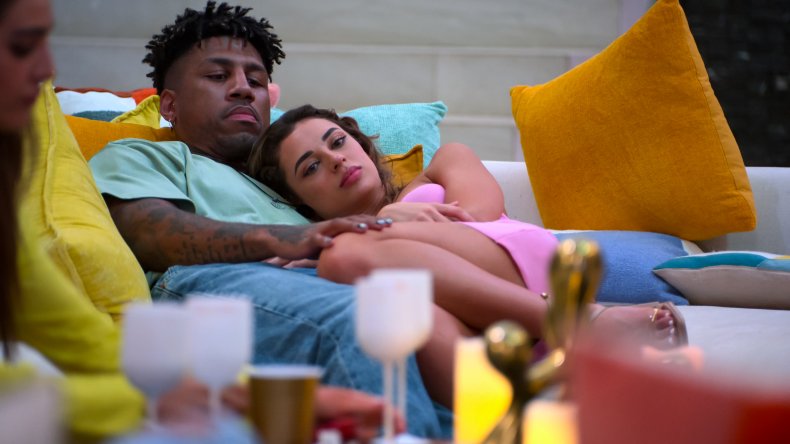 Though many fans predicted that Sasso and Snow were going to win the inaugural season of Perfect Match, another couple snatched the crown during the season finale.
Dom Gabriel from The Mole and Georgia Hassarati from Too Hot to Handle were crowned the winners of Perfect Match and won an all-expenses-paid vacation to a destination of their choice.
As well as Sasso and Snow, Gabriel and Hassarati beat other fan favorites Chloe Veitch and Shayne Jansen, who matched briefly in episode 4 before they split when Veitch's ex-boyfriend, Mitchell Eason, arrived at the villa.
After Eason admitted to Veitch that he was not ready for a relationship, she backtracked and reunited with Love Is Blind's Jansen.
All episodes of Perfect Match are available to stream on Netflix now.