Which Couple Wins Netflix's 'Perfect Match'? Fans Think They Know
Perfect Match fans think they have worked out which couple wins the show, ahead of the February 28 season finale.
The Netflix dating show premiered on February 14 with four episodes, followed by a second batch on February 21. The final four episodes will land on the streaming site on Tuesday.
Reality television stars like The Mole's Dom Gabriel, Love Is Blind's Shayne Jansen, Too Hot to Handle's Chloe Veitch and The Circle's Mitchell Eason have all featured on the cast of the new series.
On Perfect Match, the famous singletons must couple up with the co-star they think they are most compatible with and compete in a series of games and challenges. Anyone who is left single loses their spot in the house and must leave.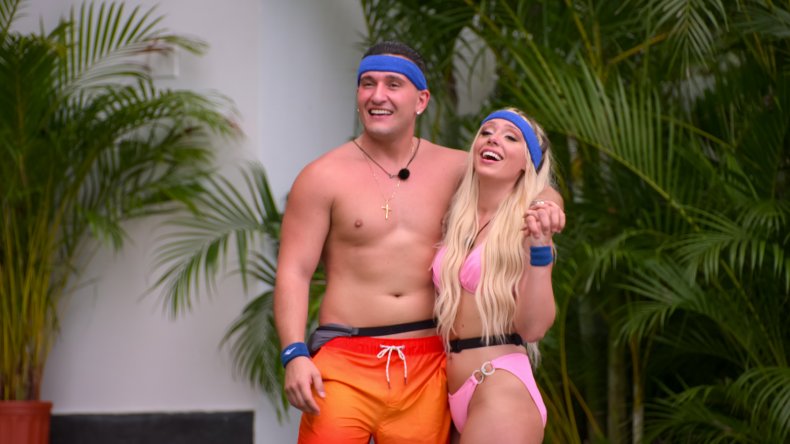 Only one pair will be deemed the "perfect match" at the end of the season and, while the official results won't be revealed until the last episode is released on Netflix, viewers are convinced they already know which couple will be successful.
Newsweek has everything we know so far about fan predictions for the Perfect Match finale.
Who Wins Perfect Match?
A number of Perfect Match fans are convinced that Joey Sasso and Kariselle Snow are going to win the season.
Sasso, who won the first season of The Circle in 2020, and Snow, who starred on Sexy Beasts in 2021, have been coupled up pretty much since episode one, having suffered only one brief snag in their romance when Snow went on a date with Too Hot to Handle's Chase DeMoor.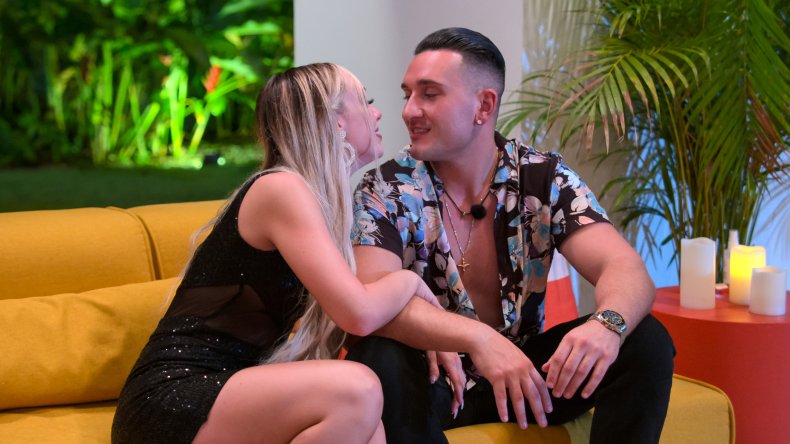 There have been plenty of other couples on Perfect Match who seemed strong but have since fallen apart, including Gabriel and Francesca Farago and Veitch and Jansen.
Gabriel is now paired up with Georgia Hassarati, while Veitch has reunited with her ex-boyfriend and former co-star Eason.
Fans have taken to social media to predict that, because they are the couple with the strongest track record, Sasso and Snow will surely be the victorious pairing.
Posting on Twitter, one fan said: "I'd be shocked if Joey and Kariselle don't win the show simply because they've been together from the start and are now official. If people vote at the end on comparability they're guaranteed to win imo. #PerfectMatch."
While another wrote: "Calling it now, the couple that wins is either gonna be Joey and Kariselle or Georgia and Dom. But probably the former because everyone has seen them together since the beginning #PerfectMatch."
Speaking before Perfect Match premiered, Sasso revealed what it was like to come face-to-face with Snow, who he had a romantic relationship with in the past, prior to the filming of the show in early 2022.
"I didn't know what to expect walking into the house but as soon I saw Kariselle...her and I have history together, we have been in each other's lives and, in a big way, that put all of my nerves to rest because I knew we were going to be on this dating show and I just felt like everything had happened for a reason to bring us together, for where we're both at in our lives, to give this another shot and really give it 100 percent," he told Newsweek.
"Night one, I remember her walking in the house and I remember her looking so beautiful in that red dress and I was like, 'All right, here we go, let's do this thing,'" he added.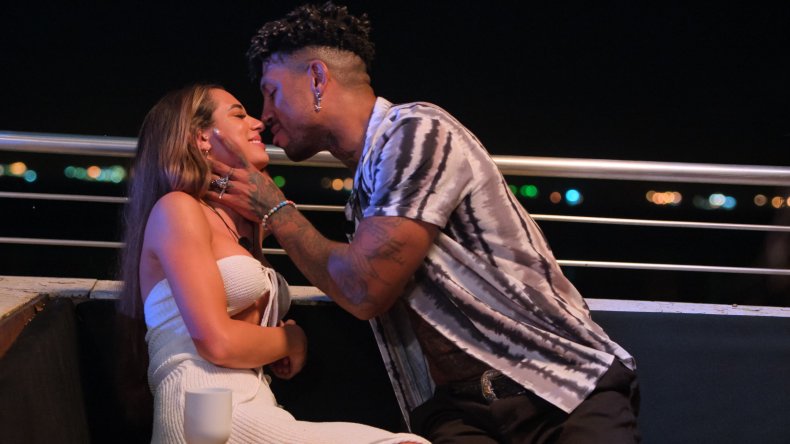 While many fans are convinced Sasso and Snow will be the winners, others did admit that they hope Gabriel will take the crown after he was left heartbroken by Farago when she dumped him for Love Is Blind's Damian Powers.
"Joey and Kariselle are probably gonna win but I hoping Dom and Georgia win #PerfectMatch #perfectmatchnetflix," tweeted one viewer.
As another added: "If Dom and Georgia don't win this one... #PerfectMatch #PerfectMatchNetflix."
The first eight episodes of Perfect Match are available to stream on Netflix now. The final four episodes will be released on February 28.