Best Pop Culture Halloween Costumes 2021: Kim K's Met Gala Look to 'Sexy' Bernie Sanders
Halloween is fast approaching and so now is the perfect time to start thinking about your costume.
With plenty of ideas to pick from, it can be hard to decide on your character.
Will you be sexy or scary? Funny or full on?
If you're stuck for inspiration, look no further than some of the biggest pop culture moments and most hilarious memes of the last 12 months.
These are our favorite pop culture-inspired Halloween costumes for 2021.
Bernie Sanders at the Inauguration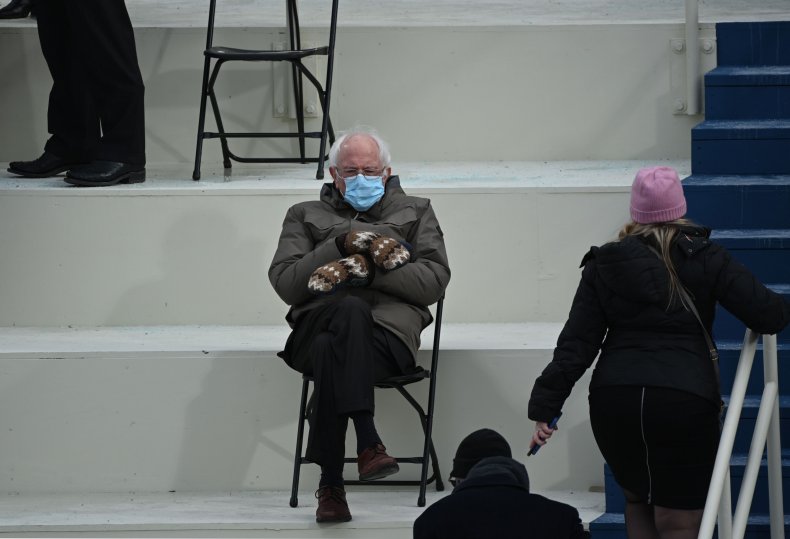 Who would have thought that a simple photo of a cold Bernie Sanders watching the inauguration of President Joe Biden on January 20 would have turned into such a viral sensation?
And now, we kindly ask that you revive this iconic meme in the name of Spooky Season.
The photo of the independent Vermont Senator wearing a sensible coat, knitted mittens and a mask has been photoshopped many times over to include him in hilarious situations - from the moon landing and sitting on Game Of Thrones' Iron Throne, to even as the fly on Mike Pence's head during the vice presidential debates.
His mittens were made by elementary school teacher Jen Ellis, who gave them to him as a gift.
They are made from recycled wool and lined with fleece made from recycled plastic bottles, and you can get your very own pair.
After their viral fame, Ellis partnered with Vermont Teddy Bear to make more mittens with some of the proceeds going to Make A Wish Vermont.
Unfortunately, they are not in stock right now but you can sign up to their mailing list to be notified when they are available for purchase.
What to Wear
To recreate Bernie's look, you'll need a pair of brown wool mittens like these from Amazon for $19.99.
A winter coat like this $63.99 one from Amazon is also a must.
Rounding off the look, you'll need some plain black trousers, black shoes, and don't forget your mask.
Alternatively, you can buy the full look from Dolls Kill for $85.
Kim Kardashian at the Met Gala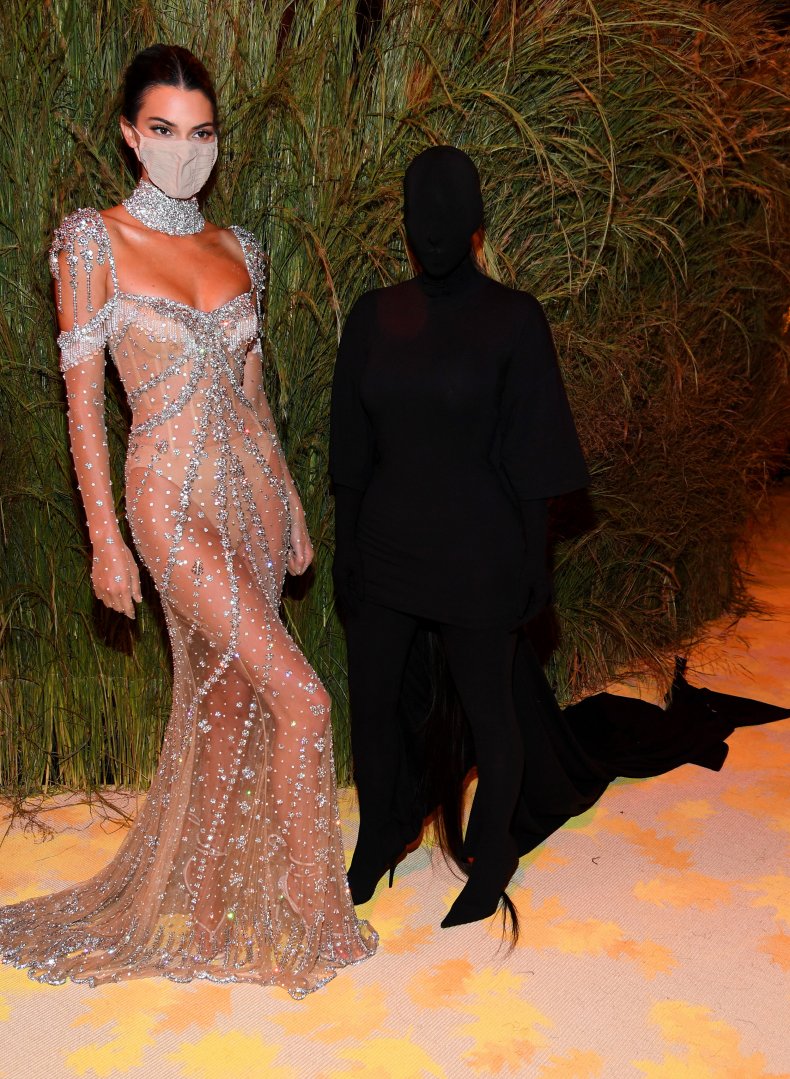 Kim Kardashian is a regular head-turner at the Met Gala and attends with a different designer every year, but this year's Balenciaga gown was something else entirely.
Dressed in literal head-to-toe black, Kardashian joked that her outfit was very on theme as "what's more American than a t-shirt head to toe?"
With her face entirely covered, that was certainly one way to avoid breaking this year's strict COVID rules.
What to Wear
While Kim's outfit may have been custom-made by the Spanish fashion house, you needn't splurge to recreate this look for yourself.
The first thing you'll need is an all black morph suit, like this one from Amazon.
You'll need a skirt to go over the top; this $13.75 bodycon skirt should do the trick.
Of course, you'll need to attach a ponytail to your costume.
While Kardashian's 75 inch ponytail cost a reported $10,000, you can get this 35 inch one for just $13.99.
Finally, you'll need a train to do the look justice.
This might be a tablecloth but attach one of them to either side of your skirt and suddenly you've broken the internet.
Black Swan from The Masked Singer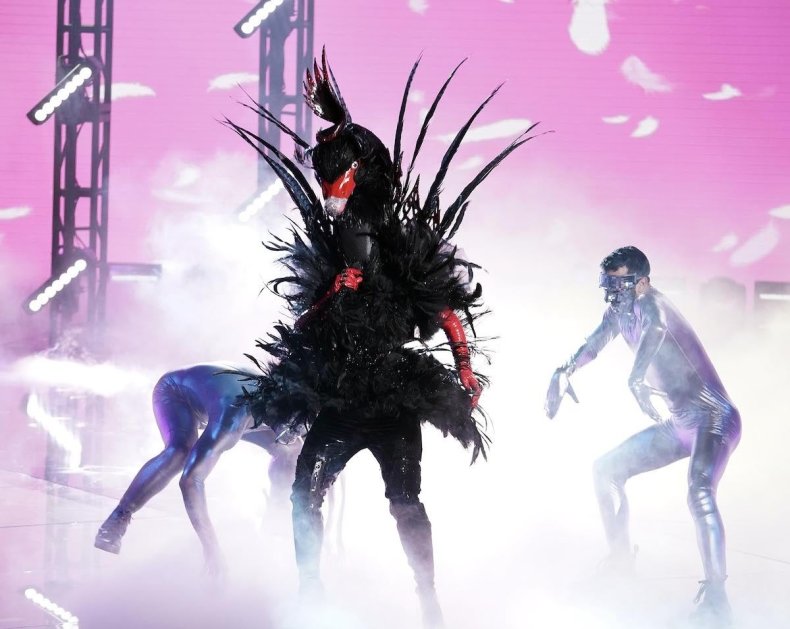 Though a new season of The Masked Singer has begun, we're still obsessed with JoJo's performance as Black Swan.
She made it to the 2020 final where she finished as runner-up to Piglet, who was revealed to be Nick Lachey.
What to Wear
A ballet-inspired black dress with tutu should be the basis of your costume, like this one for $23.95 on Amazon, paired with black leggings.
Of course, you'll need a swan head like this available on Amazon. Maybe carry a little karaoke microphone, too, like this one for $14.99.
Olivia Rodrigo
Music-wise, 2021 really belonged to Olivia Rodrigo, and good 4 her.
Her debut album, Sour, was released in May to widespread acclaim and caused listeners to experience fresh waves of teenage angst.
What to wear
This one is a simple look to do but is instantly recognizable.
To recreate her look on the Sour album cover, all you'll need is some stickers to put on your face.
This pack of 400 costs just $8.99 from Amazon.
Masha in Nine Perfect Strangers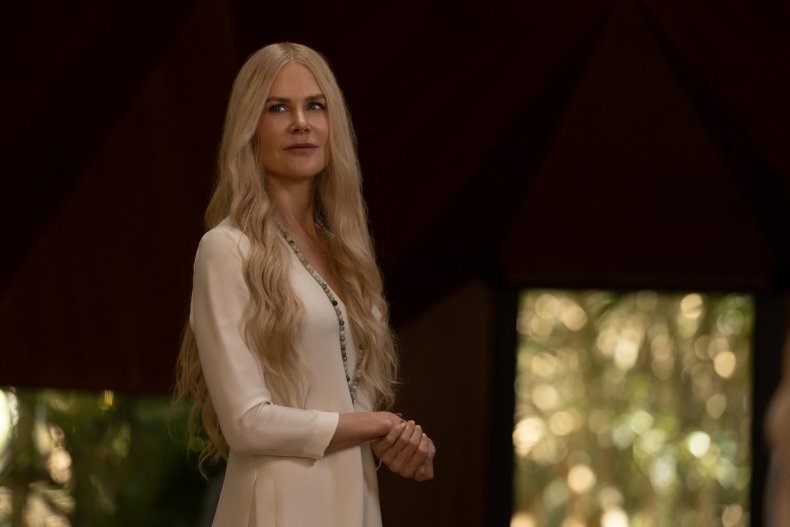 Nicole Kidman's eerie portrayal of Masha in Nine Perfect Strangers had viewers gripped.
The ethereal yet mysterious Russian wellness guru had audiences transfixed, as she slowly lost control of an experimental protocol at her wellness retreat, Tranquillum House.
What to Wear
Another easy one, for this you'll need a long white dress like this one from Amazon.
Accesorize with a long, beaded necklace and if you want to go the whole hog, add a wavy platinum blonde wig too.
Wanda in Wandavision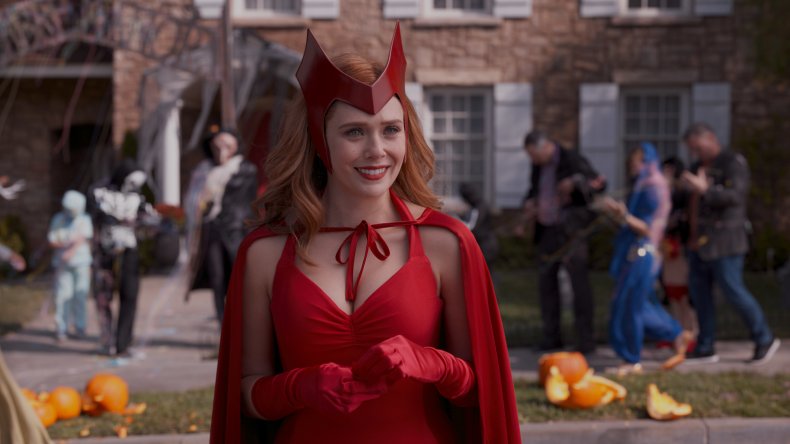 In Disney+'s Wandavision, it's quickly revealed that all is not as it seems in Wanda and Vision's idyllic, picture-perfect life.
Elizabeth Olsen delighted fans with her reprisal of the chaotic superhero.
What to Wear
You can get Wanda's full superhero costume easily on Amazon.
This one will set you back $49.99.
Bennifer 2.0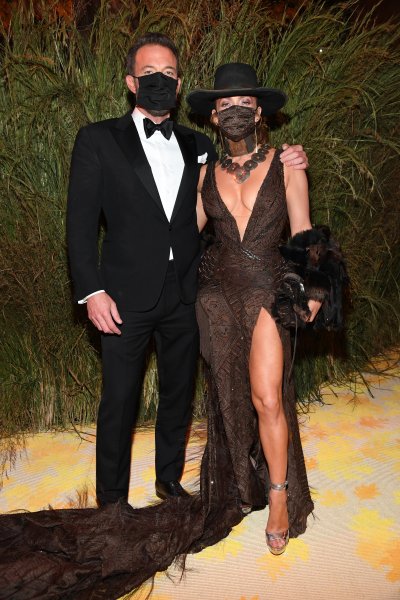 One of the biggest pop culture surprises of the year was Jennifer Lopez and Ben Affleck's reunion.
Dubbed "Bennifer 2.0," Lopez finally revealed they were back together after rampant speculation in an Instagram photodump for her birthday, including a picture of the two of them sharing a kiss on a yacht.
They finally went red carpet official at Venice Film Festival in September.
What to Wear
The weather may be too cold to recreate their post announcing they were back together, but there are red carpet looks to adapt instead.
The photo that caught the attention of the internet was the couple sharing a masked make-out at the 2021 Met Gala.
To achieve this look for Halloween, men need a simple tuxedo, like this one on Amazon.
For women, you'll need a dress with a thigh slit, a faux fur shawl, and a cowboy hat.
Of course, you'll both need black masks to really set it off.
Cruella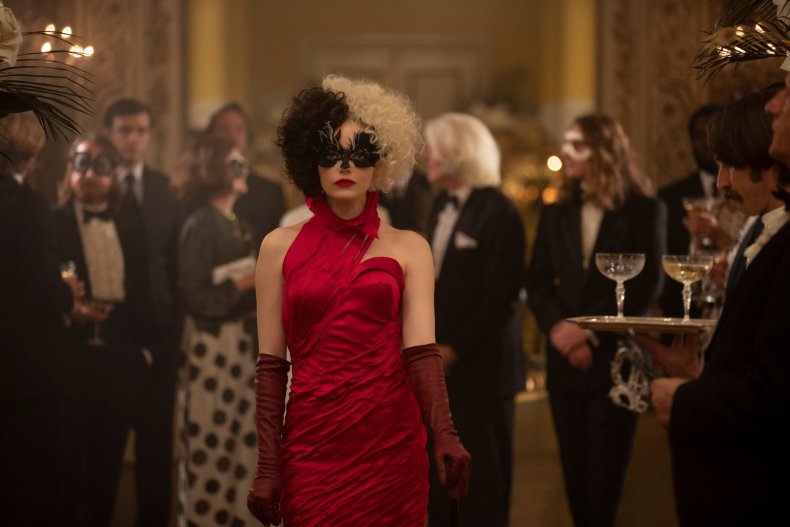 Earlier this year, Disney fans were finally treated to 101 Dalmatians prequel, Cruella.
The movie follows a young Estella (Emma Stone) before she became the infamous Cruella DeVil, as she tries to make a name for herself in London's fashion world.
You can recreate her look yourself (with no puppies being harmed in the process).
What to Wear
Thankfully, this is another look that comes as a full costume.
This outfit from Amazon recreates Estella's masquerade ball look for $112.99.
Little Lad
One for the TikTok aficionados, Little Lad has dominated the social media app thanks to the Berries and Cream trend.
What to Wear
An easy one to recreate, the most important thing is the hair.
Get this wig from Amazon for $9.99.
All you need now is a pilgrim costume and to master the berries and cream dance.
Irish Uncle Matt LeBlanc
As the cast of Friends reunited earlier this year for an on-screen tribute to the sitcom, Matt LeBlanc became an unexpected meme, as many likened him to an Irish uncle.
What to Wear
Possibly the easiest of all, for this all you need is a short sleeve striped shirt like this one from Amazon and a pair of jeans.
This is a costume that's more about your overall attitude.
Christian Girl Autumn
Caitlin Covington became an unexpected meme in 2019 when a photo of her and a friend was tweeted with the caption: "Hot Girl Summer is coming to an end, get ready for Christian Girl Autumn."
Ever since, her return as the internet's "queen of fall" is celebrated every year.
When she wished her followers a happy autumn on Twitter, one user quipped: "She Is Risen."
What to Wear
As a fashion blogger, Covington helpfully links to all her outfits on her Instagram, and plenty of them are affordable, as she recently worked with Walmart Fashion.
All you need is a chunky knit like this one from Amazon, some leggings, and a beanie hat.
And, of course, you must accessorize with a coffee flask.
Squid Game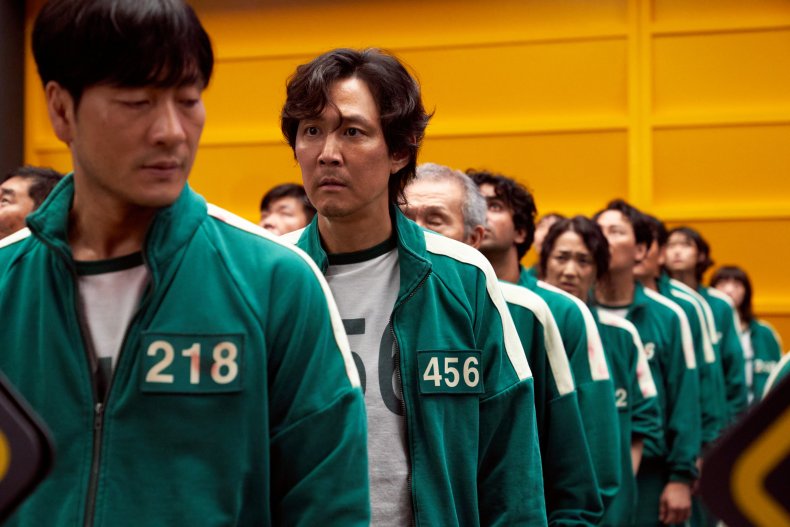 Korean drama Squid Game has taken the world by storm.
The Netflix show sees 456 people who have struggled financially battle each other in an extreme survival competition in a series of games for the chance to win 46.5 billion Korean won (around $38.4 million).
What to Wear
This is a pretty easy and comfortable costume, perfect for looking like you've made an effort when really, all you had to do was put on a tracksuit.
This Squid Game inspired tracksuit will only set you back £25.99 and comes in a variety of numbers so you can decide which character you want to be.
Newsweek may earn a commission from links on this page, but we only recommend products we back. We participate in various affiliate marketing programs, which means we may get paid commissions on editorially chosen products purchased through our links to retailer sites.