Popular Google Doodle Games: Defend the Magic Cat Academy Against Ghosts in Throwback Halloween Game
Today's popular Google Doodle game is a throwback to Halloween 2016. The Google Doodle has been redesigned for the Stay and Play at Home series, so today the first O in Google is dressed as a cat uses a magic wand to make the second O, which is dressed as a ghost, disappear.
But when the Doodle was originally posted, it featured a spooky cat on the left of the screen, raising its wand ready to go head to head with evil ghosts. In the Google Doodle game, users have to grab their want and help fend off a "ghostly catastrophe," by casting spells, to save their friends and restore peace at Magic Cat Academy.
In the game, play as Momo the cat and defeat the ghosts by swiping a symbol matching the one above the ghost's heads. Beat five levels of increasing difficulty to rescue the school and retrieve your spellbook.
The game was inspired by Google Doodler Juliana Chen's black cat named Momo. In the Doodle, Momo's friends include a dog, a frog, a pumpkin, and an owl.
Today, the Google Doodle is captioned: "As COVID-19 continues to impact communities around the world, people and families everywhere are spending more time at home. In light of this, we're launching a throwback Doodle series looking back at some of our popular interactive Google Doodle games!
"Stay and play at home with today's featured throwback: Our 2016 Doodle game celebrating Halloween!"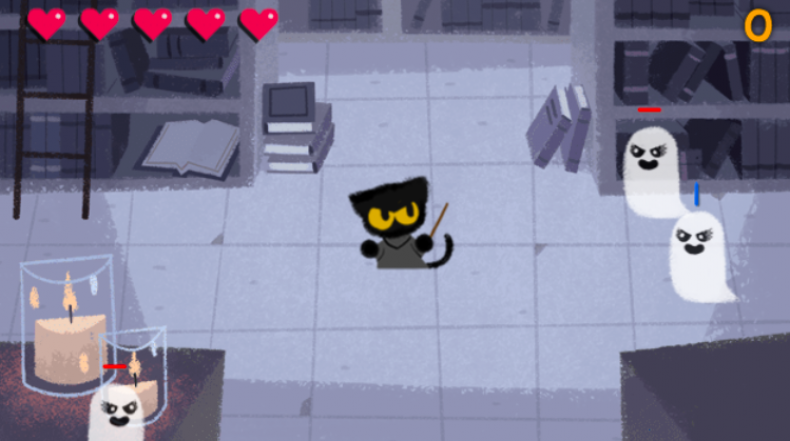 The team behind the Halloween Google Doodle said: "Doodling for a whole Doodle game was very exciting for us. We had so many ideas for elaborate symbols to draw, like a witch's hat that would appear on the character's head after it was drawn!
"In the end, we decided that for a short game against the clock, simple was better. Plans like the 'Eiffel Tower spell' were abandoned, and similarly, gag spells didn't make the cut. Regardless, we loved the process of dreaming up the possibilities."
The throwback Halloween game is the latest in Google's Stay and Play at Home series. The series began on April 27 and is expected to last for two weeks. Each day, Google posts a popular Google Doodle game from its archive.
Last week, Google users played a game celebrating the first coding language designed for children, and a cricket game inspired by the ICC Champions Trophy.
They composed visual music inspired by Oskar Fischinger, and celebrated Clara Rockmore by creating music from thin air.
Google gamers learned about the history of garden gnomes in a catapult launching game, helped Wilbur Scoville cool down after trying some spicy peppers, and played the popular Mexican card game, Lotería.