Antony Blinken publicly referred to Taiwan as a country for the second time as secretary of state during a congressional hearing on Monday while being scrutinized on the U.S. withdrawal from Afghanistan and its implications for American security commitments elsewhere.
Testifying before the House Committee on Foreign Affairs via video link, Blinken was grilled on the Biden administration's handling of the end of the two-decade war in Afghanistan, with efforts to evacuate U.S. citizens still ongoing.
Amid sometimes testy exchanges with GOP lawmakers, President Joe Biden's top diplomat was also asked to offer assurances to vulnerable American partners in Europe and Asia, where doubts about the U.S.'s long-term security commitments are being raised.
Republican Congressman Brian Fitzpatrick, representing Pennsylvania's 1st congressional district, told Blinken that the people of Ukraine and Taiwan "are scared to death."
The lawmaker asked: "Can we get you on the record here today, sir, to tell this committee, this Congress and our nation, that we will, unequivocally and unapologetically, do whatever it takes—whatever it takes—to have the backs of our friends in Ukraine and our friends in Taiwan?"
"Our friends in Ukraine, in the event of Russian aggression; our friends in Taiwan, in the event of Chinese aggression," he added.
Blinken responded: "Absolutely. We stand by our commitments to both countries."
Pressed again on whether the U.S. would "do whatever it takes to defend them," the secretary of state said Washington would "stand by our commitments under the Taiwan Relations Act [TRA]," and referred to support given to Ukraine's President Volodymyr Zelenskiy during a meeting with Biden at the White House on September 1.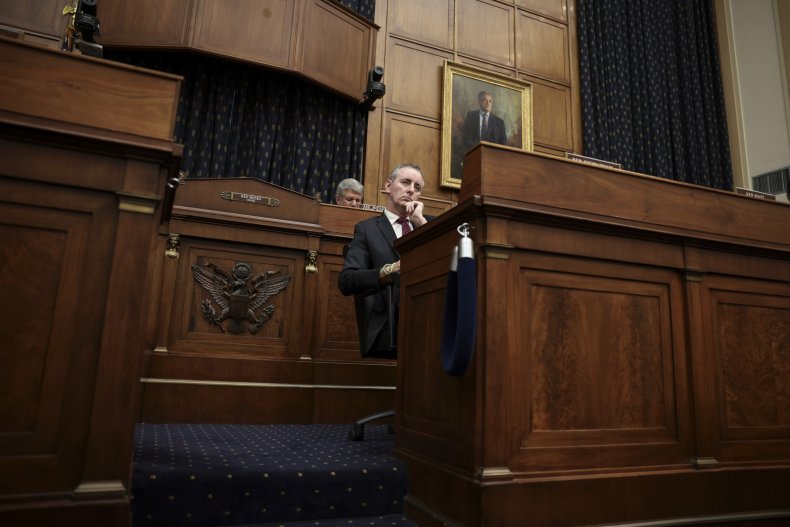 Since 1979, the TRA has guided U.S. interactions and policy toward Taiwan in the absence of official diplomatic ties. The legislation—supported by then-Senator Biden—laid out plans to continue American economic and cultural relations with the now-democratically governed island.
Provisions of the TRA allow the U.S. to sell defensive arms to Taiwan and emphasizes the expectation that the island's future be determined by peaceful means. A definitive guarantee of American military support in the event of conflict across the Taiwan Strait is not included in the law, but it requires the president and Congress to promptly discuss an appropriate U.S. response to any threat to Taiwan's security and subsequent danger to American interests.
That Washington has not offered Taipei a concrete security commitment despite continuing threats by Beijing is intentional and seen as advantageous in many areas, according to Biden officials and leading scholars. The position is often referred to as "strategic ambiguity."
Fitzpatrick, before moving on to another question, told Blinken: "I will take you at your word that we will do whatever it takes to defend Taiwan and Ukraine."
Reached by Newsweek on Tuesday, Taiwan's Foreign Ministry spokesperson Joanne Ou thanked the U.S. government for reaffirming its firm support.
Ou said Taiwan would continue to bolster its self-defense capabilities and deepen relations with the U.S. and others to maintain peace across the Taiwan Strait and "contribute to the long-term stability and prosperity of the Indo-Pacific region."
China, which claims the island as part of its historic territory, is yet to comment on Blinken's remarks, which would appear to veer away from the long-establish State Department practice of not referring to Taiwan as a country.
On April 9, the department released updated interaction guidelines that encouraged more government exchanges with Taiwanese officials, including inside federal buildings. The changes were put in place by the outgoing Trump administration and adopted by the new government following a review. It was unclear whether the new guidelines included changes to acceptable diplomatic language.
During an ABC News interview last month, President Biden dismissed suggestions that the U.S. would abandon its security commitments in Europe and Asia following its hasty withdrawal from Afghanistan. In doing so, however, the president lumped Taiwan in with American treaty obligations to NATO, Japan and South Korea.
An administration official later told Reuters that American policy toward Taiwan "has not changed."
At another House hearing in March, before setting off for Alaska for the Biden administration's first face-to-face meeting Chinese officials, Blinken first referred to Taiwan as a country when asked to commit to invite Taiwan to this year's Summit for Democracy and work on a free trade agreement with Taipei.
The Department of State did not respond to Newsweek's request for comment in time for publication.