Prince Harry's Relationships: From Family Feuds to Celebrity Friends and Meghan Markle
Prince Harry was born into privilege and spent his early years in a seemingly happy family, loved by the British people, but his parents' messy divorce and the shocking death of his mother when he was only 12 set the tone for a troubled future.
The Duke of Sussex grew up as the "spare" younger brother with Prince William in line to inherit the throne from Prince Charles, who in turn will succeed Queen Elizabeth II.
Harry has spoken of difficult childhood memories of the paparazzi harassing Princess Diana in front of him and William and of the impact on his life of his mother's death, in a car crash in Paris in 1997.
More recently, he has credited partner Meghan Markle for helping him realise he needed professional help to process those emotions.
However, Harry and Meghan's own story has also become defined by their relationship with the British media, which they argued was racist.
The duke has said he went to his family for help dealing with the press but was met with "total neglect."
However, a royal historian has identified other potential factors in his fraught relationship with his family, including an argument with Prince William over bullying allegations against Meghan.
The Sussexes ultimately deciding to give up their royal duties and live in the U.S, where they have signed Netflix and Spotify deals.
After a career as a soldier, Harry is now focusing on family life and a series of new projects through their Archewell Foundation.
Prince Harry and Princess Diana
The duke's life has been shaped substantially by the loss of his mother and the anger he says he continues to feel towards the media.
In the days after her death, Harry and William were required to walk behind her coffin during the funeral at Westminster Abbey.
He spoke movingly of the traumatic experience during his Apple TV docuseries with Oprah Winfrey, The Me You Can't See.
Harry said: "When my mum was taken away from me at the age of 12, just before my 13th birthday, I didn't want the life. Sharing the grief of my mother's death with the world.
"For me, the thing I remember the most was the sound of the horses' hooves going along The Mall, the red brick road.
"By this point both of us were in shock. It was like I was outside of my body and just walking along doing what was expected of me.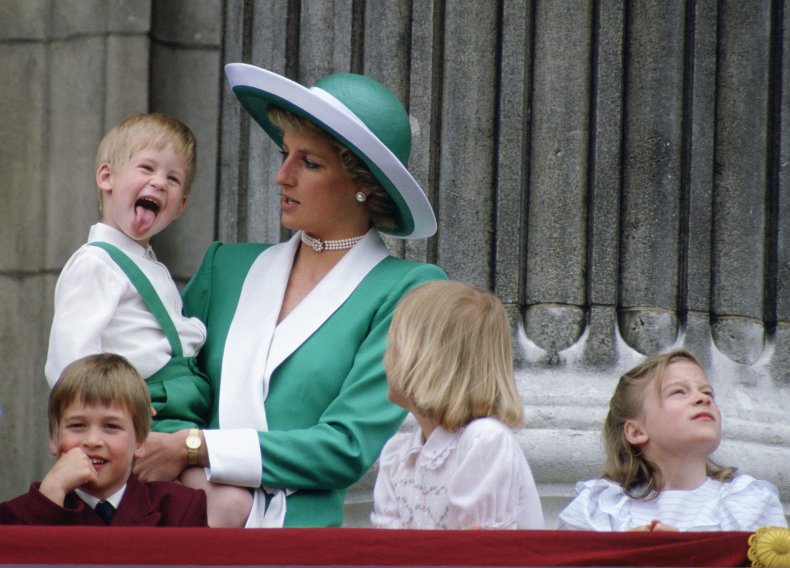 In Focus
Prince Harry sticks his tongue out much to the surprise of his mother Princess Diana at Trooping The Colour with Prince William, Lady Gabriella Windsor And Lady Rose Windsor on the balcony of Buckingham Palace on June 11, 1988.
Launch Slideshow

3 PHOTOS
"Showing one-tenth of the emotion that everybody else was showing. You know, this is my mum. You never even met her."
After school, Prince Harry had a career in the armed forces, serving two tours of Afghanistan including on the front line.
However, when he returned he was yet to process the grief from his mother's death and has described his struggles over the next few years from age 28 to 32.
He told The Me You Can't See: "I was willing to drink, I was willing to take drugs. I was willing to do the things that made me feel less like I was feeling.
"But I slowly became aware that, ok, I wasn't drinking Monday to Friday but I would probably drink a week's worth in one day on a Friday or a Saturday night.
"And I would find myself drinking not because I was enjoying it, but because I was trying to mask something."
However, he also said during a series of interviews for the docuseries that wife Meghan Markle helped him realise he needed therapy.
How Did Prince Harry and Meghan Markle Meet?
Prince Harry met Meghan in 2016 and the pair hit it off immediately, keeping their relationship out of the public eye for a precious few months before the storm of publicity hit.
During that time they had clandestine dates in London, arranging to bump into each other in the supermarket.
In May, Prince Harry told the Armchair Expert podcast: "The first time Meghan and I met up for her to come and stay with me, we met up in a supermarket in London, pretending we didn't know each other, so were texting each other from the other side of the aisles."
Those low key early encounters would offer no hint of the drama that would unfold in their relationship, and which would ultimately prove to be one of the defining periods of Prince Harry's life after his mother's tragic death.
Meghan for her part was already a celebrity and starred as paralegal Rachel Zane in Suits, becoming rich off her own hard work and talents.
However, to marry her prince she would have to give it all up for a new life within the strict rules and protocols of the royal family.
Things got off to an explosive start when news of their relationship leaked to U.K. tabloid the Sunday Express in October 2016.
Almost immediately, Meghan's half sister Samantha Markle gave interviews to journalists, telling Radar Online: "The royal family would be appalled by what she's done to her own family."
The days that followed saw an avalanche of coverage including some which Prince Harry viewed as racist.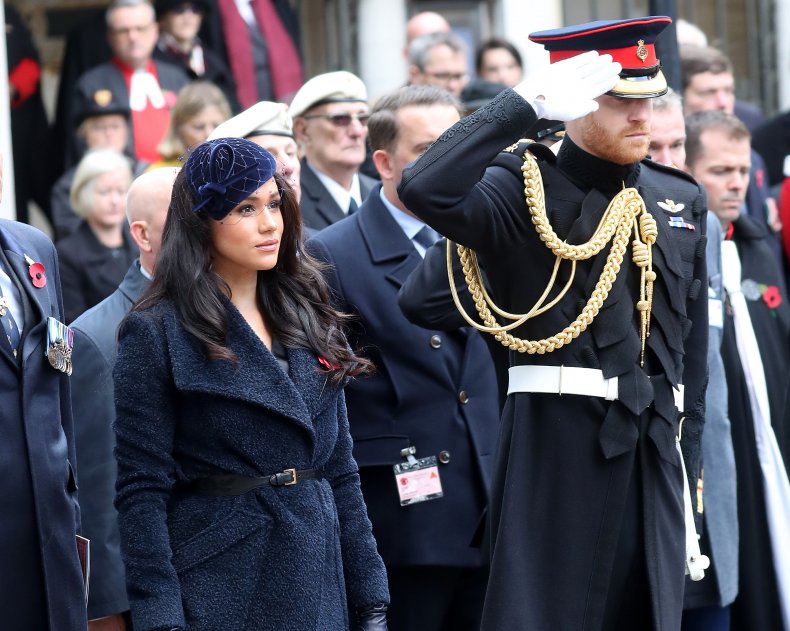 On November 8, 2016, his press secretary Jason Knauf released a statement condemning "the racial undertones of comment pieces; and the outright sexism and racism of social media trolls and web article comments."
However, the statement also shed light on Harry's own relationship with the British public and media more generally.
The statement read: "Since he was young, Prince Harry has been very aware of the warmth that has been extended to him by members of the public. He feels lucky to have so many people supporting him and knows what a fortunate and privileged life he leads.
"He is also aware that there is significant curiosity about his private life. He has never been comfortable with this, but he has tried to develop a thick skin about the level of media interest that comes with it."
A Royal Wedding Watched by Oprah Winfrey, James Corden
However, the couple's relationship remained strong and in November 2017 they announced their engagement.
Describing the moment he popped the question, Harry told the BBC: "She didn't even let me finish. She said, 'Can I say yes? Can I say yes?' and then were was hugs and I had the ring in my finger and I was like, 'Can I - can I give you the ring?' She goes, 'Oh yes the ring.' So no it was a really nice moment, it was just the two of us and I think managed to catch her by surprise as well."
Marriage followed with millions around the world watching their star-studded ceremony at St George's Chapel, in Windsor Castle, on May 19, 2018.
Elton John, a friend of Princess Diana's, played at the reception and Oprah Winfrey, James Corden and George Clooney were among the guests.
Following their wedding they had the summer to take stock before jetting off on their first major royal overseas tour together, a 16-day visit to Australia and the South Pacific, in October, 2018.
While abroad they announced Meghan was pregnant with their first child, sparking a wave of positive publicity.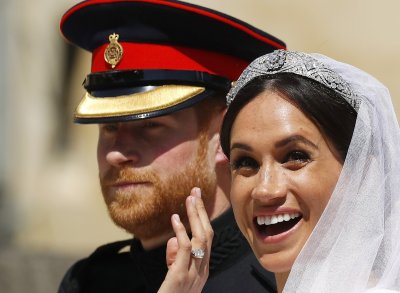 However, that month also saw a new crisis injected into the couple's relationship with the palace and within Harry's own family.
Knauf emailed Prince William's private secretary to accuse Meghan of bullying two PAs out of the royal household.
Biography Battle of Brothers quoted a friend of the Duke of Cambridge saying "William threw Harry out" of Kensington Palace.
Historian Robert Lacey described in the book how William decided to split the shared household and Harry and Meghan were forced to set up their own private office at Buckingham Palace.
The division was announced in March 2019.
Archie Harrison Mountbatten-Windsor
Meghan gave birth to the couple's first child, Archie Harrison Mountbatten-Windsor, in May 2019 at The Portland Hospital, in London.
That fall they took him on his only royal tour to Southern Africa, where he met Archbishop Desmond Tutu, in September and October 2019.
During the same 10-day trip, Prince Harry acknowledged his rift with Prince William for the first time in an interview with ITV for documentary Harry & Meghan: An African Journey.
He said: "Part of this role and part of this job and this family being under the pressure that it's under, inevitably stuff happens. But look we're brothers, we'll always be brothers. We're certainly on different paths at the moment but I will always be there for him as I know he will always be there for me. We don't see each other as much as we used to because we're so busy but I love him dearly."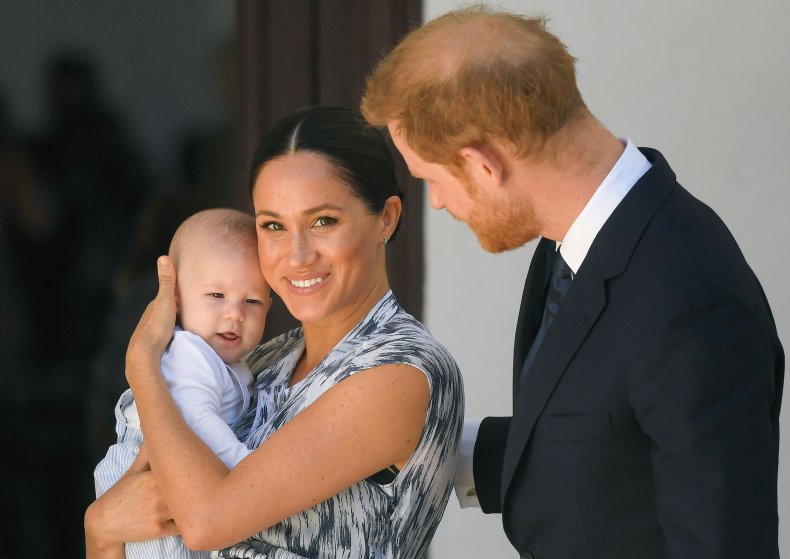 They returned to their U.K. home, Frogmore Cottage in Windsor, but a month later they left Britain for Canada in November 2019.
The decision proved to be the first step toward quitting royal life, which they announced in January 2020, declaring they would become financially independent on their now defunct Sussex Royal website.
That month, Prince Harry flew back alone to Britain for a crunch summit with his family on their future before returning to Canada.
Meghan and Harry both returned to Britain again to complete their final royal jobs in London in March, 2020.
And in April that year they moved to America where they initially lived in Los Angeles, at Tyler Perry's mansion.
Prince Harry's Netflix Deal
Financial success came fast for the couple as they announced a multi-year mega deal with streaming giant Netflix in September 2020.
Their first project will be a documentary, Heart of Invictus, about the Invictus Games, an Olympics-style sports tournament for veterans, the couple confirmed through their Archewell website.
The couple have already bought their first house together in June in Montecito, Santa Barbara, for a $14.7 million dollars, according to public records.
And in December they released the first content onto a new Archewell Audio podcast on Spotify, recording a festive special, which had Archie as the star guest.
Prince Harry's Nazi Uniform Scandal and a Rift With William
In summer 2020, historian Robert Lacey released the first edition of biography Battle of Brothers which charted the fractured relationship between Harry and his brother Prince William.
The book argued the well publicised rift between the brothers dated back longer than previously thought to a scandal from January, 2005.
At the time, photos were published on the front page of The Sun showing Harry in a Nazi uniform at a "Colonials and Natives" fancy dress party.
However, Lacey argued Harry harbored resentment after a widespread public backlash did not criticise Prince William, who was with him when he rented the costume.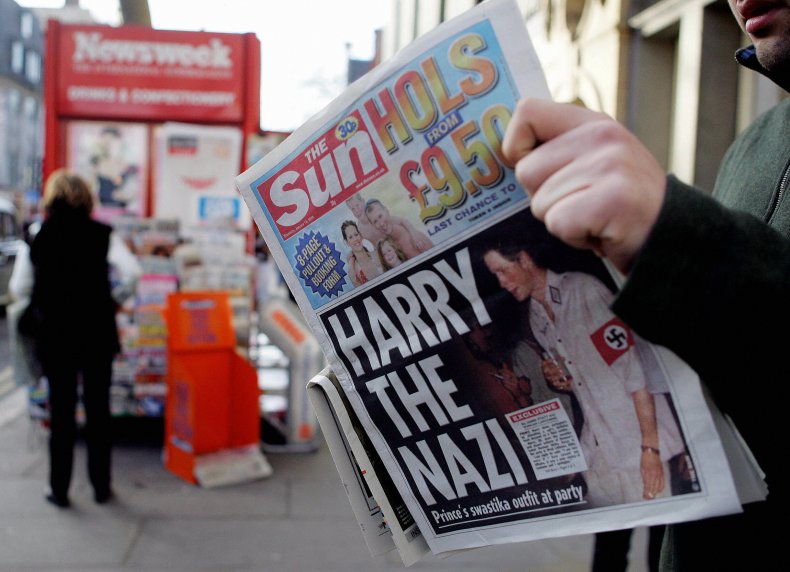 He wrote: "He apologized, but there was public outrage. Many observers, however, missed the point: obviously the 20-year-old Harry wasn't really a neo-Nazi, as one Labour MP alleged.
"The lad was naughty, not a Nazi. Most clearly of all, we know that Harry chose his costume in conjunction with his elder brother—the future King William V, then 22, who had laughed all the way back to Highgrove with the younger sibling he was supposed to be mentoring—and then onwards to the party together. But did a single commentator remark on Prince William's role in the debacle?"
Battle of Brothers quoted a former aide who said: "Harry resented the fact that William got away so lightly."
Prince Harry and James Corden
Prince Harry already had some friends out in America and got a little help acclimatizing when comedian James Corden took him on a tour of Los Angeles in February.
The pair visited the house where The Fresh Prince of Bel-Air was filmed and took on an army style obstacle course together—the duke was a little more successful than his tour guide.
Harry also took the opportunity to give an update on how Archie was getting on in California.
The prince told Corden: "My son is now over a year and a half, he is hysterical, he's got the most amazing personality, he's already putting two, three words together, he's already singing songs. His first word was 'crocodile,' three syllables."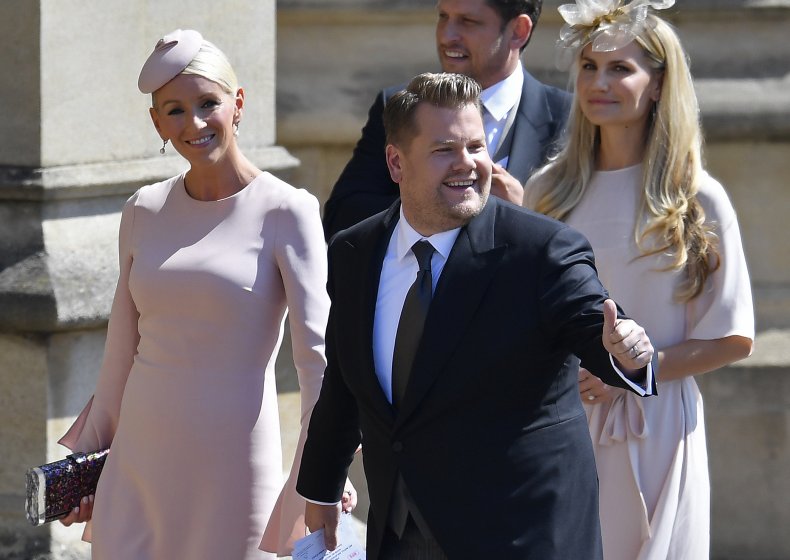 Prince Harry and Meghan's Oprah Winfrey Interview
One of Prince Harry's most seismic decisions since stepping back from royal life was Oprah with Meghan and Harry, a CBS prime time special in which they launched a blistering attack on the royal family, palace and media.
Meghan told Oprah an unnamed royal expressed concern about how dark their unborn baby's skin might be before he was born.
Harry told Oprah his family cut him off financially after their royal exit and his father stopped taking his calls during negotiations.
The bombshell sit-down triggered debates about racism in the royal family and led to Piers Morgan resigning from ITV breakfast show Good Morning Britain after suggesting he didn't believe Meghan's account of experiencing suicidal thoughts.
The duchess described how the pressure of negative publicity led her to feel that she did not want to be alive anymore in January 2019.
In the aftermath Queen Elizabeth II released a statement in which she famously said "some recollections may vary" in relation to the broad range of allegations.
Sent out by Buckingham Palace on her behalf, it said: "The whole family is saddened to learn the full extent of how challenging the last few years have been for Harry and Meghan.
"The issues raised, particularly that of race, are concerning. While some recollections may vary, they are taken very seriously and will be addressed by the family privately.
"Harry, Meghan and Archie will always be much loved family members."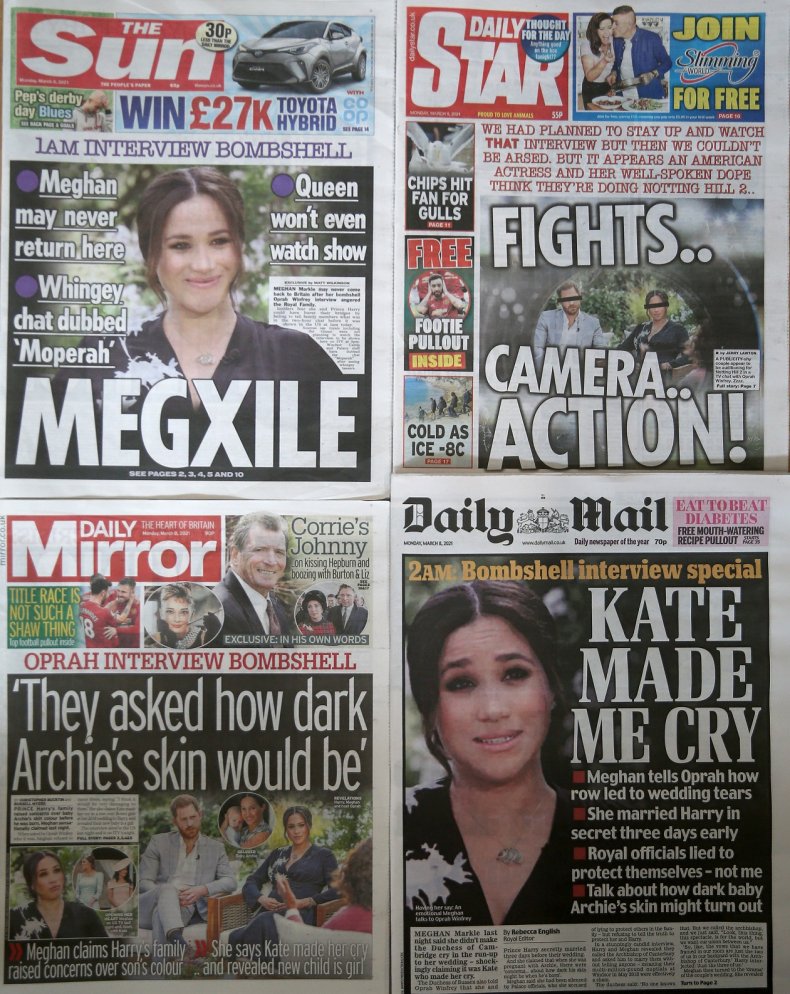 Prince Charles and Genetic Pain
Prince Harry kept up the pressure on his family with an interview to the Armchair Expert podcast in May.
He told Dax Shepherd: "There is no blame. I don't think we should be pointing the finger or blaming anybody, but certainly when it comes to parenting, if I've experienced some form of pain or suffering because of the pain or suffering that perhaps my father or my parents had suffered, I'm going to make sure I break that cycle so that I don't pass it on, basically.
"It's a lot of genetic pain and suffering that gets passed on anyway, so we as parents should be doing the most we can to try and say 'you know what, that happened to me, I'm going to make sure that doesn't happen to you.'"
Prince Harry accused his family of failing to help him and Meghan during a docuseries he made with Oprah called The Me You Can't See.
He said in the documentary on Apple TV: "It went to a whole new depth with not just traditional media but also social media platforms as well. I felt completely helpless.
"I thought my family would help but every single ask, request, warning, whatever it is, got met with total silence or total neglect.
"We spent four years trying to make it work. We did everything that we possibly could to stay there and carry on doing the role and doing the job, but Meghan was struggling."
Lilibet Diana Mountbatten-Windsor
However, since those interviews the couple have been given new reason to celebrate after the birth of their daughter, Lilibet Diana Mountbatten-Windsor, on June 4.
In a joint message, Harry and Meghan said: "On June 4th, we were blessed with the arrival of our daughter, Lili. She is more than we could have ever imagined, and we remain grateful for the love and prayers we've felt from across the globe. Thank you for your continued kindness and support during this very special time for our family."