How Harry, Meghan Paved the Way for William, Charles to Be More Political
Prince Harry and Meghan Markle's comments after moving to the United States may have helped Prince William and Prince Charles usher in a new era of political royalty.
Britain's next two kings have recently attracted headlines with the kind of political commentary that is supposed to be forbidden among royals, tackling explosive subjects including racism and immigration.
However, the landscape of British royal reporting has been transformed during the seismic years in which Harry and Meghan left the United Kingdom for a new life in the U.S. The Duke and Duchess of Sussex walked down paths not trodden by working members of the British royal family within months of launching their new lives outside the palace.
The allegations of racism made during their interview with Oprah Winfrey also created pressure on the royal family to demonstrate they could serve the U.K. as a whole, including its diverse population and the 54 nations of the Commonwealth.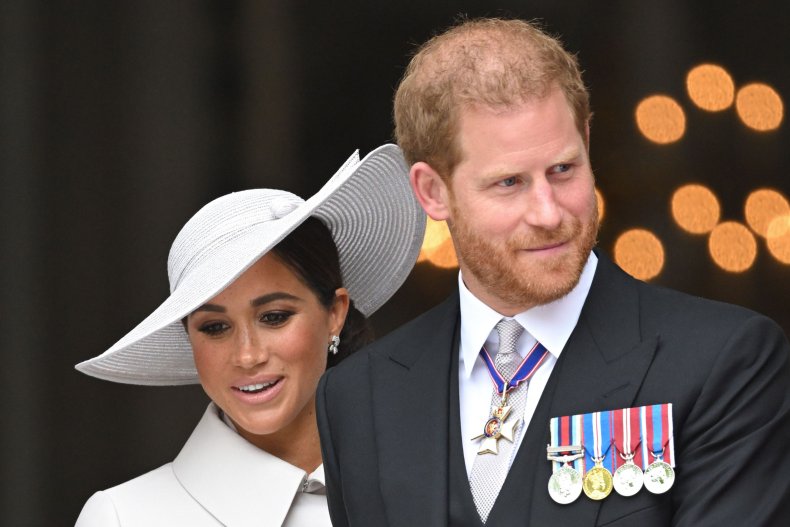 Prince Harry and Meghan Markle Step Into Politics
Harry and Meghan unveiled a new, politicized identity in the first months after relocating to California, starting with Meghan's speech in support of Black Lives Matter in June 2020. Her comments were well received in the media but later remarks by the couple about the 2020 presidential election proved more controversial.
Meghan called for the "change we all need and deserve" at an event organized by former First Lady Michelle Obama's When We All Vote initiative while Prince Harry invited American voters to "reject hate speech, misinformation and online negativity."
The duchess also campaigned in support of paid family leave while Prince Harry took on Silicon Valley over online hate speech.
The interventions may have acclimatized the British public and media to royal family members speaking out about politics, helping to pave the way for Charles and William to be more daring too.
Harry and Meghan's Oprah interview may also have created new pressure for the royals to enter terrain that would previously have been out of their comfort zone. The duke and duchess accused an unnamed royal of racist remarks that speculated about how dark their unborn child's skin might be.
Meghan said: "In those months when I was pregnant, all around this same time  so we have in tandem the conversation of, 'he won't be given security, he's not going to be given a title,' and also concerns and conversations about how dark his skin might be when he's born."
William and Kate's Car Crash Tour of the Caribbean
Prince William's comments denouncing racism and criticizing past government policy came three months after a difficult tour of the Caribbean, in which there were protests calling on the royals to apologize for slavery.
While the issues were predominantly historic, relating to the crimes of Empire, Bert Samuels, a Jamaican attorney and reparations advocate, told Newsweek how Harry and Meghan's comments about racism in the royal family added to the sense of injustice in the country.
Ahead of the tour, Samuels said: "The Jamaicans are very hurt by the treatment of an African American woman in that family. William needs to speak to that when he comes and as it were, he should come here with an apology, not only for slavery but for the treatment of a black woman who had to run out of the palace with her husband. That's a strong issue and that's a fresh wound."
While in the Caribbean, William and Kate were pictured greeting children through holes in a wire mesh fence and were also criticized over pictures of them in a Land Rover which consciously recreated a colonial-era visit by Queen Elizabeth II and Prince Philip.
In the aftermath of the tour, The Sun reported that William and Kate Middleton would rip up the royal rule book and do things "The Cambridge Way."
It did not take long for evidence of a new path to emerge.
Prince Charles Tackles Immigration
The twin forces of Harry and Meghan's new politicized identities and the pressure on the royals to show they are not racist appear to have created the conditions for a new approach.
The first signs came when private comments by Prince Charles were leaked and suggested he felt a current British government immigration policy was "appalling." The prince's comments landed him on the front page of U.K. newspapers.
Boris Johnson's Conservatives want to fly asylum seekers thousands of miles to Rwanda while their applications are processed, though the project has been hit by legal challenges.
Johnson was due to meet the prince in Rwanda during the Commonwealth Heads of Government Meeting and initially told journalists he would take up the issue with the future king. However, Reuters reported the Prime Minister later stepped back from a potential argument with the royal after his spokesperson suggested the subject would not be discussed.
For more royal news and commentary check out Newsweek's The Royal Report podcast:
Johnson himself later said: "I wouldn't comment on anything that I say to the Queen or the Queen says to me, nor would I say what the heir to the throne might say to me or what I may say to him."
Charles, however, won praise from some of the most vocal critics of the royals on race and colonialism.
Activist Shola Mos-Shogbamimu wrote on Twitter: "More of this from Prince Charles if the Monarchy wants to be relevant & survive to the next century. It's the silence & complicity that is destroying the Monarchy. Every person outraged by his comment that Rwanda policy is 'appalling' now threatening Monarchy with extinction."
Prince William on Racism in Britain in 2022
Prince William also criticized the government over its immigration policy, though picked the less controversial terrain of a past scandal that has already seen compensation payouts totaling in the millions.
The Duke of Cambridge spoke up in support of members of the Windrush generation, who were invited to come to Britain from countries including those in the Caribbean to fill gaps in the labor market left after World War II.
A Home Office policy aimed at creating a hostile environment for undocumented migrants led to Windrush Brits being wrongly detained and in some cases deported.
William said: "Only a matter of years ago, tens of thousands of that Generation were profoundly wronged by the Windrush Scandal. That rightly reverberates throughout the Caribbean community here in the U.K. as well as many in the Caribbean nations."
He added that "discrimination remains an all too familiar experience for Black men and women in Britain in 2022."
While Prince Charles' leaked comment on a current policy triggered criticism and comment from Johnson, William's comments created little in the way of backlash.
William and Kate may have been helped by the fact they are often held up as a positive counterpoint to Harry and Meghan by those commentators most inclined to criticize socially progressive politics.