Prince Harry and Prince William Will Mend Rift As Sussexes Are No Longer a Threat—Author
Prince Harry and Prince William will repair their damaged relationship due to the shared experience of Princess Diana's death, biographer Andrew Morton told Newsweek.
The royal brothers have met twice since Harry and Meghan Markle's Oprah Winfrey interview in March, including to unveil a statue of their mother in July.
But there are still no clear signs their relationship is back on track after the CBS tell-all left Prince William denying allegations the royals were a racist family.
Biographer Andrew Morton wrote what many consider to be the definitive account of Princess Diana's life in 1992 and more recently a biography of the Duchess of Sussex, Meghan: A Hollywood Princess, due to be re-released later this October with new chapters.
He told Newsweek: "They are brothers, they are united in life and share common experiences that no one else can understand or appreciate.
"At some point when they are more settled and established I think they'll get back together again because Harry is no longer a threat, Meghan is no longer a threat, the British royal family is rapidly receding in the rear view mirror of their lives."
Harry and Meghan's interview was scathing of palace aides, accused of leaking stories about Meghan and telling her she could not go to a mental hospital because it would make the institution look bad.
The Duke of Sussex accused Charles of cutting him off financially following his royal exit and of refusing to take his calls while he was negotiating his way out of royal duties.
Meghan also said Kate Middleton made her cry during an argument at a bridesmaids' dress fitting and apologized afterwards with flowers.
However, when asked by Oprah about Prince William, Harry had few negative words to say about his brother.
Harry told Oprah: "You know, as I've said before, I love William to bits. He's my brother. We've been through hell together. I mean, we have a shared experience. But we're on different paths."
Morton revealed Harry's new neighbors in Montecito, California, have a plan to try to get the brothers back together through their shared love of polo.
William and Kate Middleton were star guests at Harry's local club, in Santa Barbara, shortly after their wedding in 2011.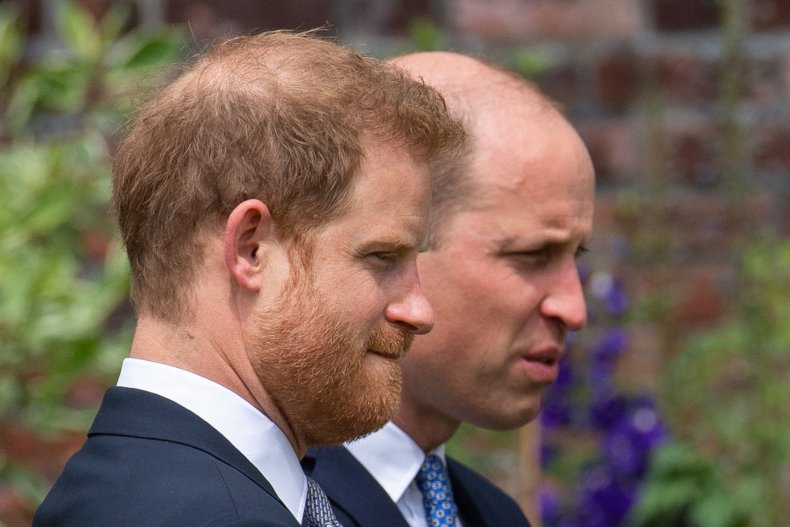 He told Newsweek: "People who live in Montecito, and I go there from time to time, are talking about how they would like Harry and William to play in a polo match in Santa Barbara for charity and they hope that will help to seal the bond between them.
"I think the central issue is that Harry had lived in his brother's shadow as the third wheel and demonstrably so.
"William and Catherine when they got married they were obviously a double act and then when Harry left the army, he was looking for a role and then sheltered under what William and Catherine were doing as he made his own way."
Morton said it is now the royals who have lost their star act, who boosted their reputation in sections of society that traditionally leaned more towards anti-monarchy sentiment.
He said: "The royal family have lost a double act that appealed to people that some other members of the royal family don't reach.
"Prince Harry still keeps in touch with members of the royal family and speaks to the queen from time to time.
"They've left all the doors open. Even the naming of Lilibet, the queen's family nickname, shows this is a couple who have given the royal family a bit of a kicking but have not started a revolution.
"I think if you were to prick Harry he would bleed blue blood. They talked about being trapped. Hardly a ringing endorsement of the institution that stands at our social pinnacle. It takes a long time to adapt to becoming happy in your own skin.
"Catherine Middleton seems like she's a woman in full. She's someone who is in charge of herself in charge of her life, in charge of her family, in charge of her royal position.
"In the early days she was very nervous but it takes a long time to come to terms with that."
Meghan: A Hollywood Princess by Andrew Morton is to be published in revised and updated paperback by Michael O'Mara Books on October 19 ($15.99).