Prince William Reveals What Gave Him Comfort After Princess Diana's Death
Prince William has revealed that he finds "comfort in remembering" as a way of dealing with loss as he opened a memorial garden dedicated to the victims of the 2017 Manchester Arena bombings—25 years after his mother, Princess Diana, died in a tragic Paris car crash.
Speaking to victims and families of those caught in the horrific attack, when 22 people were killed by a suicide bomber who targeted music fans at an Ariana Grande concert, William described himself as "someone who lives with his own grief."
He also spoke of the importance of remembering those who lost their lives.
"For Catherine and I, it is very important that we are with you here, today," he said, "To remember the 22 lives so brutally taken. To acknowledge the hundreds of lives that were irrevocably changed and to pay tribute to the resilience of this great City.
"I remember only too well the shock and grief on the faces of those I met when I visited Manchester in the days following the atrocity. And the rawness of emotion at the Commemoration Service, held at your Cathedral just here, a year later. Five years on I know that the pain and the trauma felt by many, has not gone away."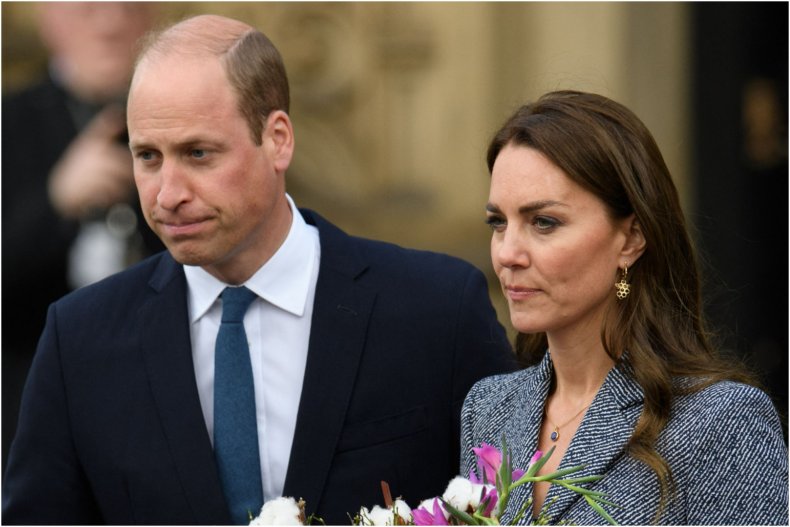 The prince's comments come as the 25th anniversary of the death of Diana will be marked on August 31. Already this year William's brother Prince Harry has spoken of his mother and her legacy, telling People magazine at the time of the Invictus Games: "I certainly hope and believe everything I do makes her proud... I am my mother's son."
In a deeply personal moment of reflection, William told the assembled crowd at the Glade of Light memorial garden, "As someone who lives with his own grief, I also know that what often matters most to the bereaved is that those we have lost are not forgotten.
"There is comfort in remembering. In acknowledging that, while taken horribly soon, they lived. They changed our lives. They were loved, and they are loved. It is why memorials such as the Glade of Light are so important. Why Catherine and I so wanted to be amongst you today."
This is not the first time that William has spoken of how he has coped with the loss of his mother. Speaking to a bereaved child in January during a visit to a vulnerable people's center in England with Kate Middleton, William asked "Do you feel you can talk about your mum?" To which 11-year-old Deacon Glover responded quietly, "yes."
"It's difficult, but it gets easier. I promise," the prince added.
William more explicitly referenced the "dark days" after his mother's death in a speech given at the General Assembly of the Church of Scotland in May 2021. He said in his opening address:
"I was in Balmoral when I was told that my mother had died. Still in shock, I found sanctuary in the service at Crathie Kirk that very morning. And in the dark days of grief that followed, I found comfort and solace in the Scottish outdoors. As a result, the connection I feel to Scotland will forever run deep."
Prince Harry's recent tributes to his mother have been more reflective. Speaking to Today show host Hoda Kotb, the prince said he feels his mother's presence constantly with him, especially since stepping down as a full-time working member of the royal family with his wife Meghan Markle in 2020.
"In these moments do you ever feel your mom's presence?" Kotb asked in reference to the Invictus Games.
"For me, it's constant and it has been over the last two years," he responded.
"More so than ever before. It's almost as if she's done her bit with my brother and now she's very much helping me. She's got him set up now she's helping me set up. That's what it feels like."
Relations between William and Harry are reportedly strained since the latter stepped away from royal life and gave a landmark interview to Oprah Winfrey in which Meghan alleged that an unnamed member of the royal family made racially insensitive comments about the potential skin tone of her first royal baby.
The two brothers were reunited in their grief in summer 2021 as they unveiled a special memorial statue to their mother in the grounds of their childhood home, Kensington Palace.
Harry is due to travel to the U.K with Meghan and the couple's two children, Archie, 3, and Lilibet Diana—named after her grandmother—aged 11 months, for the queen's Platinum Jubilee celebrations in June where a reunion with his brother is expected.