Pro-Trump Sheriff's 'Ludicrous' Voting Probe Denounced as Private Investigators Question Clerks
A pro-Trump sheriff in Michigan has launched a probe into voting machines in his county, despite former President Donald Trump winning the region with 65 percent of the votes.
Barry County Sheriff Dar Leaf has claimed, as has Trump, that there was voter fraud leading to President Joe Biden's win in the 2020 election. This claim has led the sheriff to open an investigation into voting machines in Barry County, as officials there have denounced the probe as "absolutely ridiculous and ludicrous," CBS local affiliate News Channel 3 reported on Friday.
While Biden won Michigan by more than 150,000 votes—or about 2.8 percent—Trump won Barry County by a wide margin. Official election results from the county showed Trump garnered 23,471 votes there compared to just 11,797 that went for Biden. With 36,146 total ballots cast in Barry County, that means Trump won about 65 percent of the vote while Biden garnered less than 33 percent.
Nonetheless, animated by Trump's baseless claims of widespread voter fraud, Leaf has launched a probe into the voting machines used by his county, according to Channel 3. Local election clerks told the news station that they were questioned by a private investigator who was accompanied by a sheriff's deputy.
"I want to know the price tag and who's paying because this is absolutely ridiculous and ludicrous," Rutland Township Clerk Robin Hawthorne, told Channel 3.
Hawthorne said she was "offended" by the investigation.
"I've been a clerk for 18 years. I'm offended anyone would say there's anything hinky about my elections," she said.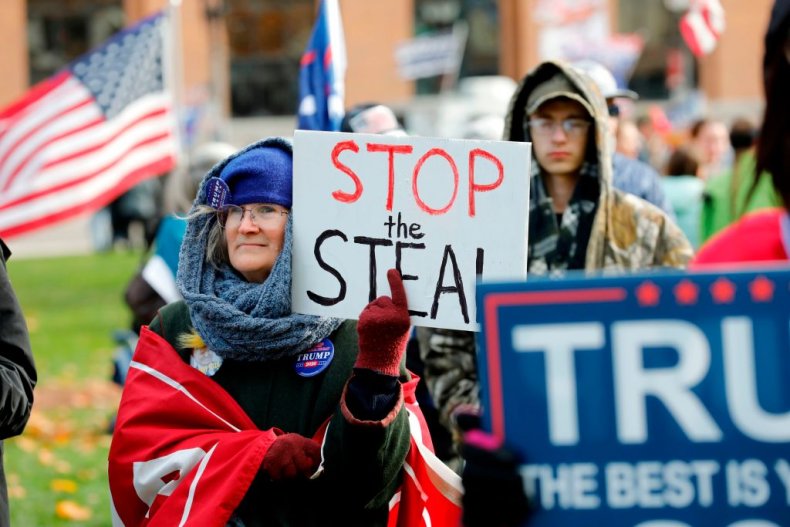 Barry County Clerk Pam Palmer pointed out that "everything was canvassed and balanced perfectly," asserting that there was "no signs of fraud."
Bridge Michigan previously reported in early July that emails showed Leaf coordinated with Trump allies via email regarding his efforts to seize voting machines in Barry County. The news organization reported that the sheriff's attorney was in correspondence with pro-Trump attorney Sidney Powell—who filed numerous widely criticized election challenge lawsuits in support of the former president—as well as retired General Michael Flynn, who briefly served as Trump's White House national security adviser in 2017.
Flynn and Powell, along with MyPillow CEO Mike Lindell among others, have been key to promoting Trump's baseless claims that the 2020 election was "rigged" or "stolen." This extraordinary allegation has already been thoroughly litigated and wholly discredited, but the former president and his loyalist supporters continue to promote the groundless claim to rally supporters
Palmer told Channel 3 that he thought Leaf may be attempting to access the voting machines to find a way to switch votes.
"I think what Dar is doing is using Barry County as a template trying to see if they can figure if there's a way these machines to switch the vote from Republican to Democrat or Democrat to Republican," the local county official said.
Barry County Undersheriff Jason Sixberry confirmed to the local news station that a deputy had been assigned to the investigation. However, he said that funds from the sheriff's office were not being used to pay the outside investigator who questioned local election officials.
Newsweek reached out to the sheriff's office for further comment on Saturday, but did not immediately receive a response.
Michigan already carried out the most-extensive audit of its 2020 election results in history, completing the process at the beginning of March. This included a thorough audit of the election procedures, the votes that tabulated the votes, and the ballots themselves, Detroit Free Press reported at the time.
"It is time for leaders across the political spectrum to tell their constituents the truth, that our election was the most secure in history, and the results accurately reflect the will of Michigan's voters," Michigan's Secretary of State Jocelyn Benson asserted in early March. Although Trump carried Michigan in 2016 by a narrow margin of just 0.2 percent, the midwestern state had gone for Democrats in every prior election going back to 1992.
Dozens of election challenge lawsuits filed by Trump and his supporters have failed in state and federal courts. Even judges appointed by Trump and fellow Republicans have rejected the often bizarre allegations. Audits and ballot recounts—including in key battleground states where Republicans who voted for Trump oversaw the election—have reaffirmed Biden's win.
Former U.S. Attorney General William Barr, who was widely viewed as one of Trump's most loyal Cabinet officials, said in early December that there was "no evidence" to substantiate the claims of widespread fraud. Additionally, the Cybersecurity and Infrastructure Security Agency at the Department of Homeland Security asserted after the election that it was the "most secure in American history." The federal agency, which was led by a Trump appointee at the time, said that there was "no evidence that any voting system deleted or lost votes, changed votes, or was in any way compromised."
Nonetheless, polling has shown that a significant majority of Republican voters do not believe that Biden is the legitimate president. Thousands of Trump supporters continue to regularly attend rallies led by Trump loyalists—like Lindell, Powell and Flynn—where debunked conspiracy theories and baseless claims about the election results are promoted.