Lawmakers Could Carry Concealed Guns Virtually Everywhere, Under Republican's Bill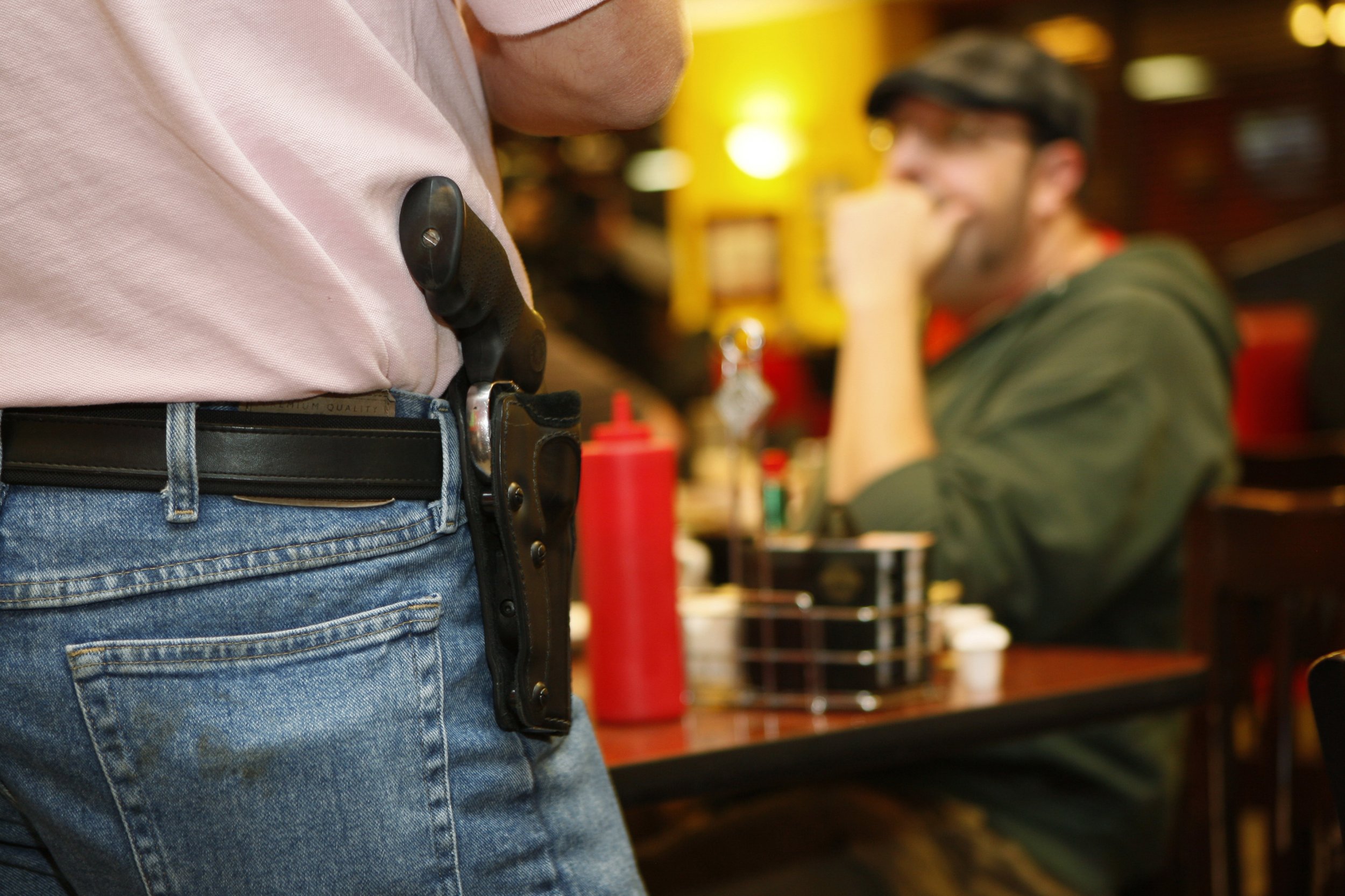 Updated | In the wake of last week's shooting in Alexandria, Virginia, a Republican lawmaker has introduced legislation that would allow trained legislators to carry concealed guns anywhere in the United States.
It's a stark contrast to the Democrats, who have vowed after mass shootings to fight for stronger laws, including expanding universal background checks to all gun sales and not allowing Americans on the terrorist watch list to buy firearms.
Related: What is national concealed carry reciprocity?
The new legislation is a direct response to the Virginia shooting, which injured Representative Steve Scalise (R-La.)—the third-ranking Republican—a congressional aide, a lobbyist and a U.S. Capitol Police officer. Representative Brian Babin (R-Texas) introduced the measure in the House on Tuesday, just shy of a week since a 66-year-old gunman opened fire on GOP legislators practicing at a congressional baseball game practice.
"The tragic events of last week make it clearer than ever that we need to take steps to enable members of Congress to protect themselves," Babin said in a statement. "We also know that an even greater tragedy was averted only because of the brave actions by two armed Capitol Police special agents who happened, mercifully, to be on site."
Lawmakers have acknowledged that Scalise's police security detail likely saved lives at the scene because they were able to fire back at the gunman, who later died in a shootout.
Some members of Congress have reported receiving death threats, and there are calls for more security, as it was reported the gunman carried with him the names of three Republican lawmakers. Top congressional leaders are protected by the Capitol Police.
The bill would grant rank and file members of Congress the ability to conceal weapons "in nearly every conceivable scenario," according to information released by Babin's office, including federal parks and buildings, the national mall, at schools, on military bases and to and from their offices. There would only be a few limited restrictions, including national special security events and other areas under the direct jurisdiction of the Secret Service and commercial airliners.
Every state, and Washington, D.C., allows concealed carry in some form, and nearly every state has some restrictions on where its residents can carry the weapons, such as in bars, schools, hospitals and government buildings. Thirty-eight states generally require a state-issued permit to carry concealed weapons in public. The remaining 12 (Alaska, Arizona, Idaho, Kansas, Maine, Mississippi, Missouri, New Hampshire, North Dakota, Vermont, West Virginia and Wyoming) don't require a permit. While every state has its own permitting system, there are several standards that are more commonly used.
The bill would supersede any other federal or state law regarding concealed carry and would require members of Congress to be trained and certified to conceal-carry a personal firearm. It would allow lawmakers to try to qualify for a concealed carry permit, either through their home state or a training program created by the Capitol Police.
The Capitol Police would have discretion in determining the training, licensing and parameters of use.
Babin's office said his measure would complement concealed carry reciprocity, a gun measure introduced under the Trump administration that would enable licensed concealed carry permit holders in one state to carry in another state. Proponents of that measure, including the National Rifle Association, say it would make concealed carry permits more like driver's licenses. It's been a longtime top priority for the NRA. But critics say national reciprocity would enable the least restrictive requirements to apply to the entire country, and thus undercut the most stringent laws in some states.
On the morning of the Alexandria shooting, the House Committee on Natural Resources was scheduled to hold its first hearing to directly raise gun rights issues since President Donald Trump took office. The members postponed the hearing, but they are expected to soon consider a proposal that would eliminate regulations to make it easier to buy gun silencers.
Shannon Watts, founder of Moms Demand Action for Gun Sense in America, said that with the Babin bill, lawmakers are "already pivoting to another dangerous NRA proposal that would decimate our public safety laws."
She added, "Make no mistake: These proposals are the first step toward enacting the gun lobby's top priority—federal concealed carry reciprocity legislation, which would not create a national standard for who can carry guns in public across the country and would instead gut our country's gun laws, override state laws and make the weakest link the law of the land."
Several gun bills have already passed through the Republican-controlled Congress and been signed by Trump, including one revoking a regulation that prevented certain Social Security recipients with mental health conditions from buying guns, which was implemented under President Barack Obama. And Trump's interior secretary, Ryan Zinke, took his first step on behalf of gun rights advocates when he rescinded a ban on lead-based ammunition and fishing tackle during his first day in office.
This article has been updated to include North Dakota as a permitless carry state.