Republican Senators 'Want Mike Pence' as President, Would Vote Trump Out in 'Secret Ballot,' MSNBC Host Says
MSNBC host Joe Scarborough argued on Tuesday that most Republican senators "want Mike Pence" as president over Donald Trump, saying they would rapidly replace the commander in chief if they could vote in a "secret ballot."
"If there were a secret ballot in the Senate this morning, [Vice President] Mike Pence would be president by noon," Scarborough, a former Republican congressman who is now an independent, said on his Morning Joe show. "It is that clear. They want Trump out. They want Mike Pence in. They want to return to conservative principles. They want a return to conservative issues."
If Trump were removed as president, the official line of succession is Pence and then Speaker of the House Nancy Pelosi, the top Democrat in Washington. But most analysts do not believe that Trump's removal from office—let alone Pence's—is plausible given current political realities.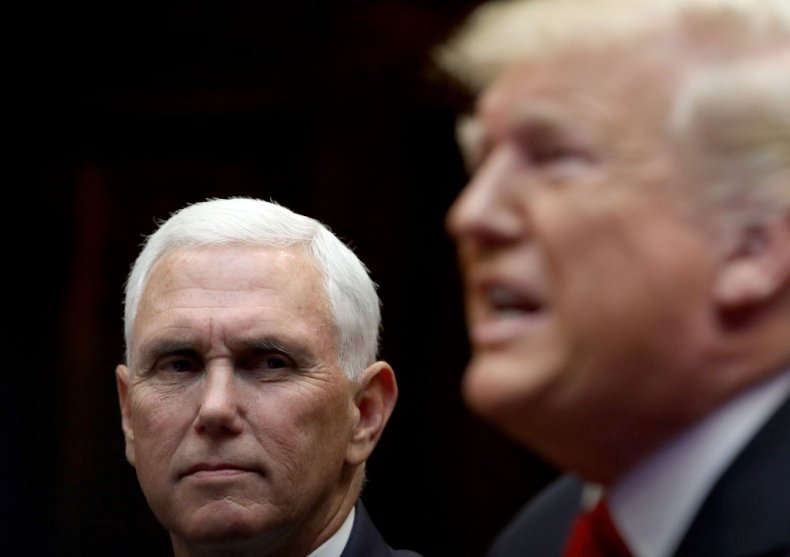 Scarborough went on to argue that GOP senators prefer to "talk about policy" and not the president's attempts to "loot the federal treasury to make hundreds of thousands of dollars" at his resorts. "They want to get back to business," the former GOP lawmaker asserted. The self-described conservative said he didn't think any member of the Senate "would want their children or grandchildren to espouse the values that Donald Trump maintains each and every day of his life."
Trump is facing a fast-moving impeachment inquiry led by House Democrats, which centers around the president's efforts to pressure Ukraine to open investigations into a debunked conspiracy theory regarding Democrats and the 2016 election, as well as unsubstantiated claims that leading presidential candidate Joe Biden acted corruptly in the Eastern European nation to benefit his son's business interests.
The president temporarily withheld nearly $400 million in military aid to the country, which was approved by bipartisan consensus in Congress. Trump's acting chief of staff, Mick Mulvaney, asserted last Thursday that the aid was withheld in conjunction with the president's efforts to pressure Ukraine about probing the conspiracy theory concerning Democrats and the 2016 election. However, he later tried to walk back the comment, saying the two were not connected in a quid pro quo.
Although the president and his supporters have insisted that the impeachment inquiry is purely "partisan" and a "witch hunt," several prominent Republicans have voiced serious concerns about Trump's actions. Mitt Romney of Utah has been the loudest critic in the Senate about Trump's pressure campaign on Ukraine, and several others have publicly expressed significant misgivings as well.
On Monday, Trump complained that Republican lawmakers aren't loyal enough to his presidency, saying that they don't "stick together" like Democrats. He specifically directed his frustration at Romney.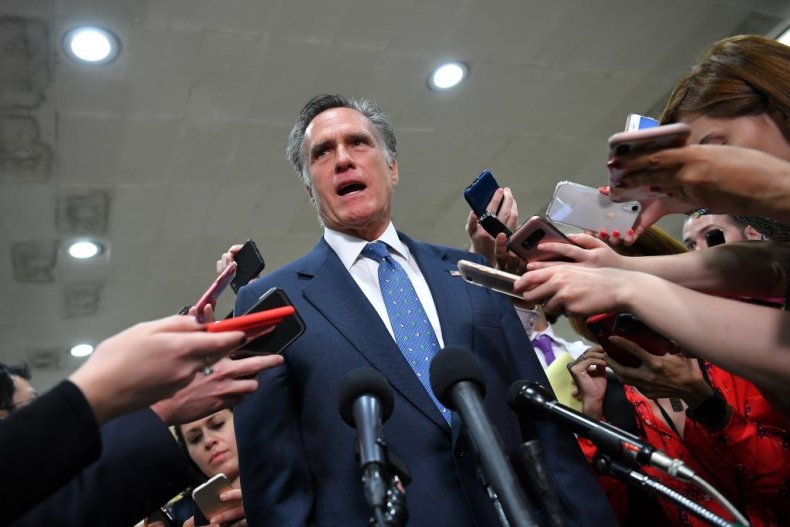 "They don't have Mitt Romney in their midst," he said, claiming that the Democrats are more unified than Republicans. "They don't have people like that. They stick together. You never see them break off."
Few Republican senators have publicly raised strong misgivings about Trump's actions toward Ukraine. But several Democratic lawmakers, as well as a prominent Republican strategist and a former GOP senator, have made claims similar to Scarborough's assertion.
"One Republican senator told me if it was a secret vote, 30 Republican senators would vote to impeach Trump," said GOP consultant Mike Murphy, who previously worked for Romney, former Florida Governor Jeb Bush and the late Senator John McCain of Arizona, in an interview with MSNBC last month.
Former Senator Jeff Flake, an Arizona Republican who retired when his term ended in January, later said Murphy's remark was "not true," adding, "There would be at least 35."