Full List of GOP Senators Opposing Lindsey Graham's 15-Week Abortion Ban
Senator Lindsey Graham's nationwide 15-week abortion ban proposal is attracting minimal support among members of his own Republican caucus.
Graham, accompanied by women from various pro-life organizations, made a sudden announcement regarding a new bill last Tuesday that would ban abortion "on demand" after 15 weeks except in cases of rape, incest or to save the life of the mother. He said he put the legislation forward to mimic laws in European countries.
He was grilled by host Shannon Bream on Fox News Sunday, who told the South Carolina senator "you gotta explain the pivot" in reference to his post-Roe statement that states should institute their own laws regarding abortions.
Now, at least 14 GOP senators have publicly rejected Graham's proposal, with most saying the Supreme Court's decision in Dobbs v. Jackson Women's Health Organization gives states power rather than the federal government.
The senators include:
Senate Majority Leader Mitch McConnell (Kentucky)
Mike Rounds (South Dakota)
Rob Portman (Ohio)
Bill Cassidy (Louisiana)
Shelley Moore Capito (West Virginia)
Roger Wicker (Mississippi)
Ron Johnson (Wisconsin)
Lisa Murkowski (Alaska)
Susan Collins (Maine)
Pat Toomey (Pennsylvania)
Roy Blunt (Missouri)
Jerry Moran (Kansas)
Rand Paul (Kentucky)
John Cornyn (Texas)
McConnell was steadfast almost immediately following Graham's press conference announcing the bill, saying that "most of the members of my conference prefer that this be dealt with at the state level."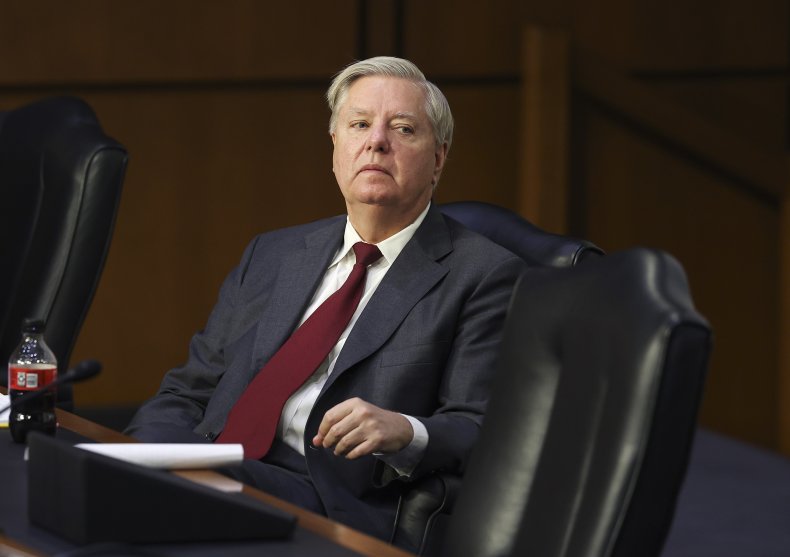 On Sunday's State of the Union on CNN, Rounds said, "I think a better approach probably will be to allow states to work through this."
Capito was quoted by Politico, saying that "I don't think there's an appetite for a national platform here."
Mississippi, meanwhile, has been viewed as one of the states that led the charge toward overturning Roe v. Wade.
"The Senate Republican conference is unified in seeking as many pro-life protections as possible for all Americans, but this goal has historically shown to be most effectively achieved when legislated at the local level," Wicker told Mississippi Today in a statement.
Senator John Thune of South Dakota, though, has expressed some support when asked about the proposal.
"I think this…gives candidates a place to be for something that reflects their views and doesn't fit the Democrats' narrative," Thune said on CNN last week.
Florida Senator Marco Rubio, who is entrenched in a tight reelection campaign against Democrat Val Demings, told Insider last week that there was nothing inconsistent about him signing onto Graham's latest proposal.
In August, before Graham's proposal was put forward, Demings said, "Rubio is obsessed with taking away our freedoms" in relation to Rubio not being in favor of exceptions for rape and incest regarding abortion.
"I didn't change my mind," Rubio said, according to Insider. "I'll vote for any bill that saves lives."
On September 15, Rubio introduced the Providing for Life Act that his office said "combines existing Rubio legislation (from June) with new, pro-family proposals to provide comprehensive support for pregnant and new moms, as well as their young children."
Newsweek reached out to GOP Senator Joni Ernst from Iowa, who previously met with unnamed Republican colleagues to discuss banning abortion at about six weeks, according to The Washington Post.
That legislation, discussed following the original leaked draft of the eventual Supreme Court decision, has not been put forward.