What Does U.S. Even Want in Syria? Russia Asks, Says Americans Must Be Just as Confused
Russia has called into question the U.S. strategy in Syria, claiming that it contained mixed messages and sought contradictory goals potentially aimed at prolonging instability.
While Russia and the U.S. are both involved in battling jihadis in Syria, they do so in partnership with different local factions and support different outcomes for the country's seven-year civil war. Russian Defense Minister Sergei Shoigu argued Wednesday that the U.S. had no legal mandate to be in Syria and that it had shifted its rhetoric over the years to justify its prolonged presence.
"According to what is often heard in statements made to the U.S. media by representatives of Congress and by experts from the United States government to clarify the American strategy in Syria, you cannot grasp its essence, not only in our country," Shoigu said in an interview with Italy's Il Giornale newspaper.
"In recent years, theories of the illegal presence, not only from the point of view of international law but also of American law, of the U.S. military contingent in Syria have been constantly evolving," he added.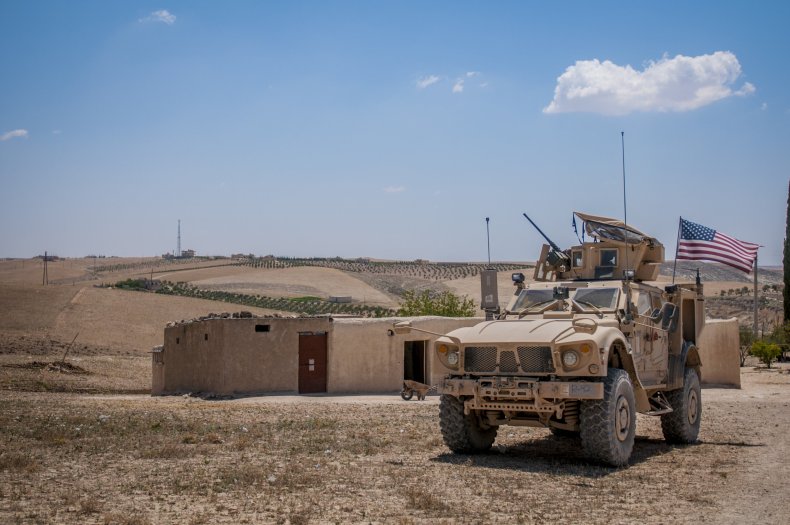 The U.S. initially entered the conflict in covert support of insurgents trying to topple Syrian President Bashar al-Assad after a 2011 rebellion backed by the West, Turkey and Gulf Arab states. By 2013, the Islamic State militant group (ISIS) had united scores of jihadis who capitalized on unrest in post-U.S. invasion Iraq and war-torn Syria, compelling the U.S. to switch its focus from aiding an increasingly Islamist and fractured Syrian opposition to defeating ISIS with help from a mostly Kurdish alliance known as the Syrian Democratic Forces.
Shoigu recalled that when the U.S. first led military action in Syria in 2014, it was part of a coalition mission limited to defeating ISIS, and then later expanded to preventing a "rebirth" of the jihadi group. After Russia launched its own intervention in 2014 in support of the Syrian military and Iran-backed militias at Assad's request, the pro-Syrian government campaign began to retake most of the country from rebels and jihadis, and Shoigu pointed out that the U.S. suddenly grew concerned over "Iranian influence."
Related: Israel prepares for Syria to win back border but plans "harsh response" if forces enter Golan Heights
The U.S. and Western allies have also accused Russia, Syria and Iran of committing war crimes in their campaign to restore Assad's control of the entire country. The three nations—all longtime foes of Washington's foreign policy—have called on the U.S. to withdraw, accusing the country of fostering further unrest by supporting various rebel groups and even ISIS itself. Shoigu claimed Wednesday that the U.S. also hindered the country's progress by neglecting to adequately fund redevelopment and humanitarian efforts in the former de facto ISIS capital of Raqqa, which was seized by the Syrian Democratic Forces in a U.S.-backed campaign last year.
The Russian minister linked Washington's efforts in Syria to other U.S. interventions abroad, saying "the Americans constantly violate international law by intervening militarily in various regions of the world on the pretext of defending their interests." He used the U.S. bombing of Syrian government sites based on chemical weapons allegations in April 2017 and nearly exactly a year later in 2018. Both attacks were ordered by President Donald Trump, who had previously warned former President Barack Obama not to bomb Syria and criticized him for supporting rebels there.
"It is difficult to break free from the impression that the main objective of the United States is to avoid the stabilization of the country, to prolong the conflict and to undermine Syrian territorial integrity, creating enclaves out of control at the margins of the country," Shoigu told the Italian news outlet.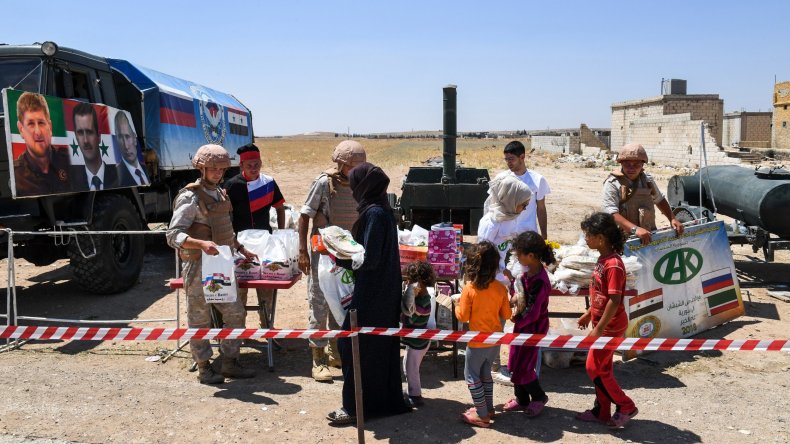 While up to a quarter of the country remains in the hands of the Syrian Democratic Forces, the Syrian government has managed to secure well most of what remains, leaving shrinking pockets under the control of rebels and ISIS. Both the Syrian Democratic Forces and Syrian troops are battling the last of ISIS, while the Syrian military has also launched a lightning campaign to retake the rebel-held southwest, most of which has already capitulated.
The Russia-U.S. divide on Syria is likely to be one of the major topics discussed by Russian President Vladimir Putin and Trump during their summit Monday in the Finnish capital of Helsinki. The two men have previously discussed working together in Syria, but have distanced themselves as relations between their countries deteriorated.