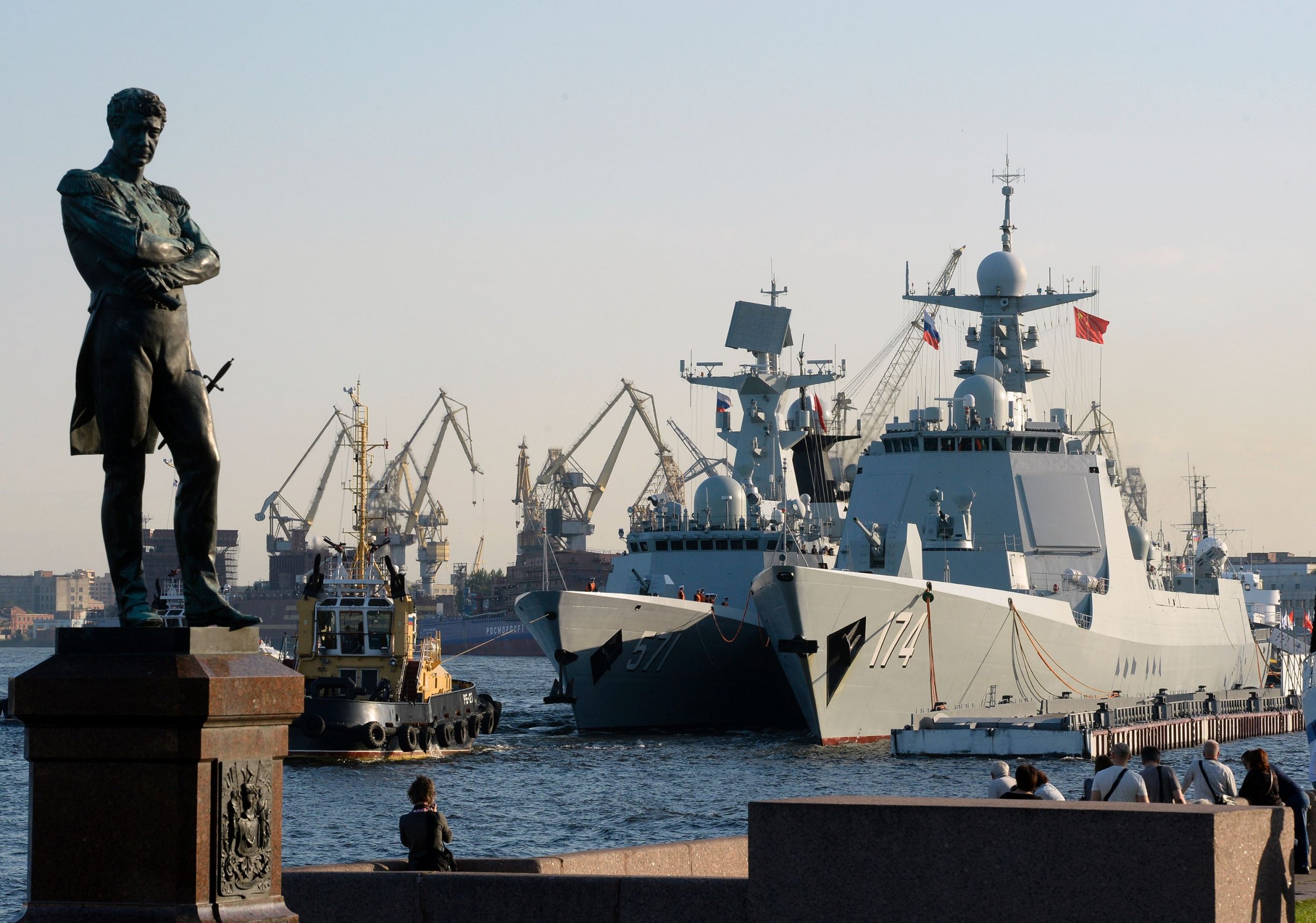 The U.S. issued its latest challenge to Beijing over Taiwan on Sunday as Chinese and Russian fleets met for major exercises off China's east coast, an area that has become a tense flashpoint between Beijing and Washington.
Two American warships sailed through the Taiwan Strait—the 112-mile-wide body of water separating Taiwan from mainland China—on Sunday, drawing condemnation from Beijing, Reuters reported.
Meanwhile, Russia and China were building on increasingly warm relations, with warships from both preparing to take part in major naval drills.
The U.S. operation—conducted by destroyers USS William P. Lawrence and USS Stethem—was a so-called "freedom of navigation" mission, designed to keep pressure on Beijing and assert Washington's belief that the waterway constitutes international waters. Similar patrols are undertaken in the South China Sea, where China has overlapping territorial claims with several neighbors.
Under its "One China" policy, Beijing maintains the belief that Taiwan—independent since 1947—must one day become part of a unified Chinese state, whether by diplomacy or force. However, U.S. lawmakers have long maintained support for the Taiwanese independence, committing to weapons deals and regional military deployments to protect the island from a takeover.
Commander Clay Doss, a spokesman for the U.S. Navy's Seventh Fleet, said in a statement: "The ships' transit through the Taiwan Strait demonstrates the U.S. commitment to a free and open Indo-Pacific."
But China's foreign ministry spokesperson Geng Shuang said his nation had expressed its concerns to the U.S., having closely monitored the two destroyers' passage. "The Taiwan issue is the most important and sensitive issue in Sino-U.S. relations," he told reporters.
China has been increasing pressure on Taiwan, with President Xi Jinping warning earlier this year that Beijing may decide to invade the island if its leaders took any further steps toward asserting independence. Chinese warships and aircraft regularly conduct patrols close to the island, and in February Taiwanese President Tsai Ing-wen said the threat against the nation grows more pressing each day.
While China was condemning the U.S. operation, it was gathering warships in the northern port of Qingdao for joint exercises with Russia, which in recent years has drawn closer to its neighbor amid expanded naval operations in the Pacific.
According to Russian state news agency Tass, sailors from both nations will carry out joint maneuvers, establish communication and carry out missile and artillery attacks against sea and air targets. The Russian contingent will be lead by the Slava-class guided-missile cruiser Varyag. Multiple fixed-wing aircraft and helicopters will also take part, China's state-run Global Times newspaper explained. The drills—lasting until Saturday—will focus on defensive maneuvers, the newspaper added.
Closer cooperation between Moscow and Beijing is of concern to American leaders and military officials, as both have been identified as top threats to the U.S. in recent policy documents.
Last month, the United States Institute of Peace—a Washington, D.C., federal institution—released a report warning that the U.S. military could "struggle to win, or perhaps lose, a war against China or Russia." It stressed that if the U.S. is forced to fight on two or more fronts simultaneously, its military could be overwhelmed.
Retired Rear Admiral Terence Edward McKnight, who commanded a multinational anti-piracy task force in the Gulf of Aden, told Newsweek that the U.S. Navy regularly conducts freedom of navigation operations "whenever the Chinese or the Russians have undertaken a major fleet exercise."
"We want to show that we are not backing down from our global commitments and demonstrate we are still a major global naval power," McKnight explained, noting this is especially important given existing tensions in the Pacific.
"Over the last few years both the Chinese and the Russians feel that we have lost our edge in sea power," he said. "For many years we concentrated our efforts on land wars and the Navy took major hits in the shipbuilding accounts. Both the Chinese and Russians took note of these actions and have tried to take control of certain sea lanes."
"The Chinese have expanded dramatically," McKnight added. "Today they are operating almost everywhere, especially in the South China Sea—they think the South China Sea is theirs to dominate."
As for Russian-Chinese cooperation at sea, McKnight suggested "this will just be a show of force and not like a high-level NATO exercise," given the fact that the two services do not operate together regularly. "Of the two, the Chinese fleet is much more significant force," McKnight continued. "I think they want to show that they still are a power to cope with in the future."
China and Russia have also found themselves aligned against the U.S. on several major diplomatic issues, including the power struggle gripping Venezuela, the ongoing war in Syria, and the return of American sanctions against Iran.
Last week, President Vladimir Putin gave an interview with the official Chinese Communist Party newspaper The People's Daily in which he lauded his country's ever-closer relationship with China. Putin said: "It would be no exaggeration to say that our countries have approached with the best relations they have had in their entire history."