Russia Takes Action Against Official Who Demanded Putin's Resignation
A Russian politician who was part of a group that appealed to the country's parliament last week to remove President Vladimir Putin from power on a charge of high treason, has been fined for "discrediting" the Russian government.
Dmitry Palyuga, a municipal deputy for Smolninskoe in St. Petersburg, was fined 47,000 rubles ($780), days after he and other members were accused of committing actions aimed at discrediting the Kremlin.
He announced the news on Twitter, adding that he intends to appeal the decision to fine him.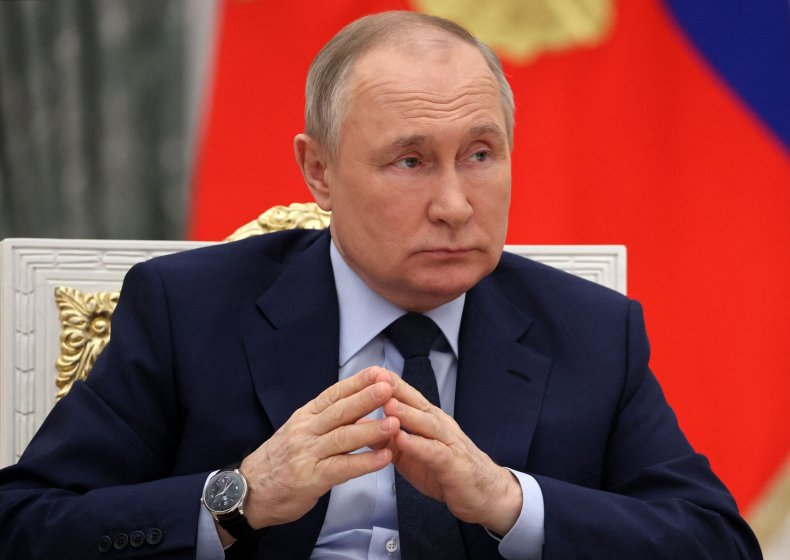 Four more members of the Smolninskoe local council are set to make court appearances this week. In total, seven members signed the appeal.
The group were all summoned by police for "discrediting" the Russian government after they sent a request to the Russian parliament, the State Duma, and said Putin's invasion had led to a massive loss of life, disabled veterans, hindered the national economy and fast-tracked NATO's eastward expansion.
The treason charge appears to be directly related to Russia's full-scale invasion of Ukraine, which is described as a "special military operation" by Putin.
"Ukraine is militarizing and has received $38 billion worth of weapons to fight Russia. All these are the consequences of the decision to start the Special Military Operation. Putin's actions pose a threat to Russia's security. He should be fired! Adopted at a meeting of the Municipal Council of Smolninskoe," a tweet by Nikita Yuferev, a fellow municipal deputy who was also involved in the effort, said at the time.
Since the war began, Russia has charged multiple officials and even its own soldiers with "discrediting" the country's armed forces and government.
Russia's parliament passed legislation in March imposing jail terms of up to 15 years for intentionally spreading "fake" news about the country's armed forces. The Kremlin has used the law to crack down on those who veer away from Putin's narrative of the war.
The group of politicians are likely to have their district council dissolved following a ruling on Tuesday, Yuferev said on Twitter.
Yuferev said a judge ruled that the council "is inactive" and that the group would appeal the decision.
Russians are increasingly voicing dissent against the conflict, now in its seventh month.
This week, a Moscow municipality addressed a letter to Putin saying Russia had now become "feared and hated" while "aggression" has taken the country back to the "Cold War era."
Pro-Kremlin Telegram channels have also criticized the Russian government amid Kyiv's successful counteroffensive in Kharkiv.
Putin's spokesman Dmitry Peskov told reporters at a news briefing on Tuesday that the groups must be "very careful" when criticizing authorities.
A former member of Russia's parliament, Boris Nadezhdin, has said it's impossible for Russia to defeat Ukraine and has called for peace talks in extraordinarily outspoken criticism on state TV of Putin's strategy in Ukraine.
Newsweek has contacted Russia's Foreign Ministry for comment.