Putin's Major Plane Problem
The reported sabotage of one of Moscow's surveillance planes is yet another blow to Vladimir Putin's air capabilities in his invasion of Ukraine.
Belarusian partisans are said to have launched a drone attack on the Beriev A-50U on Sunday—and this report was quickly followed by a boast from Kyiv that it had downed its 300th Russian aircraft since the start of the war.
Ukraine's defense ministry tweeted a graphic on Monday with the caption: "Hope you had a nice landing." As of Wednesday, the number of aircraft Kyiv says it has downed remains at 300 while the number of destroyed helicopters is 288.
These figures have not been independently verified. The open-source website Oryx, which uses photo or video evidence to track equipment losses, suggests the number of downed aircraft is considerably lower.
As of Wednesday, Oryx states that Moscow has lost 75 jets—68 destroyed and seven damaged. It also lists 78 helicopters as lost, with 67 destroyed, 10 damaged and one captured.
However, Kyiv's claims follow reports of depleted Russian air capability and a spike in non-combat losses. Experts have cited a lack of pilot training and poor maintenance of planes.
Last month British defense officials said Russian air power "continues to significantly underperform" in the war as it battles Ukrainian air defences. They assessed that Moscow's combat jets operate almost exclusively over Russian-held territory, which stopped them "carrying out their key strike role effectively."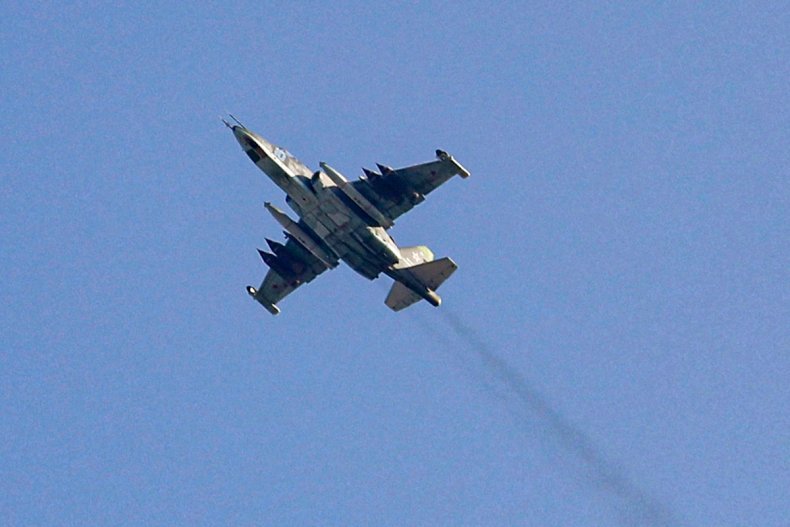 In September 2022 U.K. officials said Russia's air force might take more risks to give close support to Moscow's ground forces as they come under pressure from Kyiv's advances. They also suggested that Russian pilots' "situational awareness is often poor."
Last month the pilot of a Russian Su-25 jet was killed after a crash in the Belgorod oblast near the border with north-west Ukraine. In December a Russian MiG-31 interceptor aircraft came down during a routine flight in the eastern Primorsky region. The crash was blamed on a "technical fault".
In October video showed the crash of another MiG-31 soon after takeoff from the Belbek airfield in Sevastopol. That some month, a clip went viral of a pilot reportedly ejecting from a Russian Su-25 jet before it crashed in an unknown area.
Earlier in the conflict, in June, an Ilyushin Il-76 military transport plane crashed and caught fire near the city of Ryazan while attempting an emergency landing during a training flight.
Newsweek has contacted the Russian defense ministry for comment.