Senator Rick Scott Insists GOP Civil War 'Absolutely Canceled' Despite Ongoing Tensions
Senator Rick Scott, a Florida Republican, insisted that the so-called GOP civil war is "absolutely canceled" despite ongoing tensions among Republicans over the future of former President Donald Trump within their party.
Trump spoke at the annual Conservative Political Action Conference (CPAC) on Sunday, asserting his continued dominance over the GOP—which he said is united even as he attacked Republican leaders who've crossed him—despite the violent insurrection against the U.S. Capitol by his supporters on January 6. While a number of leading Republican lawmakers have come out strongly against Trump in the wake of the violent mob attack targeting Congress, most GOP voters and lawmakers continue to align themselves with the former president.
Scott said on Fox News Sunday that President Joe Biden "absolutely" won the election fair and square. Hours later in his CPAC speech, Trump repeated his claims that he lost the race because of widespread voter fraud.
"This Republican civil war has been cancelled," Scott insisted during a Monday morning interview with CBS News' This Morning. "We're not going to look backwards, we're going to go forward," the senator said, suggesting that Republicans are unified in opposing Biden's agenda. "We're going to focus on the issues...and I think we're going to have a great '22 [midterm election performance]."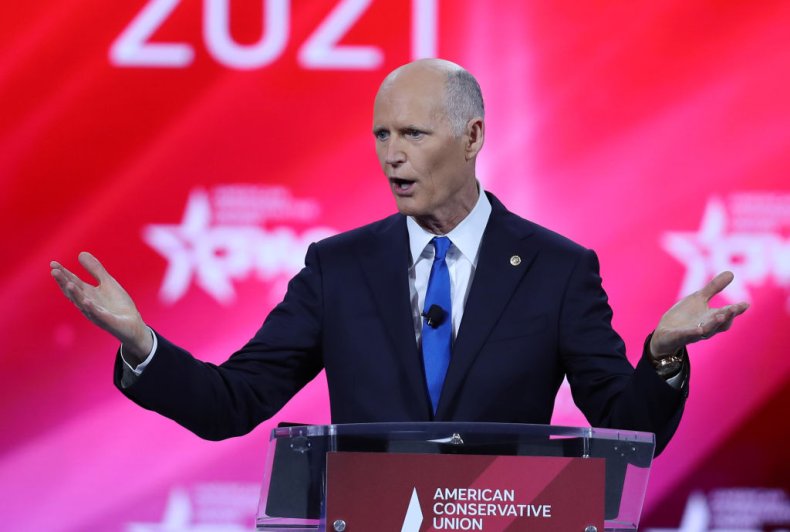 As the co-hosts of This Morning pressed Scott further, pointing to the ongoing disagreements and tensions among Republicans, the senator doubled down in dismissing the internal tensions.
"Go around Florida. They're not talking about what these party leaders are saying. What they're talking about is what's good for their families, they're talking about issues," Scott asserted. "This civil war is absolutely canceled. We're not going backward. We're going forward and [we'll] win in '22."
Trump was impeached a second time following the events of January 6, with 10 House Republicans voting alongside their Democratic colleagues to say Trump was responsible for inciting the violent attack against the U.S. Capitol. At the conclusion of the Senate impeachment trial last month, seven GOP senators joined all 50 members of the Senate's Democratic Caucus to vote to convict the former president. Although this marked the most bipartisan Senate impeachment conviction vote against a president in U.S. history, it fell short of the high constitutional threshold of a two-thirds majority required for a conviction.
Even some Republican lawmakers—such as Senate Minority Leader Mitch McConnell of Kentucky—who voted to acquit Trump, said this decision was not based on the merits of the case. Instead, they argued that it was unconstitutional to hold a trial for a former president. McConnell has suggested that Trump should be criminally prosecuted for his actions related to January 6.
Meanwhile, Representative Liz Cheney of Wyoming, the No. 3 House Republican who chairs the House Republican Conference, voted to impeach Trump and has repeatedly said the former president should not have a leadership role within the party going forward. Some Republicans opposing Trump have pointed out that their political party lost the House, the Senate and the White House during four years of his leadership—questioning why others within the party would view Trump's movement as a winning strategy.
But polls show that the majority of Republican voters continue to support Trump. A survey conducted by Morning Consult following the impeachment trial showed that nearly 60 percent of GOP voters wanted Trump to have a "major role" within the Republican Party going forward. Another poll carried out in early February by CBS News/YouGov showed that 71 percent of Republican voters viewed GOP lawmakers supporting Trump's impeachment or conviction as "disloyal."
Newsweek reached out to Scott's press representatives for further comment.