South Africa's Zuma Clashes With Public Protector Over Guptas Probe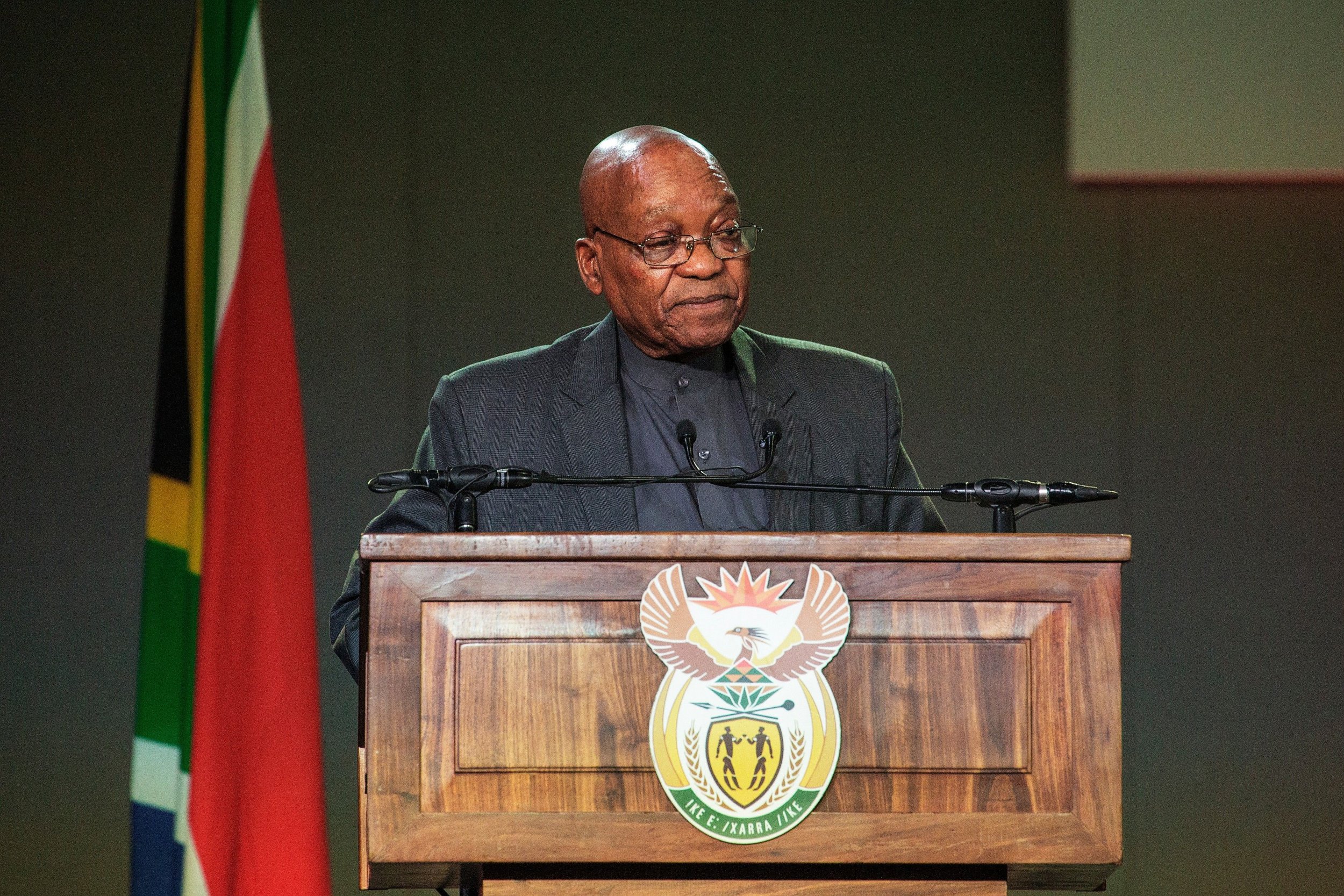 South Africa's Jacob Zuma is heading for another showdown with a government corruption watchdog in a row over a probe into the president's ties with a controversial business family.
Zuma has asked for the publication of a preliminary report into his links with the Guptas—an Indian-born business family with interests including IT and mining—to be delayed beyond Friday, when current Public Protector Thulisile Madonsela has proposed to publish it.
South Africa's Deputy Finance Minister Mcebisi Jonas claimed in March that the Guptas had offered him a promotion to the role of finance minister, and opposition parties have said the business family are trying to capture control of state institutions through its ties to Zuma—three of Zuma's immediate family members have been employed by Gupta-owned companies. The Guptas have denied accusations of attempting to wield political influence.
Madonsela's term as public protector—an independent watchdog charged with investigating state corruption—ends Saturday and she has indicated a desire to publish her findings before leaving office.
Madonsela summoned Zuma for an interview on the matter Thursday, but the president was only given two days to prepare, according to a statement released Monday by the South African presidency. Zuma's office said that it had requested that Madonsela hold off from publishing her findings until he had had the opportunity to speak to the other parties she had interviewed and be allowed to see the evidence she had collected.
But in an immediate retort, Madonsela responded Monday evening that the president had been offered the opportunity to submit his own evidence since March 22, and that all evidence implicating him had been made available since October 1.
The outgoing public protector also said she was "concerned" that Zuma had twice agreed to answer questions in the investigation before later changing his mind.
Madonsela and Zuma clashed previously over the president's state-funded improvement of his residence at Nkandla, in eastern South Africa. Zuma used public money to install various features, including a swimming pool and an amphitheater, and Madonsela ruled in a 2014 report that he should pay back some of the money.
Zuma ignored the report and his party, the African National Congress, accused Madonsela of being a CIA operative, among other things.
But in March, South Africa's highest court ruled that Zuma had failed to uphold the constitution by ignoring the report, and the treasury later ruled that he should pay back 7.8 million rand ($540,000). Zuma claims he has since repaid this amount.
Madonsela will be succeeded by Busisiwe Mkhwebane, a High Court advocate who has previously worked for the South African government at its embassy in China. Her appointment has been disputed by the opposition Democratic Alliance, which claims that Mkhwebane has ties to the shadowy State Security Agency, South Africa's intelligence body, and is not independent. Mkhwebane has denied these claims.