Steve Bannon Attacks Mike Pence for Defending FBI: 'Gutless'
Right-wing strategist and podcaster Steve Bannon attacked former Vice President Mike Pence after he defended the FBI in the wake of the raid on former President Donald Trump's Florida residence last week.
Pence on Wednesday in New Hampshire urged fellow Republicans to stop their condemnation of federal law enforcement, as some GOP lawmakers have called for defunding or abolishing the FBI after the search warrant was executed at Trump's Mar-a-Lago resort home on August 8.
"Our party stands with the men and women who stand on the thin blue line at the federal and state and local level, and these attacks on the FBI must stop. Calls to defund the FBI are just as wrong as calls to defund the police," Pence said.
Bannon, who served as the chief executive officer of Trump's 2016 presidential campaign and for much of 2017 as a White House strategist, quickly lashed out at Pence in a Wednesday episode of his War Room podcast. He described the former No. 2 Trump administration official as "gutless."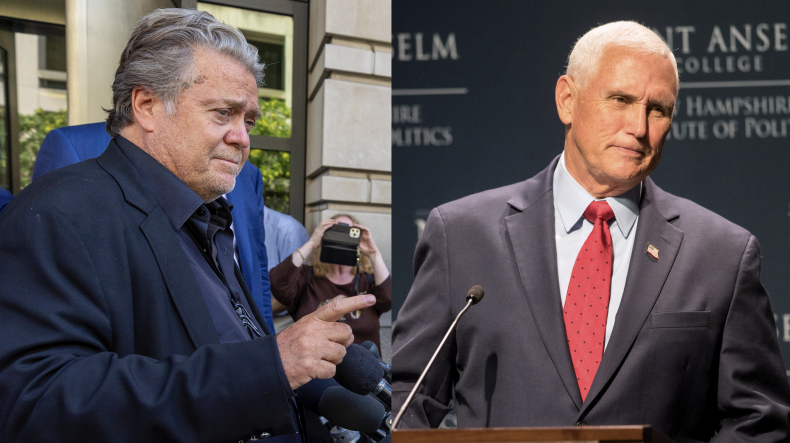 "Mike Pence said, 'We gotta stop criticizing, we're a law and order party,'" Bannon said. "This is what this mindless, gutless symp said.
"This is an individual who has done more damage to this country than any other person in modern political history. He's gutless."
Sharing the video on Gettr, Bannon captioned the post: "Mike Pence is Controlled Opposition...."
Newsweek reached out to Pence's press representatives and Bannon for comment.
Pence is widely believed to be laying the groundwork for a 2024 presidential run, despite Trump being seen by many Republicans as the clear frontrunner for their party's nomination. In recent months, Pence has increasingly broken with Trump in public—with his remarks about the FBI this week seen by many as another rebuke of his former boss.
Trump has accused the FBI of corruption and repeatedly slammed federal law enforcement since the raid.
"The FBI has a long and unrelenting history of being corrupt," he posted on his Truth Social platform on Sunday.
The FBI is currently led by director Christopher Wray, a Republican appointed by Trump in 2017.
Bannon and other Trump allies have repeatedly criticized Pence since January 6, 2021, when the former vice president declined to support an unconstitutional effort to reject the Electoral College votes of several key swing states in a bid to keep the former president in the White House.
Later that day, Pence faced death threats as angry pro-Trump rioters attacked the U.S. Capitol, forcing him to hide in a loading dock.
"Pence, you're going to carry this thing eventually to your grave, OK?" Bannon said in February after Pence in a speech denounced the plot that Trump and his allies had pressured him to be part of on January 6. "Because it is a mark of shame. And you are a stone-cold coward. A stone-cold coward."
In June, Bannon dubbed the former vice president "Judas Pence," referencing the Biblical disciple of Jesus Christ who betrayed him to authorities before his execution.
A number of other prominent Republicans have pushed back against calls to defund or abolish the FBI, similar to Pence's Wednesday remarks.
"First we had the left talking about defunding the police and attacking police officers and now we have these federal law enforcement officers," Maryland Republican Governor Larry Hogan said during an interview with ABC News' This Week on Sunday. "And it's absurd."
Hogan said that such calls are "dangerous," and added that "there are threats all over the place," warning that "losing faith in our federal law enforcement officers and our justice system...is a really serious problem."
Bannon was convicted by a grand jury in July of contempt of Congress over his refusal to comply with a subpoena to appear before the House select committee investigating the January 6, 2021, riot at the U.S. Capitol. He will be sentenced in October and faces a minimum of 30 days and up to one year in jail, as well as a fine.
He was indicted in August of 2020, accused of defrauding donors to a crowdfunding campaign to help build Trump's long-promised wall on the U.S.-Mexico border. Trump pardoned him on January 20, 2021, just as he departed the White House at the end of his term.