From Fighting COVID to Super Bowl 2021—Meet the Health Care Workers Heading to Tampa
Carl Paige grew up playing football in his neighborhood and watching his beloved Chicago Bears with his family. Now he is heading to the Super Bowl. If his name doesn't sound familiar, it's because it shouldn't.
Paige isn't an obscure undrafted rookie, nor a veteran free agent added to either roster at the last minute.
He is a maintenance mechanic at Advocate Trinity Hospital in Chicago and one of the approximately 7,500 vaccinated health care workers the NFL has invited to Super Bowl LV to thank them for their service during the coronavirus pandemic.
"Having [former Bears cornerback Charles] 'Peanut' Tillman himself be the one to tell me I'm going to the Super Bowl was so exciting, I was filled with joy and happiness," Paige tells Newsweek.
"Never did I think that I would be going to the Super Bowl."
A Medical Director of University Hospitals at Cleveland Medical Center's Medical Intensive Care Unit and a Cleveland Browns fan, Dr. Rana Hejal spent the best part of the last 11 months caring for patients, developing treatment algorithms and supporting the ICU staff.
She too will be in Tampa on Sunday to watch Tom Brady and the Tampa Bay Buccaneers take on Patrick Mahomes and the Kansas City Chiefs. Like Paige, Hejal couldn't believe she had been selected to attend Super Bowl LV.
"I thought it was a joke and ignored the first email," she explains.
"I had to pay attention to the second one because they referenced an internal email."
Like the Bears and the Browns, the other 30 NFL franchises randomly selected health care workers—all of whom will have received both doses of the vaccine—from their communities.
While most of them work in hospitals and health care systems in the Tampa and central Florida area—some, like Cheryl Caraan and Anthony Neal III—come from farther away.
After their indefatigable efforts during an incredibly difficult year, to see healthcare workers honored before an audience of hundreds of millions is profoundly significant for both.
"To be recognized in this way on such a big stage is such a wonderful way to boost our collective morale," explains Caraan, a critical care nurse at Virginia Mason Franciscan Health in Seattle, Washington and a Seattle Seahawks fan.
"I hope this stage will also help illustrate how healthcare work can be akin to civic duty, and hopefully inspire young people to become the next generation of healthcare workers."
Being invited to Super Bowl LV, meanwhile, is one "of the most fulfilling moments of my life" for Neal, a Dallas Cowboys fan and a patient service specialist at Baylor Scott & White Health in College Station, Texas.
"We go to work every day with one goal in mind—being of service to the people in our communities and making a difference," he says.
"To be recognized by the NFL shows the level of awareness the organization has for healthcare workers and it means so much more than words could describe.
"[It means] That the tireless work of front line workers, specifically in healthcare, has not gone unnoticed."
As of Friday morning, more than 26.6 million cases of coronavirus have been reported in the U.S—the highest tally in the world—according to Johns Hopkins University.
Of the 2.28 million fatalities that have been recorded worldwide, almost 456,000 have been in the U.S.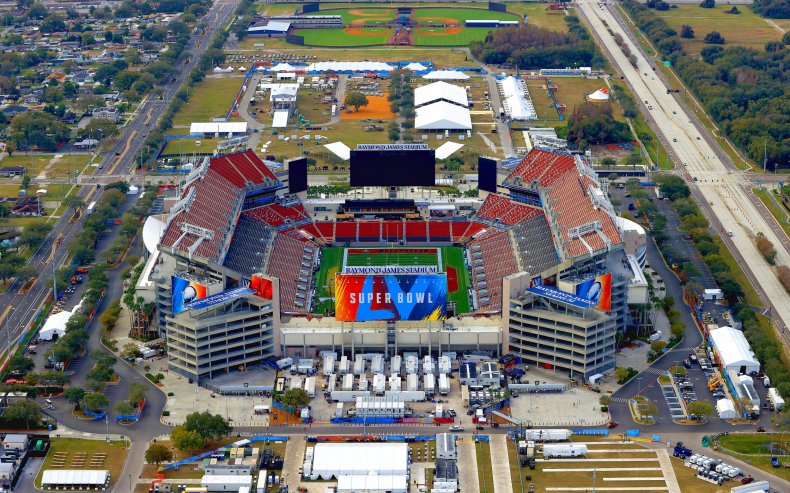 On Sunday, the NFL will also recognize health care workers nationwide through several dedicated moments both at Raymond James Stadium and during the CBS broadcast.
"These dedicated health care workers continue to put their own lives at risk to serve others, and we owe them our ongoing gratitude," NFL commissioner Roger Goodell said last month.
"We hope in a small way that this initiative will inspire our country and recognize these true American heroes."
It will be the poignant end to a remarkable journey for the NFL which, along with other sports, has provided a much-needed distraction to millions of Americans, including several health care workers.
"Being able to check on my favorite players and teams has been a great and comforting distraction," explains Neal, an avid fantasy football player.
"It is one of the few comforts that was only mildly affected by the pandemic, and for that I am grateful."
Caraan and Paige echo the sentiment: "Football has been so uplifting for people. It gives people something positive to look forward to and be excited about," she says.
To Paige, who loved watching former Bears great Walter Payton growing up, "football has brought me the same amount of joy [as ever] during this difficult year."
How the NFL navigated the pandemic
Back in May, several eyebrows were raised when the NFL announced the 2020 season would go ahead as scheduled. Even with the country still relatively in the early stages of the coronavirus pandemic, the NBA and NHL seasons had both been suspended.
The size of the rosters meant the bubble-like environments the NBA and NHL adopted to conclude their campaigns were logistically impossible for the NFL. The high-contact nature of football was also a major concern and, in the words of Anthony Fauci, made the sport the perfect environment to spread coronavirus.
Undeterred, the NFL plowed ahead. The free agency season went ahead without visits, the league held its first-ever remote draft and training camp eventually began in July and on August 1, the NFL carried out its first round of COVID-19 testing. By January 23, some 954,830 NFL employees had been tested, with a total of 724 positive cases—262 players and 462 between coaches and team employees.
It was not all smooth sailing. Several players pulled out before the beginning of the season due to concerns over the virus.
New Orleans Saints head coach Sean Payton tested positive for COVID-19, as did then-Philadelphia Eagles head coach Doug Pederson.
Once football began, reigning MVP Lamar Jackson tested positive as did New England Patriots quarterback Cam Newton. Browns head coach Kevin Stefanski missed his team's first playoffs game in 18 years after returning a positive test.
Games were rescheduled multiple times and those that went ahead did so either behind closed doors or in venues operating at a fraction of their capacity.
The same will apply on Sunday, when Raymond James Stadium will host around 24,000 fans, way short of its 71,000 capacity. Hundreds of millions of others will watch the game on TV, although as this Statista chart shows, the Super Bowl's audience is still some way short compared to that of the FIFA World Cup.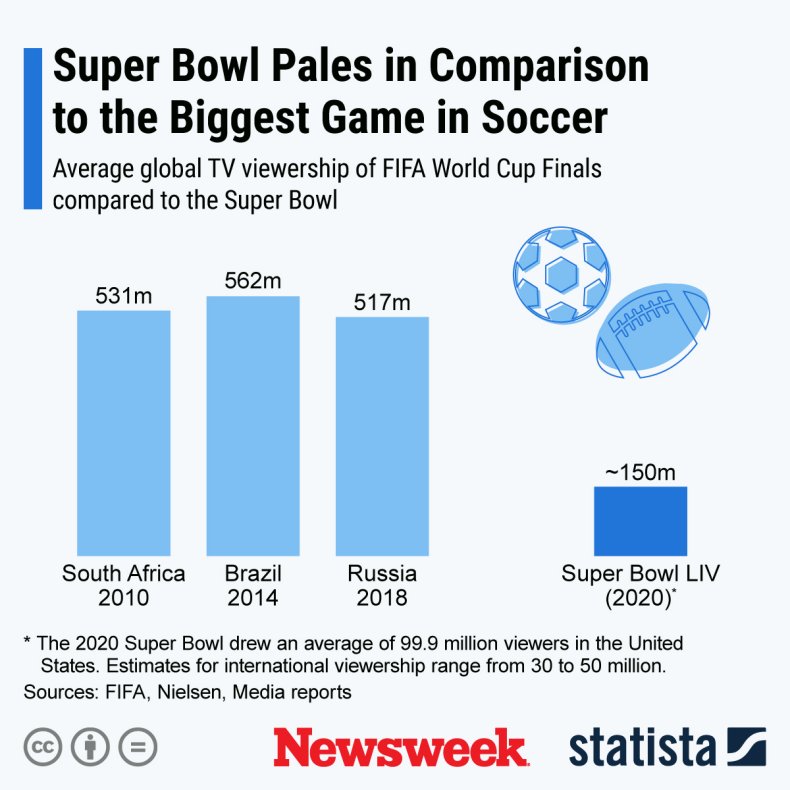 Small as this year's crowd may be when compared to NFL standards, it's still a significant change of scenario compared to the last 11 months.
Will it feel weird to be part of a crowd—albeit a socially-distanced one—again?
"Probably. But in a happy way I hope," says Hejal.
"Not for me. [...] My hope is that Americans can see what is possible once you are vaccinated," Paige adds.
For some, the excitement of going to the Super Bowl means it will just be business as usual.
"I honestly don't think it will be weird or uncomfortable at all, especially under the circumstances as to why we are there," explains Neal.
"I know I'll feel more relieved than anything else to be in the crowd."
Newsweek, in partnership with NewsGuard, is dedicated to providing accurate and verifiable vaccine and health information. With NewsGuard's HealthGuard browser extension, users can verify if a website is a trustworthy source of health information. Visit the Newsweek VaxFacts website to learn more and to download the HealthGuard browser extension.