Syria Says It Blocked Israeli Attack as U.S. and Russia Warn Each Other Against Strikes
The Syrian military said Tuesday it blocked an Israeli attack on positions in the provinces of Hama and Tartous, at a time of heightened tensions among international powers involved in Syria's seven-year civil war.
The Syrian Defense Ministry said in a statement that "air defense systems are thwarting an Israeli aggression with aircraft that infiltrated at low altitudes from west Beirut and headed north, targeting some of our military positions in Tartous and Hama, dealing with hostile missiles, dropping some of them and forcing the attacking planes to flee."
The official Syrian Arab News Agency reported that explosions were heard in the vicinity of Wadi al-Ayoun in Hama and that the remnants of rockets fell in the nearby town of Al-Nasra and the village of Daher in Al-Qusair, Homs province. Local medical officials in the cities of Masyaf and Baniyas told the outlet that one person was killed and about a dozen were injured. Lebanon's National News Agency also reported on the presence of Israeli warplanes flying over the Keserwan area and firing flares toward Syria.
Israel has not yet responded to the claims, but has routinely declined to comment on its operations in neighboring Syria, where Israeli leadership has accused Iran of building up troops and allied Shiite Muslim militias in order to establish a new front. Israel has repeatedly bombed suspected Iranian and pro-Iran positions, once prompting a volley of rockets in response in May.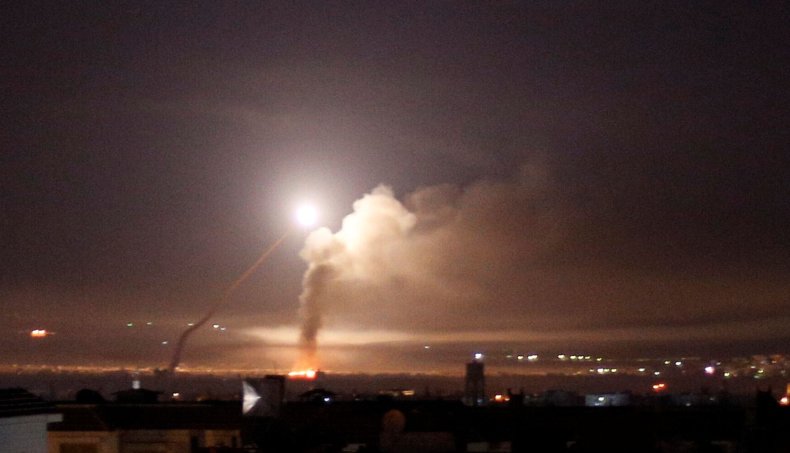 The exchange came as Russia reportedly defied U.S. warnings over its involvement in the Syrian military's anticipated retaking of Idlib, an Islamist-held northwestern province that represents the last bastion of insurgent opposition to Syrian President Bashar al-Assad, an ally of Russia and Iran. The U.S. was a leading supporter of efforts to oust the Syrian leader in the wake of a 2011 rebel and jihadi uprising against him, but has since focused on defeating the Islamic State militant group (ISIS) that emerged during the war.
As Assad regained much of the country with Russian and Iranian support, the U.S. has increasingly responded to accusations of him committing war crimes, including the use of chemical weapons. President Donald Trump was deeply opposed to his predecessor's policy of arming rebels in Syria, but the Republican leader has twice ordered strikes against the Syrian government in response to allegations that it ordered the use of toxic gas to retake rebel-held areas.
Moscow, Damascus and Tehran have dismissed allegations that the Syrian military has used chemical weapons and instead accused the West and opposition forces of conspiring to stage such incidents in order to frame Assad and justify international military action. Last month, national security adviser John Bolton claimed the Syrian government was preparing to use chemical weapons to retake Idlib, where a number of refugees unwilling to reconcile with the government were among over 2 million people residing there.
Russia has taken this rhetoric, along with an alleged U.S. military buildup in the region, as signs that another alleged "false flag" operation was being plotted. Meanwhile, Moscow has responded by sending its largest-ever naval armada to conduct exercises in the eastern Mediterranean and reportedly bombing Idlib, where it targets positions held by the jihadi coalition of Hayat Tahrir al-Sham. The U.S. has denied boosting its forces in the eastern Mediterranean, but Trump warned on Twitter that "President Bashar al-Assad of Syria must not recklessly attack Idlib Province" and that the "Russians and Iranians would be making a grave humanitarian mistake to take part in this potential human tragedy."
The White House warned Tuesday it would "swiftly and appropriately" act if Assad used chemical weapons, according to Reuters.
Tuesday's stories of an attempted Israeli attack also came days after a report by Israeli satellite intelligence company ImageSat International claimed to have uncovered evidence of Iranian involvement in the construction of a missile facility at a Syrian military base in Masyaf, where Israeli and the West have also alleged a chemical weapons facility exists. Initial local reports of explosions likely related to Tuesday's apparent exchange placed the incident near Masyaf, which Israel has targeted in the past and may have done so as recently as July.
The Syrian government considers Russia and Iran to be legitimate partners in what they have portrayed as a war against terrorism and have called on the U.S., other Western powers and Turkey to withdraw immediately. Trump has said the U.S. would withdraw after defeating ISIS, but officials in Washington and the Pentagon have also named curbing Iranian influence as a goal, one shared primarily by Israel and Saudi Arabia.