Has Assad Won the War? France Says He Has as Syria Warns U.S. Against Attack
Syria's top diplomat warned the U.S. and its Western allies Monday that they were not capable of preventing his country from launching a final assault on rebels as his French counterpart appeared to concede victory to the Syrian government.
In an interview with Russia's state-run Rossiya-24 outlet, Syrian Foreign Minister Walid al-Muallem repeated claims that Western governments were plotting to conspire with militants in the last rebel-held province of Idlib to stage a chemical weapons attack and blame Syrian President Bashar al-Assad as a pretext for military action. The U.S. and its partners have twice responded with force to reports that Assad used internationally banned poison gases throughout a seven-year civil war against rebels and jihadis, but the Syrian government, along with its Russian and Iranian allies, has dismissed these claims and other allegations of war crimes as attempts to frame the Syrian leader.
"The intended aggression won't affect our people's morale nor will it sway our military plans to liberate Idlib," Muallem said, as translated by the state-run Tass Russian News Agency. "This is not the first time that the United States, Great Britain and France have cooked up a scheme for a chemical weapons incident. It happened earlier in the Damascus suburb of Douma, when these countries decided not to wait for the results of an international investigation and conducted a trilateral strike on Syria."
"However, the Syrian people manned up to and scoffed off that aggression," he added, referring to the joint U.S.-French-U.K. airstrikes against Syria in April. "They celebrated as they watched Syrian rockets down missiles launched by the aggressors."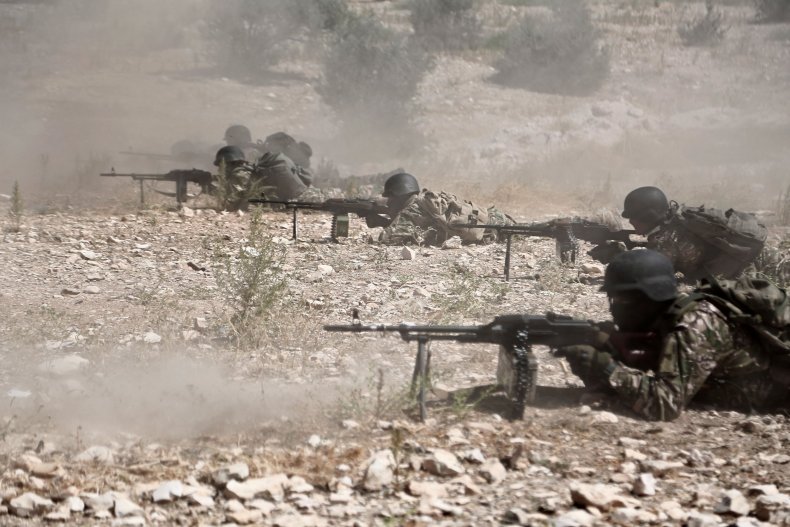 Tensions between the U.S. and Russia have been escalating over Syria since National Security Adviser John Bolton suggested last month that the Syrian armed forces were preparing to launch a chemical weapons attack in an upcoming offensive against Idlib, a northwestern province controlled by an Islamist-led insurgency. Russia said that these remarks, along with an alleged U.S. military buildup in the region, was indicative of an impending "false flag" chemical operation meant to justify a new round of U.S.-led strikes and has deployed its own record-breaking fleet to the eastern Mediterranean in order to conduct a week-long series of drills.
The West, Turkey and Gulf Arab states have sponsored rebels trying to oust Assad, but drew back support as the opposition grew increasingly Islamist and Russia joined the battle to support the Syrian government in 2015. As Russia and Iran helped the Syrian military reclaim the country, other Western officials have joined the U.S. in expressing concern about an upcoming assault on Idlib, where more than 2 million people reside. It is one of the final regions outside of government hands, leaving about a quarter of the country under the control of the U.S.-backed Syrian Democratic Forces, a mostly Kurdish coalition currently in talks with Damascus.
Last week, French President Emmanuel Macron also warned of the consequences of such an attack, but emphasized that he considered the Islamic State militant group (ISIS) "to be our principal enemy, and I have never made the ousting of Bashar al-Assad a condition of our diplomatic or humanitarian action in Syria." French Foreign Minister Jean-Yves Le Drian said Sunday that "the situation is alarming in Idlib. Bachar has won the war, but he did not win the peace," according to radio station France Inter.
France has joined the U.S. in scaling back its regime change efforts in Syria under Macron and has coordinated with Russia directly in the distribution of humanitarian supplies. Moscow has attempted to solicit more support from Washington over its Syria mission as well and, while President Donald Trump himself has expressed interest in the motion, other officials have suggested that such an understanding was unlikely for the time being.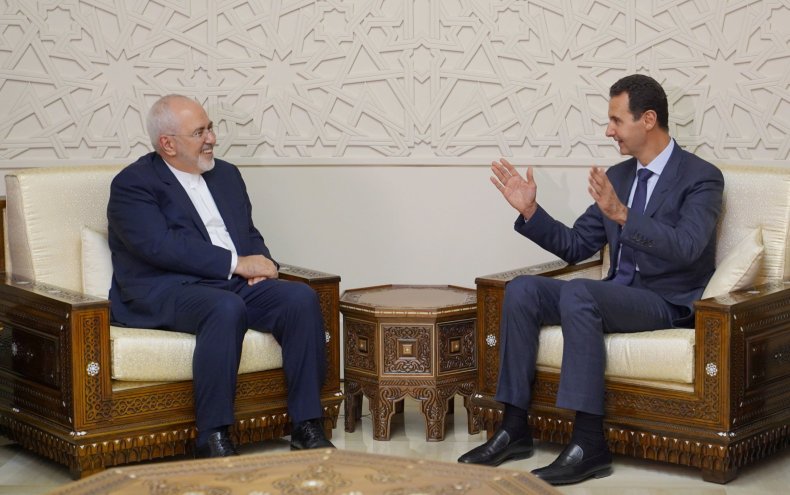 Iran has joined Russia and Syria in opposing U.S.-led intervention in Syria, where the Pentagon's mission of defeating ISIS has expanded to include countering Iranian influence as well. Assad and other senior Syrian officials met Monday with Iranian Foreign Minister Mohammad Javad Zarif in Damascus to discuss the progress of their joint war effort. Upon arriving in the Syrian capital, Zarif called for a comprehensive reconstruction process to begin in a way that incorporated all parts and peoples of the country, saying "all those displaced should return home, and the remnants of terrorists in the remaining regions of Idlib must be flushed out of those areas and the region must fall into the hands of Syrian people," according to Iran's semi-official Tasnim News Agency.
On Tuesday, the Pentagon told Newsweek that "Russian reports of a U.S. military buildup in the Eastern Med are false," but maintained that "we are prepared to respond should the president direct such an action. We remain concerned over reports of a potential military offensive by the Syrian regime against civilians and civilian infrastructure in Idlib, which would result in devastating humanitarian consequences." Citing multiple U.S. officials, CNN reported Saturday that the Pentagon was devising a list of potential military targets in Syria.