Ted Cruz Says KBJ Will 'Undermine' Constitution as Senate Confirms Judge
Texas Republican Senator Ted Cruz said on Thursday that Judge Ketanji Brown Jackson will "undermine" constitution rights as an associated justice on the U.S. Supreme Court.
"Based on her record, I believe she will prove to be the furthest left of any justice to have ever served on the Supreme Court," he said during a press conference.
"Based on her record, I think we can anticipate that she will vote consistently to undermine the constitutional rights of Americans, to undermine our rights to free speech, to undermine our rights to religious liberty, to undermine our rights under the Second Amendment to keep and bear arms."
In a historic vote on Thursday afternoon, Jackson was confirmed, 53-47, as the first Black woman on the Supreme Court. She will fill the seat left by retiring Associate Justice Stephen Breyer, whose term runs through June.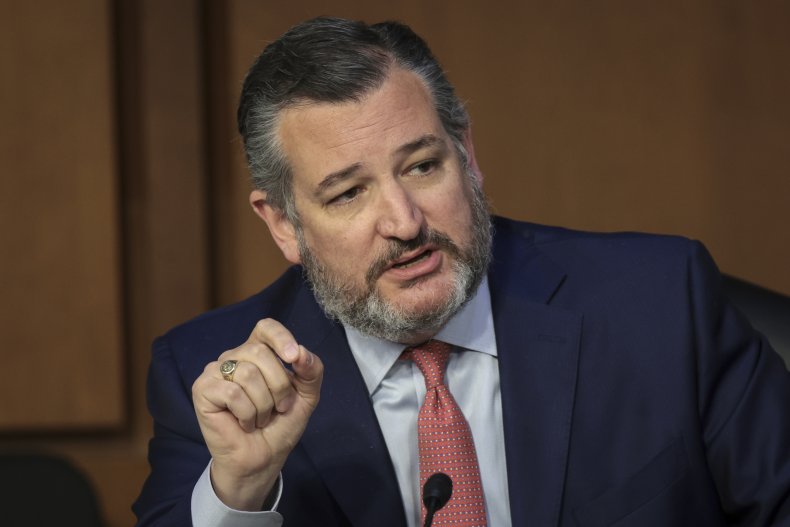 Only three Republicans senators voted to confirm Jackson—Susan Collins of Maine, Lisa Murkowski of Alaska and Mitt Romney of Utah—as did all 50 Democrats.
Cruz also criticized Jackson's sentencing record in which he accused her of being lenient when ruling in child pornography cases, saying that she sentenced defendants for short prison terms.
"There is no area of law where her record is more extreme than in criminal law," he said Thursday. "When it concerns criminal law, judge Jackson's record is far, far, far out of the mainstream.
"Not only is her record consistently in favor of very, very lenient sentences for violent criminals, for drug dealers, for those who have committed horrific crimes, but she has a particular pattern of leniency for sex offenders."
Jackson received backlash during her confirmation hearings last month when she was asked questions by Democrats and Republicans about her record on child pornography cases and critical race theory in education, among other topics.
Cruz criticized Jackson at that time as well over her lenient sentences against child pornography felons. Senator Josh Hawley of Missouri accused Jackson of not being strict when handling these cases.
Jackson defended her sentences, saying "nothing could be further from the truth" and noted that there are sentencing guidelines that limit judges' work on those types of cases.
Jackson handed out lighter sentences in most child pornography cases than federal guidelines recommended because the prosecution or representatives from the Justice Department requested that, according to an analysis by the Associated Press.
Newsweek contacted the U.S. Supreme Court for comment but did not hear back in time for publication.
Update 4/7/22, 3:35 p.m. ET: The story has been updated with additional information.