Texas Judge Lina Hidalgo of Harris County said Wednesday there was no reason for Governor Greg Abbott to lift the state's mask mandate.
"There's no reason why to open ourselves up to unnecessary death, unnecessary hospitalization, just for the sake of wanting to claim a premature victory," Hidalgo told host Lisa Desjardins on the PBS NewsHour.
Hidalgo added that less than one in 10 people over the age of 16 has been vaccinated in Harris County, where she serves. Harris includes Houston and is the third-largest county in the U.S.
"It remains to be seen what folks do, but if history is any indication, we will see folks wearing masks less and less as the days go by," Hidalgo said.
She added that Harris County had a mask mandate in place during the early stages of the coronavirus pandemic but Abbott "eliminated it." As a result, "folks stopped wearing masks until the governor reinstated the mask mandate, which he's now again removing."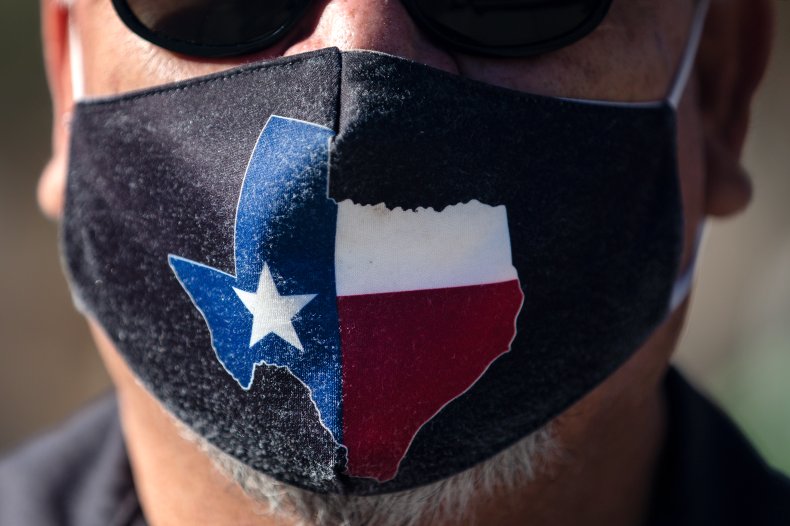 Last week, Abbott declared that "Texas is open 100 percent" and announced plans to lift the statewide mask mandate and other coronavirus restrictions beginning March 10.
The governor's decision to lift the mask mandate has been met with significant backlash, with politicians across the U.S. criticizing the move.
Republican Mayor Betsy Price of Fort Worth, Texas, called Abbott's decision to lift the mask mandate "premature." Hidalgo echoed Price's comments during her PBS NewsHour appearance.
"Now, was it a good idea? I'm afraid not. I'm afraid it was premature," Hidalgo said about lifting the mandate. "We know we're going to get to the point that we need to get to, but we're not there yet."
Other Texas mayors, including Democrats Oscar Leeser of El Paso and Eric Johnson of Dallas, have urged their communities to continue wearing masks. Politicians and health officials in Austin have even decided to keep its mask mandate in place despite Abbott's order.
Hidalgo noted, however, that "counties and cities have been prohibited from implementing their own mask mandate." As a result, Texas Attorney General Ken Paxton threatened to sue Austin on Wednesday as local leaders continue to enforce the city's mask mandate.
Austin Mayor Steve Adler has since said the area will keep its mask mandate despite Paxton's threat. The mayor said that "the rules we're seeking and continuing to enforce are not rules of politicians, they're the rules as promulgated by the health authority here in central Texas."
Newsweek reached out to Hidalgo's office for comment but didn't hear back in time for publication.
Newsweek, in partnership with NewsGuard, is dedicated to providing accurate and verifiable vaccine and health information. With NewsGuard's HealthGuard browser extension, users can verify if a website is a trustworthy source of health information. Visit the Newsweek VaxFacts website to learn more and to download the HealthGuard browser extension.