Texas Officials Reject Claim Election Audit Began Months Ago, Not From Trump Pressure
Officials in Texas have dismissed Governor Greg Abbott's claim that the state's audit into the 2020 presidential election began months ago and has nothing to do with pressure from former President Donald Trump.
The Texas Secretary of State's office announced the audit on September 23—the same day Trump wrote a letter to Abbott pushing for a forensic audit.
"Despite my big win in Texas, I hear Texans want an election audit!" the former president wrote in a letter to Abbott on Thursday. "You know your fellow Texans have big questions about the November 2020 Election."
Abbott said last week that the audit had nothing to do with Trump's request and "actually began months ago because the secretary of state of Texas has an obligation to make sure that we do conduct audits in the state of Texas."
However, local election officials dispute the claim, some saying they found out about the audit over social media and were caught by surprise.
"We saw the Texas Secretary of State's Facebook page that said, 'Oh, by the way, we're auditing,'" Tarrant County Judge Glen Whitley, a Republican, said, according to the Dallas-based news station WFAA-TV.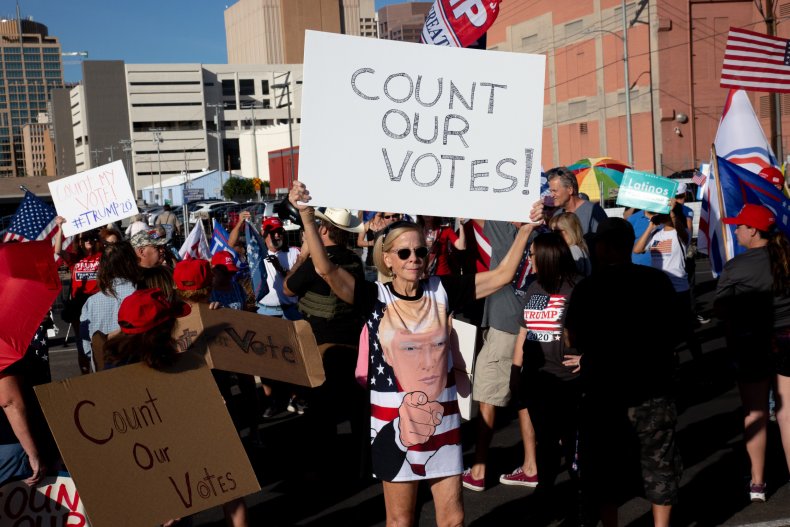 Election officials say the audit has not begun and that the "first phase" are processes completed after every election, WFAA reported.
"Those things that have happened in the past were things that would normally have happened and did happen," Whitley said.
Dallas County Judge Clay Jenkins, a Democrat, said there is "no real audit happening, calling it "a political game to undermine democracy."
"There won't be any issues. If they seriously thought that there were any issues, they would have asked for this the day after the election, not a year after the election," Jenkins told WFAA. "I think people can see it for what it is. It's all politics."
Newsweek reached out to Abbott's office for comment but did not receive a response before publication time.
The election audit targets four large counties in Texas—Dallas, Harris, Tarrant and Collin County.
Biden swept the traditionally blue Dallas and Harris counties, while narrowly flipping Tarrant County by .2 percent. Trump won Collin county by just under five points. Statewide, Trump won by about six points, despite Democrats' hopes of flipping the Lone Star State.
Local officials slammed the audit after it was announced last month. Harris County Judge Lina Hidalgo, a Democrat, criticized the audit as "politically motivated," saying: "Every time we engage in a conversation about these false allegations, we're lending credence to the lie."
Republicans have pushed for audits in several states following the 2020 election based on the unfounded claim that it was stolen from Trump. In Arizona, a state Biden flipped, an audit of Maricopa County, the state's largest, found that Biden's margin of victory slightly grew.
Still, some Republicans, including Trump, have falsely claimed the results found that he won Maricopa County.
Republicans have pushed for audits in other states narrowly won by Biden, including Pennsylvania and Wisconsin. Some have even called for an audit in Florida, a swing state that Trump won.