Tom Steyer Wants to Impeach Donald Trump, but That's Not All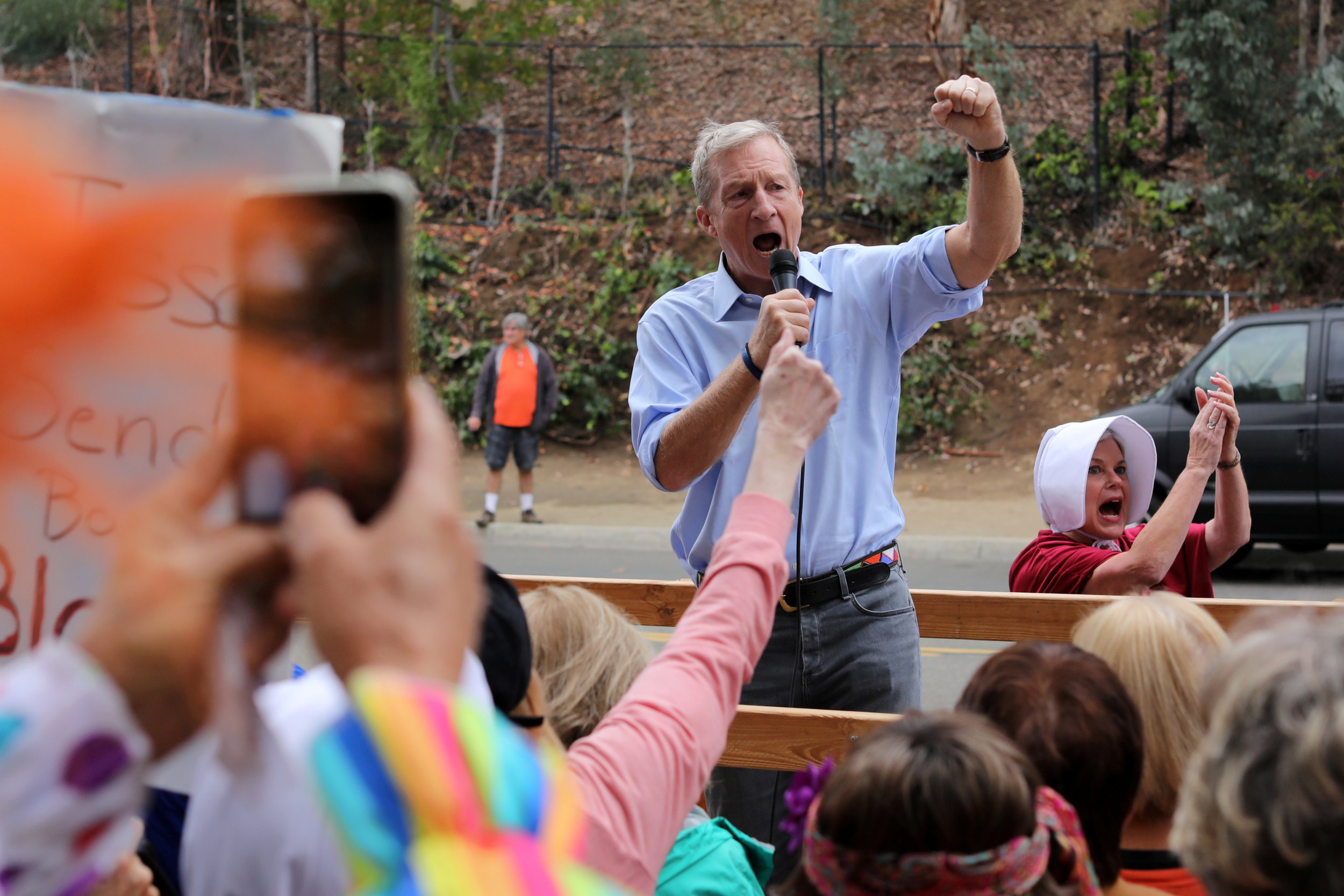 Tom Steyer doesn't know what's going on in Donald Trump's head—and he's not going to try to guess.
"I'll leave it to God to figure out," he said.
Steyer has plenty enough on his plate without adding armchair psychologist duties: The San Francisco progressive is not only waging an eight-figure campaign to get fellow billionaire Trump impeached; he's also playing the long game by trying to mobilize an army of progressive millennials to vote in the 2018 midterms.
"The president is doing some awful things, [and] that's the point we're trying to make in those TV ads: 'Let's come together and stand up against somebody who's doing awful things,'" Steyer told Newsweek in a freewheeling Monday phone interview. "But [I'm] as disturbed by the good things that he's not doing as by the awful things that he is doing."
It's a dramatic moment in tempestuous times: America is a year out from Trump's upset victory and a year away from the midterms that could serve as a referendum on him and the Republican Party.
At this midway point, Democratic mega-donor Steyer is fighting a political war on two fronts.
He's adding to the 1.7 million signatures already on his "Need to Impeach" petition with his straight-to-camera ad, in which he lambastes Trump as a "dangerous president" who's "brought us to the brink of nuclear war." Simultaneously, Steyer's "NextGen Rising" campaign is targeting millennials in a major get out the vote operation in the battleground states of Virginia, California, Florida, Michigan, Nevada, Pennsylvania and Wisconsin.
Launched in June and now ramping up with a six-figure ad buy on the web as well as Facebook, Twitter and Snapchat, Steyer's program seeks to mobilize young people with a focus on five sweeping areas: Immigration, health care, climate, civil rights and the economy.
His goal: To register and turn out at least 500,000 progressive young voters for the midterms.
Steyer, an investor turned activist who's worth $1.6 billion according to Forbes, is running the voter drive under the umbrella of his political operation, NextGen America. Separately, he's making headlines not only for where his impeachment ad is on the air in heavy rotation, but for where it isn't: Fox News Channel pulled the spot shortly after Trump slammed Steyer on Twitter as "wacky & totally unhinged."
The father of four, who won't get specific about his own potential political future, doesn't seem convinced he's the wacky one here.
"I mean, good grief! What's the state of the union? The country is barreling along, [but] the government is in deep dysfunction," Steyer told Newsweek. "I think that because the economy is still chugging along and because the stock market is still chugging along and because rates are low, people kind of feel like, 'Well, how bad is it really?'"
Ok, so how bad is it really, then? He rattles off a list like he's reciting the alphabet.
"They tried to get rid of Obamacare. They're about to try and push through corporate tax cuts at the expense of middle-class Americans. They are trying to dismantle every environmental protection that we have. They pulled out of the Paris Treaty. They pulled us out of TPP," said Steyer, who argues that the U.S. is in the throes of a spiritual "crisis" and that Trump is "lowering the tone" of the national debate.
For good measure, "We're in two nuclear confrontations, both of which we created. We're watching hundreds of billions of dollars of climate-related disasters at the same time that the government denies there's any climate issue and [is] refusing to use the words 'climate change,'" he said.
A White House spokesperson declined comment on Steyer, but Trump's October tweet makes it pretty clear where he stands.
Michael Ahrens, a spokesman for the Republican National Committee, told Newsweek via email, "If Democrats want to appease the far left and their liberal mega-donors by supporting a baseless radical effort that the vast majority of Americans disagree with, then have at it. Republicans will continue to focus on issues voters actually care about, like growing our economy and cutting taxes for the middle class."
Steyer is working the angles with his two-pronged strategy. He probably needs to: While dissatisfaction with Trump is incredibly high, according to polls, the odds of a successful impeachment making it through a Republican-dominated Congress are very low.
Motivating young, progressive voters to flex their political muscle in races for governor, Congress and local offices could be an ideological backstop. It's also tricky: In 2016, Gen X-ers and Baby Boomers still cast more votes than millennials, according to the Pew Research Center, even though the millennial generation is larger in sheer numbers. And while millennials do tend to lean left, they are strongly inclined to identify as independents.
NextGen Rising has already spent more than $10 million to mobilize young voters in 2017, including at Historically Black Colleges and Universities, and will spend "substantially more" in the coming year, though organizers haven't settled on a number.
The campaign hosted "One Year Out" college campus events on Monday in a countdown to the midterms, and says it's put 60 paid workers on the ground and registered more than 20,000 voters in Virginia, where Democrat Ralph Northam has been leading Trump-backed Republican Ed Gillespie in the race for governor.
Steyer boils his 30,000-foot view of the state of politics down to three things: A belief that the U.S. "won't be the most successful country the world by having the biggest bombs or by having the most oil," but by making sure its people prosper; a need for major investment in sustainable energy and infrastructure; and "a need to recommit to accepting each other's full humanity and protecting the rights and dignity of Americans," regardless of race, gender or sexual orientation.
Asked if he had anything to say directly to Trump, Steyer first declined.
Then he reconsidered.
"The only thing I can say to the president is, 'Please sign our petition.'"