Trump Arrives for Pennsylvania Rally Under Pressure
Former President Donald Trump will arrive in Pennsylvania for a rally on Saturday as he faces mounting pressure from his endorsed candidates struggling in key races, the FBI's raid on Mar-a-Lago, and other legal troubles.
Trump is set to speak at the Mohegan Sun Arena in Wilkes-Barre, Pennsylvania, to support candidates he has endorsed—including Dr. Mehmet Oz and Doug Mastriano in the battleground state's Senate and gubernatorial races. The doors are expected to open at 2 p.m., and the event is scheduled to begin at 7 p.m. The rally will also be streamed live online.
The ex-president is also expected to rebuke President Joe Biden, who on Thursday blasted "MAGA Republicans" in an address to the nation. The rally is also his first since the FBI raided his Palm Beach, Florida, residence on August 8, when they seized 20 boxes that contained classified documents.
Trump's Candidates Struggle as Democrats Gain Traction
Candidates endorsed by Trump, both in Pennsylvania and across the country, have floundered in recent polls as Democrats gain steam ahead of the November midterms, in part fueled by increased enthusiasm due to the Supreme Court's overturning of Roe v. Wade, the case that previously guaranteed women abortion-rights.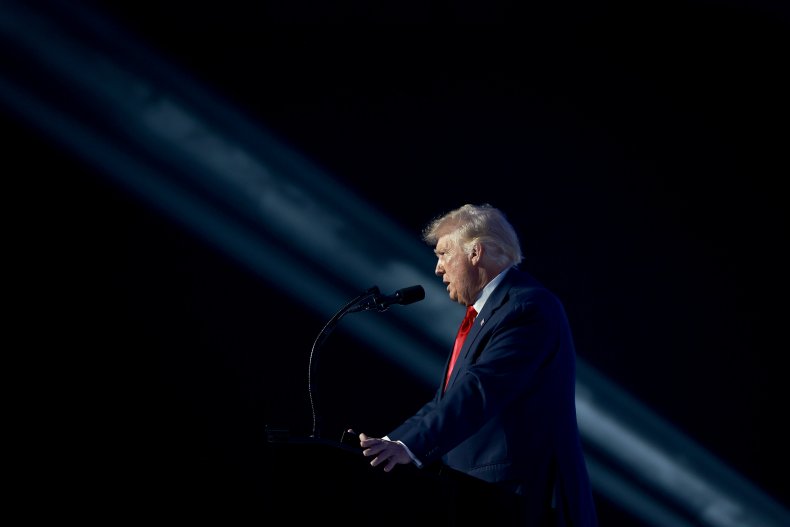 In Pennsylvania, Oz's Senate campaign has faced more hurdles, as Lieutenant Governor John Fetterman, his Democratic opponent, has painted him as being out of touch with the average Pennsylvania voter. The celebrity doctor faced ridicule last month over a video where he discussed trying to shop for crudité, a vegetable platter. The Fetterman campaign has also hit Oz for living in New Jersey prior to his Senate run.
Meanwhile, Mastriano is facing criticism for right-wing viewpoints, which may cost him among suburban, moderate voters who could decide the race between him and his opponent, Democratic Attorney General Josh Shapiro. Mastriano faced recent criticism for remarks appearing to praise the Confederacy. He has also embraced Trump's claims that the 2020 presidential election was "compromised" in Pennsylvania, where Biden narrowly defeated Trump.
These scandals have amounted to a polling deficit for Republicans in Pennsylvania. Across all polls, Oz currently trails Fetterman by about 8 percentage points, while Mastriano trails Shapiro by about 7 points, according to an aggregate of polls from FiveThirtyEight.
Trump, who remains popular with many Republican voters, will seek to give Oz and Mastriano a boost among his conservative base of voters during his rally on Saturday. The rally comes as Trump-endorsed candidates are floundering in key races such as Ohio and Arizona's Senate races.
First Rally Since FBI's Mar-a-Lago Search
Trump will also likely address the FBI's raid on Mar-a-Lago, which he has previously slammed as being politically motivated. The FBI raided Mar-a-Lago as part of an investigation into whether the former president was improperly storing classified documents. Experts have warned that doing so could potentially open them up to espionage from adversaries, sparking national security concerns.
As the investigation continues, some of Trump's allies have now turned on him, and some formerly close to the ex-president expect others to follow. However, some Republicans have coalesced support around Trump following the raid, with many embracing his criticisms that the investigation is political in nature. Trump has also said he declassified the information being kept at Mar-a-Lago.
While Trump has not been charged with any crimes, the FBI is specifically investigating a potential violation of the Espionage Act. If the Department of Justice (DOJ) charges him, he could face up to 10 years in prison for mishandling of the classified documents.
Georgia Investigation Circling in on Ex-President
The former president also continues to face other legal woes, including Fulton County District Attorney Fani Willis' investigation into Trump's phone call with Georgia's Secretary of State Brad Raffensperger, whom he allegedly asked to "find 11,780 votes" in the state to tilt the election in his favor.
A federal judge ruled on Thursday that Senator Lindsey Graham, a South Carolina Republican who is a Trump ally, must testify about parts of his calls with Raffensperger. Graham allegedly questioned Raffensperger about whether political bias might have prompted poll workers to accept ballots with signatures that didn't match, and whether he could toss mail ballots in counties with high rates of unmatched signatures—allegations he has denied.
John Eastman, Trump's lawyer who allegedly helped create some of the plans to overturn the 2020 election, pleaded the Fifth during his testimony before the grand jury last week, according to the Associated Press. Earlier in August, Trump's attorney Rudy Giuliani also testified as investigators continue to close in on key Trump allies. Others, including former White House chief of staff Mark Meadows, have also been subpoenaed.
Newsweek reached out to Trump's office for comment.