How Donald Trump-Appointed Judges Shape America
Donald Trump nominated nearly one-third of all active federal judges during his time as president.
Potentially historic rulings ranging from abortion access and health care to voting in elections are in flux.
The impact has already been seen, with the conservative majority Supreme Court overturning Roe v. Wade in 2022.
However, numerous decisions could still yet be made by Trump's picks.
Despite leaving office more than two years ago, the ripple effect of Donald Trump's presidency is still being felt across the country today.
For some Americans, Trump might best be remembered for becoming the first president in U.S. history to be impeached twice, failing to sufficiently lead the country during the outbreak COVID-19 pandemic, or allegedly inciting his supporters to engage in insurrection at the Capitol on January 6, 2021.
For others, he cut taxes by billions, engaged in talks with maligned world leaders including Vladimir Putin and Kim Jong Un, and built a wall along the border of Mexico.
But where Trump might have his longest-lasting influence is in the federal judiciary system, where rulings, ranging from health care to voting, being made by judges he nominated to the benches could have drastic effects on the lives of millions of Americans.
By the time he left office in 2021, Trump had appointed 28 percent of all active federal judges, including 54 federal appellate judges and 174 district court judges.
During his four years as president, Trump also nominated three of the nine sitting U.S. Supreme Court (SCOTUS) justices—Neil Gorsuch, Brett Kavanaugh and Amy Coney Barrett.
Once federal judges are appointed, they remain in office until they retire or die. As all three of Trump's SCOTUS judges are in their 50s, this means they have the potential to remain on the bench for decades to come.
Barrett replaced Ruth Bader Ginsburg, who served on the Supreme Court for 27 years until her death at age 87 in 2020.
"When as president of the United States, when you're able to appoint 33 percent of this country's nine Supreme Court justices, and 30 percent of the appellate judges, in part, you are shaping the landscape as far as the judicial process for a very long time," Jay Oliver, conservative political commentator and host at LI News Radio, told Newsweek.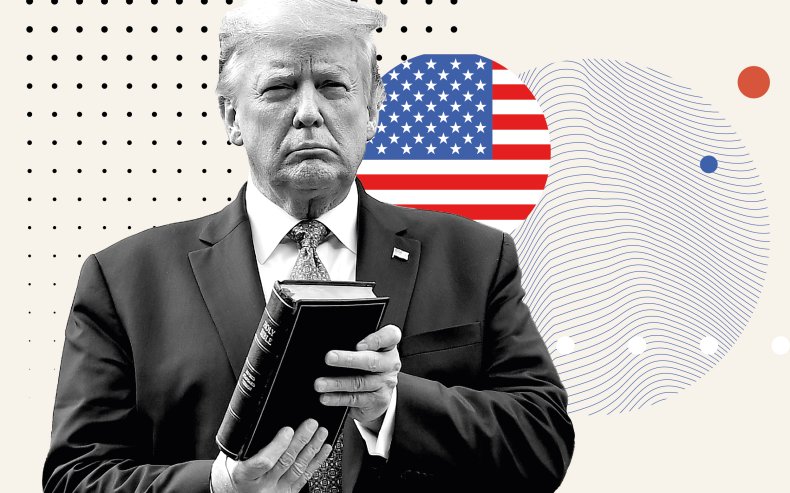 Roe v. Wade
The impact of one-third of Trump's appointments being on the SCOTUS bench was evident last year in one of the biggest legal decisions in modern U.S. history: the overturning of Roe v. Wade.
While the move was essentially decades in the making, Trump sought the credit for the historic abortion ruling. In June 2022, Trump described the overturning of Roe v. Wade as "the biggest win for life in a generation" that was "only made possible because I delivered everything as promised," including confirming three conservative judges to the court.
After Roe v. Wade was overturned, and a number of pro-abortion groups expressed fears that Republicans will not stop at trying to restrict access to the procedure but attempt to target contraception. Those fears could soon be realized because of the actions of one Trump-appointed federal judge, Matthew Kacsmaryk.
Kacsmaryk, a judge on the U.S. District Court for the Northern District of Texas who was nominated to the bench by Trump in 2017, was already known for making a series of contentious rulings on issues on LGBT rights and immigration through the years.
This includes ruling in August 2021 that the Department of Homeland Security had to reinstate Trump's controversial "Remain in Mexico" policy, and declaring in October 2022 that an attempt by the Biden administration to implement protections for transgender people in the workplace was unlawful.
Kacsmaryk made headlines in December after he became the first federal justice to approve a challenge to the right to contraception in the wake of the overturning of Roe v. Wade.
The judge issued an opinion on Deanda v. Becerra, a lawsuit filed by a Christian father hoping to block the Title X federal program—which allows minors access to contraception—over claims it violated his constitutional right as a parent.
In December, Kacsmaryk ruled in favor of the father's claim, which might result in all teenagers in Texas needing their parents' permission to get birth control at federally funded clinics. The Department of Health and Human Services has since appealed the decision.
Now, Kacsmaryk is to rule on yet another anti-abortion lawsuit that could impact the entire country.
The suit, filed in November on behalf of several anti-abortion groups such as the Alliance for Hippocratic Medicine, claims that the abortion drug mifepristone is not safe and that the Food and Drug Administration (FDA) "failed" America's women and girls when it chose "politics over science" by approving it in 2000.
Mifepristone, when taken along with misoprostol, is used to terminate a pregnancy within its first 10 weeks, with research suggesting that less than 1 percent of patients who take the pill suffered adverse side effects or health issues.
The Guttmacher Institute, a research organization that supports abortion rights, found that the two-pill method accounts for 54 percent of all abortions in the U.S.
In January, the FDA said in court filings that the attempt to remove access to mifepristone was "unprecedented" and based on allegations and speculation that are "untimely, unexhausted, and without merit."
While the anti-abortion suit was calling for what is essentially a nationwide ban of mifepristone, the case was filed in Amarillo, Texas, where the civil case was almost certain to be assigned to Kacsmaryk, the lone federal judge there.
"Mifepristone is incredibly safe. It's always been safe. It's safer than Tylenol, so there's no actual basis for taking it off the market," Angela Vasquez-Giroux, vice president of communications and research at NARAL Pro-Choice America, told Newsweek.
"Our research found that the Alliance for Hippocratic Medicine only formed in order to take this case specifically to this judge who they knew would rule in the most extreme manner possible. So we're expecting a bad ruling.
"More than more than 64 million people would suddenly lose access to medication abortions, and that's including people in states like Michigan, California, where abortion is not only legal but constitutionally protected."
With regard to just how far conservative judges, including those appointed by Trump on the Supreme Court, will be willing to go to implement a right-wing agenda on the U.S., Vasquez-Giroux suggested that there was "no ceiling on how bad this could be."
"Every potential case could come before any extremist right-wing judges, and make their way up to the Supreme Court, where they could be cemented into permanent law," she said.
Vasquez-Giroux added that the overturning of Roe v. Wade and other potential anti-abortion rulings are part of conservative's "long-term strategy to cheat to win."
"Anti-choice activists knew that they never had the support of the majority of Americans for their cause, and they knew that they could never make this happen through a fair legislative or judicial process," she said.
Jeff Guillot, a partner at political advocacy group Millennial Strategies, said that Trump-appointed judges are "taking a sledgehammer to generations of legal precedent" with their recent decisions.
While there is a "justifiably tremendous focus" on women's reproductive health, affirmative action and other issues, Guillot believes that a conservative ruling in a case on the Supreme Court docket focusing on the debunked "independent state legislature theory" could have the most "disastrous and profound impact" of all.
Moore v. Harper
The case Moore v. Harper focuses on North Carolina legislators who are asking the Supreme Court to allow them to set their own rules regarding voting and elections—such as redrawing congressional district lines to how ballots can be cast—even if they are in violation of constitutional limits set by the state.
The Supreme Court heard oral arguments in December about the case, which some say could severely impact democracy in the country.
"While I generally do not support the notion of expanding the Supreme Court, a ruling in favor of independent state legislature theory in Moore v. Harper can and should create such an inflection point in Congress," Guillot told Newsweek.
Some federal judges have revealed concerns about the politicization of the judiciary system.
In August, Judge Gregg Costa resigned from the 5th U.S. Circuit Court of Appeals, a three-quarter conservative bench covering Texas, Louisiana and Mississippi in which six of the 19 Republican president-nominated justices were Trump's.
According to data from Marquette University political science professor Paul Nolette, 43 percent of multistate lawsuits from Republican attorneys general that targeted the Biden administration have been in filed in the 5th Circuit.
Speaking in December, Costa cited concerns that the courts are purposely being used by litigants in the hope that a conservative judge will rule in their favor.
"I do fear that courts are becoming increasingly politicized, and there's a sense—at least outside the courts—that judges are on teams or that people root for certain sides," Costa told Bloomberg Law.
Costa, who was nominated to the bench by President Barack Obama, still needs to have his replacement named by President Joe Biden.