Trump 'Loved to Gossip' With Ginni Thomas About Who Was Disloyal: Grisham
Former White House official Stephanie Grisham said that former President Donald Trump "loved to gossip" with Virginia "Ginni" Thomas, a conservative activist and the wife of Associate Supreme Court Justice Clarence Thomas.
Thomas has faced substantial backlash after The Washington Post and CBS News last month first reported text messages between her and Trump's former White House chief of staff Mark Meadows in the wake of the 2020 election and leading up to the U.S. Capitol attack on January 6, 2021. Those messages expressed strong support for efforts to overturn the election results and advised the then White House official regarding legal counsel Trump should utilize.
"Help This Great President stand firm, Mark!!!...You are the leader, with him, who is standing for America's constitutional governance at the precipice. The majority knows Biden and the Left is attempting the greatest Heist of our History," she wrote in a November 10, 2020 message to Meadows. She also told the Trump administration official that controversial right-wing attorney Sidney Powell should be "the lead and the face" of efforts to overturn Biden's win.
Many critics have slammed Thomas as well as her husband—contending that her activism and support for overturning the 2020 election results were highly unethical. Cases regarding Trump's election loss have already gone before the Supreme Court, with Thomas' husband involved in those rulings. More cases related to January 6 may also go before the nation's top judicial body.
Grisham, who served as White House press secretary as well as chief of staff to former first lady Melania Trump in the Trump administration, described the close relationship Trump and Thomas had.
"Trump loved talking to Ginni so much because he loved hearing about who was a Never Trumper, or allegedly one. He loved people who would flatter him, [as Ginni would do]," she told The Daily Beast. "But also, his obsession with loyalty aside, he just loved to gossip—all the time. That's something else he got out of his series of meetings at the White House with Ginni Thomas."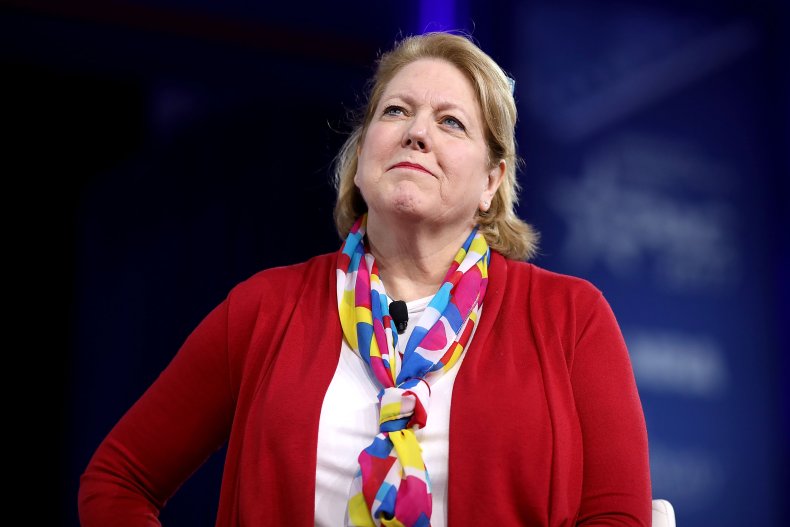 Grisham, along with a slew of other Trump administration officials, resigned on January 6, 2021. She has since gone on to apologize for serving in the Republican president's White House—repeatedly criticizing the former administration.
"If I were to leave [the White House], I'm a single mom who needs a job. And let me tell you, no one was gonna hire me, good, bad or ugly, after two years, three years, four years. I had to think about that," Grisham said while guest-hosting The View in early March. "But my point is now, I messed up. I am sorry. I will say that 'til the end of time."
Previously in October of last year she told ABC News that it was a "mistake" to serve in the Trump administration.
"I was [enabling a culture of dishonesty in the White House]. I've reflected on that and I regret that," Grisham said. "Especially now when watching him, and so many people, push the false election narrative. I now want to, in whatever way I can, educate the public about the behaviors within the White House because it does look like he's going to try to run in 2024."
This week, as many criticized Thomas, a video of her in 1986 talking about her previous experience in a cult surfaced online. The clip was shared to Twitter by Steven Hassan, an expert and author of several books about cults. In his post, Hassan wrote, "I knew Ginni Thomas. Ginni Thomas was in a cult (the large group awareness training cult, Lifespring)."
"When you come away from a cult, you have to find a balance in your life as far as getting involved in fighting the cult or exposing it. And, kind of, the other angle is getting a sense of yourself, and what was it that made you get into that group and what open questions are there that still need to be answered," a woman identified as Thomas in the video says.
"I want to expose Lifespring, I want to keep other people from going through that experience, but I also don't want to go overboard in that regard so that I can reconnect with my own needs in a spiritual way, which I still haven't done," the conservative activist adds.
Many commentators and analysts have described Trump's "Make America Great Again" or "MAGA" movement as "a cult."
"Sadly, the people who helped deprogram Ginni were also apparently involved in right-wing causes. As is the case with SO many former members, she was overly susceptible and went from one cult to another (The Cult of Trump)," Hassan assessed in his Twitter thread.
Newsweek has reached out to Thomas and Trump's spokesperson for comment.