DOJ Could Prosecute Trump If 'Quality' Jan. 6 Hearings Continue: Lawyer
Donald Trump could face criminal charges in relation to the January 6 attack on the U.S. Capitol if the House Select Committee continues to showcase "quality" evidence against him, according to a lawyer.
George Conway, a frequent Trump critic who also is married to former White House counselor Kellyanne Conway, told MSNBC that he was impressed with Thursday's hearings in which the panel presented their findings following an 11-month investigation.
The hearing, which was televised live in prime time, featured video evidence, live testimony and media presentations that committee chairman Representative Bennie Thompson, a Democrat from Mississippi, said would show how the January 6 attack was the "culmination of an attempted coup" from Trump, and that the storming of the Capitol was his "most desperate chance" at overturning the election results.
While the House committee's investigation—which has heard from more than 1,000 witnesses and gathered more than 100,000 documents—is not a criminal inquiry, panel members have expressed a hope the evidence they will present will persuade the Department of Justice to indict Trump over his role in the insurrection.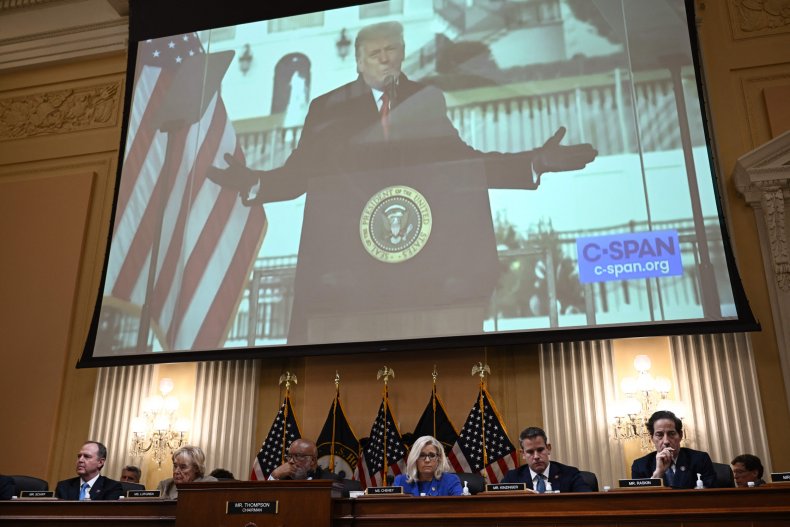 Conway said that those at "9th and Pennsylvania" in Washington D.C. where the Department of Justice is located would have been watching the processing on Thursday to see if the panel had presented a "triable" criminal case.
"And I'm hoping that audience was watching very closely, and I think if they watched what happened last night, and if this if the hearings are continually as high-quality as was what we saw last night, they're going to conclude this is a tribal case," Conway said.
Some of the key moments from Thursday's hearings included detailing how Trump ignored several members of his inner circle who told him the 2020 election was not rigged and how the former president's own tweets helped inspire far-right extremists to attack the Capitol on his behalf.
Republican Representative Liz Cheney of Wyoming, the panel's vice-chair, also alleged that Pennsylvania Representative Scott Perry and "multiple other Republican congressmen" sought presidential pardons from Trump before he left office over their roles in attempting to overturn the 2020 election.
Conway added that it did not matter that Fox News was the only major news network not to show the hearing live as "the truth has a way of seeping out."
"They [House Committee] did such an effective job last night of laying it out and laying out but this wasn't just about the violence on January 6," Conway said.
"This was a masterful prosecutorial presentation by Representative Cheney. It was brutally, brilliantly done, and what it did was it tied together all the various strands of what Donald Trump caused, what he did, and his criminal intent."