U.S. Automakers React to Biden Administration's EV Push, New CAFE Standards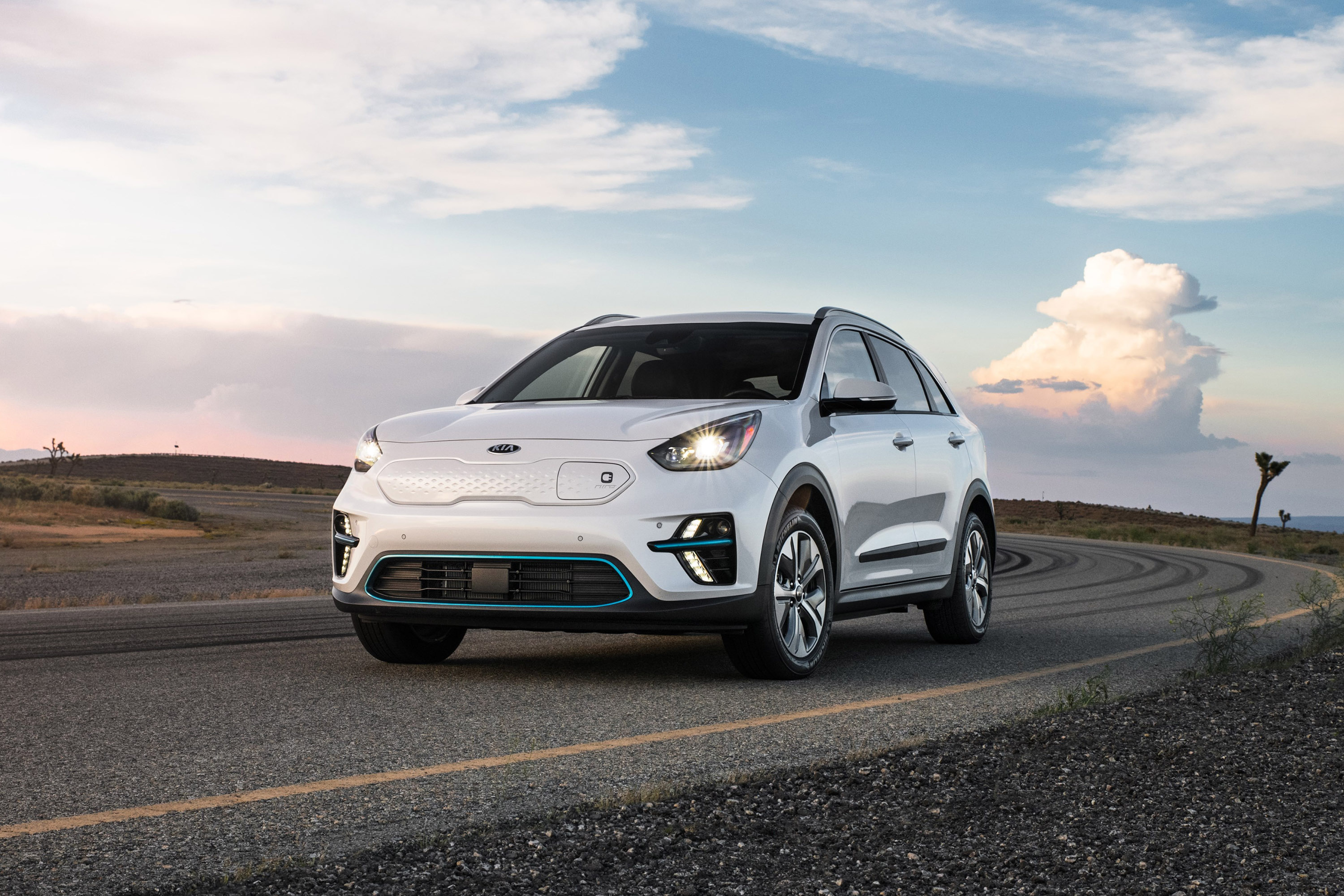 On Thursday, the Biden Administration announced new fuel efficiency and electric vehicle sales goals for automakers in a push to lead the market through regulation and influence consumer buying behavior.
President Joe Biden wants 50 percent of new vehicles to be powered by battery electric (BEV), plug-in hybrid electric (PHEV) or fuel cell (FCEV) electric vehicle powertrains by 2030. He also instructed the Environmental Protection Agency and the Department of Transportation to change the rollbacks made to Corporate Average Fuel Economy (CAFE) standards by the Trump Administration.
Here is how major automakers responded to the news and the electric vehicle (EV) models they already have in their lineup that will assist with future compliance.
Honda, Ford, BMW, Volkswagen and Volvo Cars released a joint statement this morning saying, "We were proud to stand with California to establish progressive new greenhouse gas regulations, and we remain committed to leading the industry in fighting against climate change. That's why we support the Administration's goal of reaching an electric vehicle future and applaud President Biden's leadership on reducing emissions and investing in critical infrastructure to achieve these reductions.
"While the California framework companies are driving towards 40 to 50 percent of our sales being EVs in the next nine years, bold action from our partners in the federal government is crucial to build consumer demand for electric vehicles and put us on track to achieve the global commitments of the Paris Climate Agreement. That includes a strong nationwide greenhouse gas emissions standard, continued investments in charging infrastructure and broad consumer incentives for all electric vehicle purchases."
Ford also joined General Motors and Stellantis in responding to the news. Their joint statement reads in part, "Today, Ford, GM and Stellantis announce their shared aspiration to achieve sales of 40 to 50 percent of annual U.S. volumes of electric vehicles (battery electric, fuel cell and plug-in hybrid vehicles) by 2030 in order to move the nation closer to a zero-emissions future consistent with Paris climate goals.
"Our recent product, technology, and investment announcements highlight our collective commitment to be leaders in the U.S. transition to electric vehicles. This represents a dramatic shift from the U.S. market today that can be achieved only with the timely deployment of the full suite of electrification policies committed to by the Administration in the Build Back Better Plan, including purchase incentives, a comprehensive charging network of sufficient density to support the millions of vehicles these targets represent, investments in R&D, and incentives to expand the electric vehicle manufacturing and supply chains in the United States."
Honda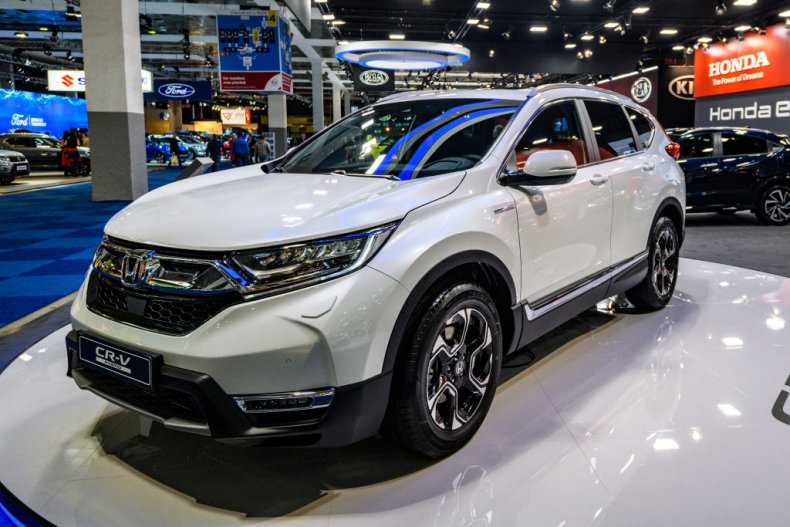 In a statement to Newsweek, a spokesperson for Honda said, "In order to meet our ambitious climate goals, we will need to work closely with state and federal governments to promote policies that stimulate consumer demand for EVs, create electrification infrastructure, and support EV manufacturing jobs here in the United States."
Honda is the current fuel economy leader in the U.S. with the lowest fleet-wide carbon emissions according to the most recent Environmental Protection Agency (EPA) calculations.
The company has announced intentions to sell 100 percent electrified vehicles by 2040 and be operationally carbon neutral by 2050. Honda points out that the company utilizes green power buying schemes that cover more than 60 percent of the electricity Honda uses at its North American auto plants.
The company currently sells the fuel-efficient Insight, Accord Hybrid, Clarity and CR-V Hybrid. On deck is the Honda Prologue, an SUV that the company says will be the first in a series of fully electric cars.
Acura, the company's premium arm, sells the NSX, a high-performance hybrid model. Before the car's run is up in 2023, the automaker will release a new, more powerful version, the NSX Type S.
General Motors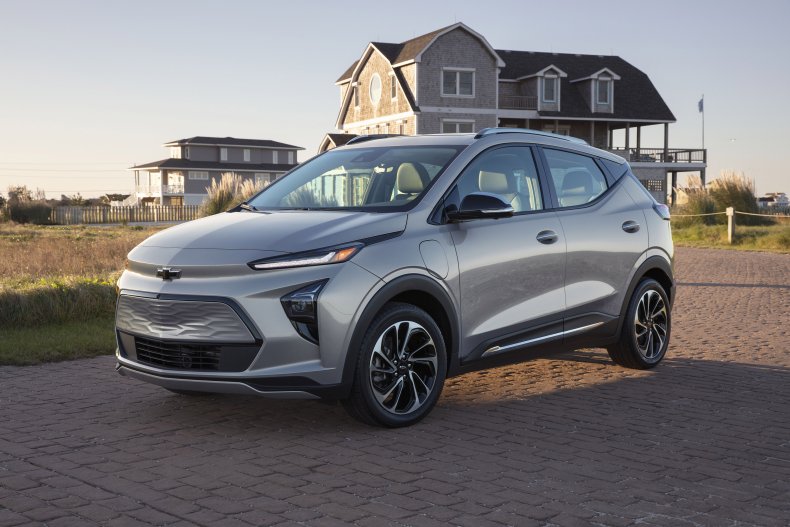 In a statement, General Motors applauded the administration's efforts on Wednesday, saying, "General Motors is committed to a zero-emissions, all-electric future and has charted a path which aspires to eliminate tailpipe emissions from new light-duty vehicles by 2035.
We are pleased to join in today's joint statement of a shared aspiration of achieving 40 to 50 percent of annual U.S. sales volumes of electric vehicles by 2030. For GM, that means battery electric vehicles. To reach the high end of this range, we will continue to work with the Biden Administration, Congress, and state and local governments for implementation of supportive policies for the benefit of our workforce, our dealers, our customers and their communities."
Generating headlines for its ongoing electric vehicle push, Chair and CEO Mary Berra said in a letter to shareholders on Wednesday that the company plans to accelerate its investments in electric and self-driving vehicles from $8 billion to $35 billion by 2025.
Under its GMC brand, the company is taking reservations for a Hummer EV pickup that is expected to be available later this year. The BrightDrop EV600 electric commercial vehicle is also coming later in 2021. A Hummer EV SUV is planned for early 2023.
The Chevrolet brand currently offers the 2022 Chevrolet Bolt EV and EUV (electric utility vehicle). Coming down the pipeline in the Cadillac brand, the company plans to start taking reservations in September for the 2023 Cadillac LYRIC, an all-electric vehicle.
The company plans to launch more than 30 EVs on the North American and Chinese markets with the goal of selling 1 million EVs a year by 2025.
Stellantis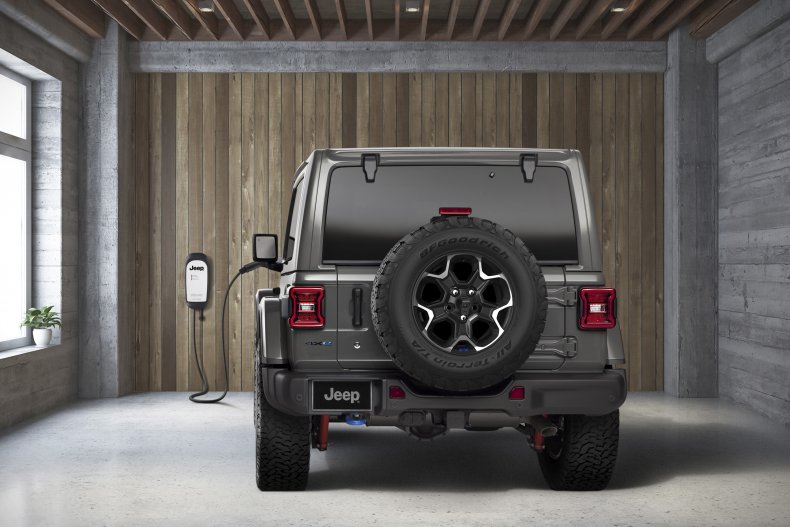 A spokesperson for Stellantis shared the company's reaction to the order with Newsweek saying, "Our path to a cleaner future is defined by our $35 billion investment in vehicle electrification, which includes four flexible BEV platforms, a scalable family of three electric-drive modules and solid-state battery development. This activity also serves to echo the Administration's commitment to safeguard employment for American workers."
As part of its first half 2021 results announcement, Stellantis projected 21 PHEV and BEV launches over the next three years.
The Jeep brand currently offers the 2021 Wrangler 4xe, a PHEV that offers an EPA-estimated 21 miles of all-electric range. Before the end of the year, the brand plans to offer a Grand Cherokee L PHEV. In the first half of 2023, Jeep expects to introduce its first all-electric vehicle.
Outside of the U.S. Fiat currently offers the 500e and has plans to launch two BEV vehicles in 2022.
The Chrysler brand currently offers the Pacifica PHEV minivan.
In 2022, Dodge is planning to launch a currently unknown plug-in hybrid vehicle. A full-size pickup is expected to go on sale in 2024.
Ram Trucks sells electrified versions of the 2021 1500 in Lone Star, Longhorn and Big Horn trims. An electric version of the 1500 truck is slated for 2024.
Stellantis plans to make the Alfa Romeo brand fully BEV by 2027 with a PHEV car coming to market in 2022.
Mitsubishi
Later this year, Mitsubishi will debut a new version of its Outlander PHEV. It is set to arrive in the U.S. in 2022.
Mitsubishi provided a statement on the action to Newsweek:
"Mitsubishi Motors applauds the efforts of the Administration and the auto industry to work towards a shared vision that will continue to deliver clean, advanced technology vehicles to customers on a national basis, consistent with the position of the Alliance for Automotive Innovation. Under its own environmental vision for the future, Mitsubishi Motors will reduce global CO2 emissions by 40 percent by 2030, compared to fiscal-year 2020; reduce the CO2 emissions of our global business activities and facilities by 40percent by 2030, compared to fiscal-year 2014; and raise the percentage of electrified vehicles to 50 percent of global volume by 2030.
"We have made a significant investment in PHEV, and the technology's global sales success proves its popularity as a consumer-friendly stepping stone to other future technologies. To make the future vision a reality, Mitsubishi Motors supports the continued need for a national vehicle-charging infrastructure as critical for broad customer acceptance of electrified transportation choices."
Ford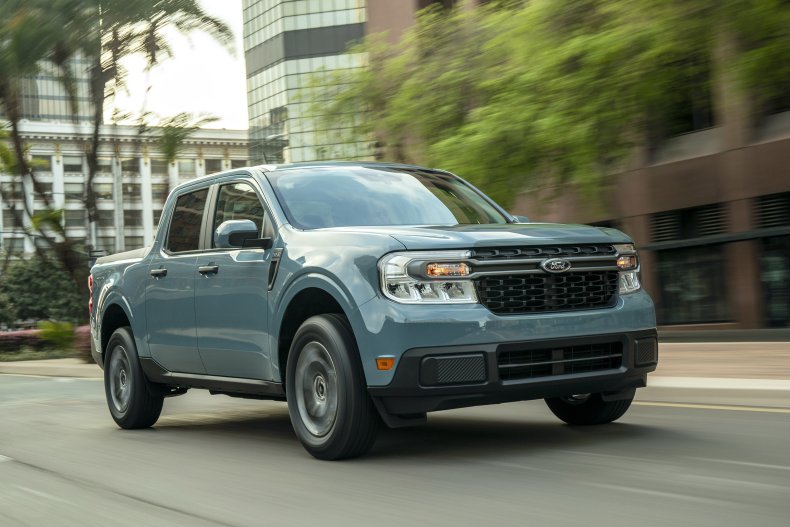 In a statement to Newsweek, Ford CEO Jim Farley said, "Ford is on an ambitious trajectory to lead the electrification revolution -- from being the only full-line American automaker to side with California in favor of stricter greenhouse gas emissions, to electrifying our most iconic and popular vehicles, like the F-150 Lightning, Mustang Mach-E and E-Transit.
"Customer demand has exceeded our expectations. So, we expect to be well positioned to have fully electric vehicles account for 40 to 50 percent of our U.S. sales by 2030. We're counting on strong cooperation among the Biden Administration, Congress and state and local governments, and are doing our part by developing high-quality, zero-emission vehicles that customers want."
The Detroit-based automaker currently offers hybrid versions of the 2021 Escape, Explorer, and F-150. An Escape PHEV is also part of the lineup as is the all-electric Mustang Mach-E. Ford is currently taking reservations for the electrified 2022 Maverick and battery electric F-150 Lightning.
The company's Lincoln premium brand currently sells PHEV versions of its Corsair and Aviator SUVs.
Hyundai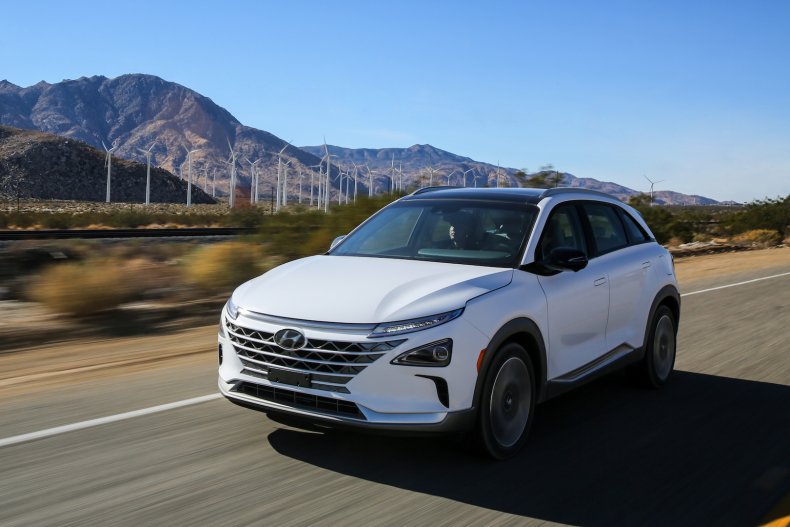 In a statement emailed to Newsweek, Hyundai said, "Hyundai Motor America supports the Biden administration's goal for the automotive industry to achieve 40 to 50 percent zero emission vehicle (ZEV) sales by 2030. Meeting this goal will be challenging and underscores the need for robust incentives for consumers to drive demand for ZEVs and rapid development of hydrogen fuel cell and electric vehicle infrastructure.
"Both battery and hydrogen fuel cell vehicles are critical technologies to combat climate change. Hyundai will continue to develop these capabilities and make them more accessible to Americans as part of our commitment to progress for humanity."
Hyundai currently offers a wide variety of hybrid, PHEV and EV vehicles. In its SUV line, the company sells the Tucson and Santa Fe in various hybrid forms, an all-electric Kona SUV, and the Nexo hydrogen fuel cell-powered vehicle. Hyundai also sells Elantra and Sonata Hybrids. Hyundai is currently taking reservations for its all-electric 2022 Ioniq 5 hatchback.
Kia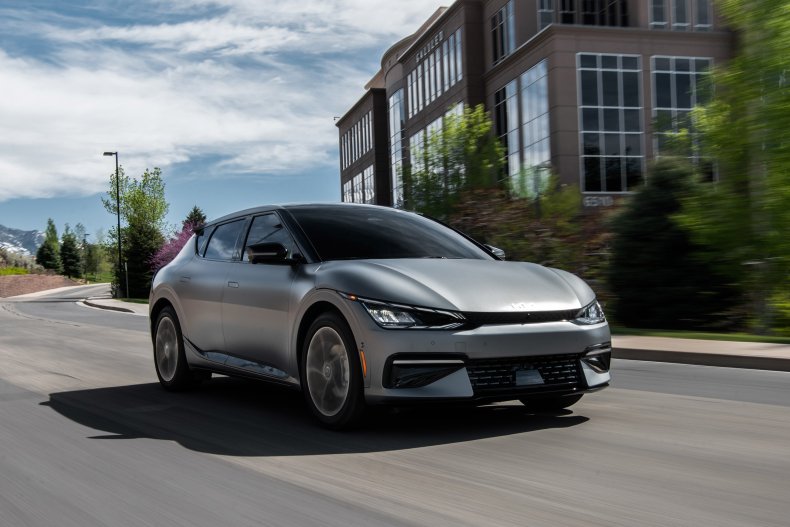 When reached for comment, Kia America provided this statement to Newsweek:
"Kia America applauds the Biden Administration's ambitious goal to increase zero emission vehicle (ZEV) sales in the U.S. market in the coming years. Kia is already making major investments in electrification and mobility with a goal to offer 11 EVs globally by 2026. We look forward to reviewing this federal rule in more detail and urge further progress on other necessary supportive governmental policies including robust charging infrastructure and broad consumer incentives to ensure widespread consumer adoption of these vehicles."
The South Korean automaker sells various hybrid and electric versions of the Niro crossover. The recently redesigned Sorrento is available with a hybrid powertrain. Coming down the pipeline is the 2022 Kia EV6, an all-electric model that is expected to ship in January 2022.
Jaguar-Land Rover
The Land Rover luxury brand sells PHEV versions of the Range Rover and Range Rover Sport SUVs.
Jaguar, the British luxury line, offers the Jaguar I-Pace BEV. The Jaguar F-Pace and E-Pace are offered in PHEV versions. The F-PACE, E-Pace, XE and XF lines are available as mild-hybrid cars.
Newsweek has approached Jaguar-Land Rover for comment regarding the Biden Administration's actions today but has not heard back.
Mercedes-Benz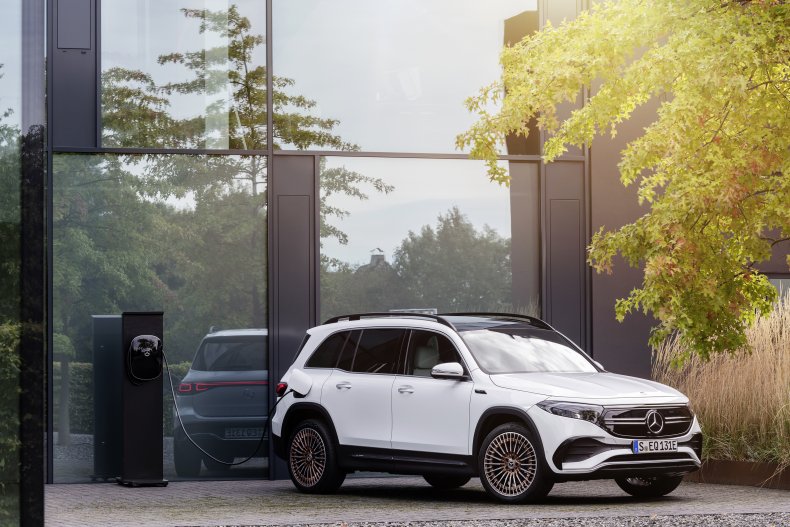 In April 2021 the German luxury vehicle producer debut EQS, an all-electric luxury sedan. Shortly after it revealed the EQB, an all-electric compact SUV.
Last month, the company announced that BEVs would be available in all segments that it serves. From 2025, all new vehicles will be launched as electric-only. Mercedes-Benz plans to launch three new, all-electric vehicles in 2025.
The automaker provided a statement to Newsweek regarding today's announcement:
"Mercedes-Benz welcomes the Biden Administrations plan of achieving EV purchases between 40 and 50 percent of new vehicle sales by 2030. In July 2021, Mercedes-Benz announced it will be ready to go all electric by the end of the decade, where market conditions allow. Shifting from electric-first to electric-only, the world's pre-eminent luxury car company is accelerating toward an emissions-free and software-driven future. From 2025 onwards, all newly launched vehicle architectures will be electric-only and customers will be able to choose an all-electric alternative for every model the company makes. Key to the success is an easily accessible and reliable charging infrastructure."
Mazda
Earlier this year, the company announced the Mazda MX-30 EV is expected to come to market in the fall. An hybrid version of the MX-30 is due in 2022.
Between 2022 and 2025, the company plans to roll out five HEVs, five PHEVs and three EVs.
The company reacted to the news saying in a statement to Newsweek, "Mazda is committed to a net-zero carbon transportation future and we look forward to evaluating the EPA and DOT's proposed changes to light-duty vehicle standards for Model Years 2023-2026 and working with the Administration. To meet market demands, between 2022 and 2025, Mazda will introduce our 'Skyactiv Multi-Solution Scalable Architecture' products, which will consist of five hybrid models, five plug-in hybrid models and three EV models. In addition, several products with the 'Skyactiv Scalable EV Architecture' will be introduced between 2025 and 2030. Based on this product launch plan, all of our US products will have some form of electrification by 2030."
Toyota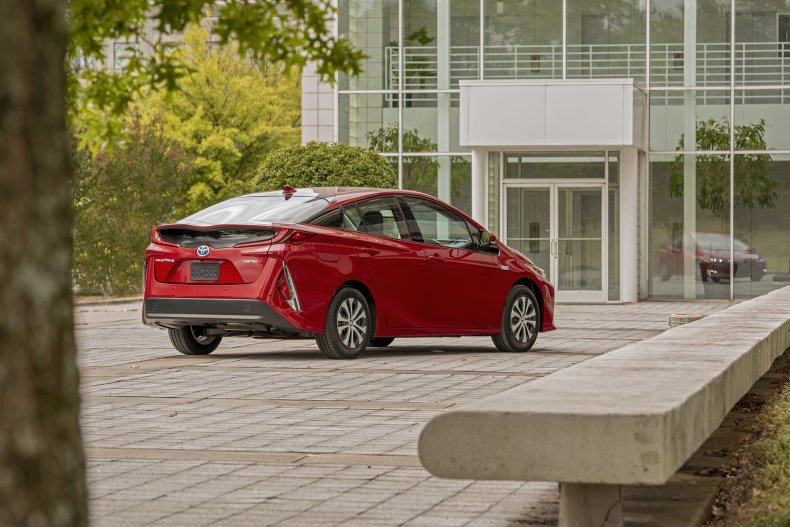 In reaction to the news, Toyota Motor North America CEO Ted Ogawa said in a statement:
"Today the EPA proposed stringent new environmental standards for future vehicles. Concurrently, the Biden Administration set an aspirational goal that up to 50% of the new vehicle market will be electric by 2030. You can count on Toyota to do our part. This is great for the environment and helps protect the 436,000 American jobs of our employees, dealers, suppliers and other stakeholders in the U.S. Let's go!"
Toyota sells a number of hybrid and plug-in hybrid electric vehicles. Its Prius family offers two efficient powertrain options. The company also offers the RAV4 Hybrid and RAV4 Prime Plug-In Hybrid. The Corolla, Camry, Avalon and Highlander are available with hybrid power plants while on the Venza and Sienna the fuel-efficient engine type is standard. The 2021 Mirai is the company's lone FCEV.
Soon, the automaker will launch its bz4X all-electric SUV, the sister of the Subaru Solterra.
BMW
BMW currently offers the fully electric i3 and i3s models. The iX and i4 BEV additions to the line are on tap to hit the market in Spring 2022.
The company also offers a line of hybrid versions of the X3, X5, 3 Series, 5 Series and 7 Series.
Its MINI brand model line offers a Mini Cooper SE Hardtop 2 Door EV.
Nissan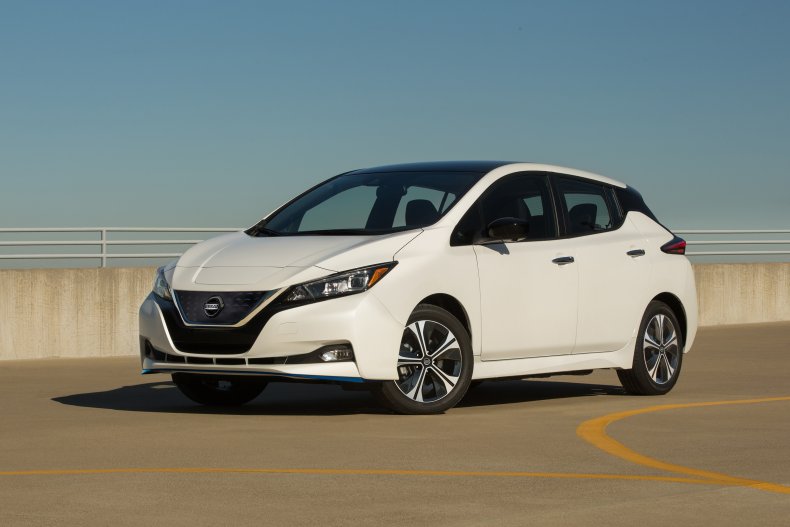 The Japan-based automaker's flagship electric car is the Nissan Leaf, which just got a price reduction that places a base model at $27,400. The company also plans to bring the Nissan Ariya, an electric crossover SUV, to the U.S. market later this year.
Nissan sent a statement to Newsweek regarding the news:
"With Leaf, Nissan showed our pioneering spirit in electric vehicles. Now with more than a half-million pure EVs sold and more than 5 billion electric miles driven on roads around the world, we're helping to lead the electric vehicle revolution," said Jeremie Papin, chairperson, Nissan Americas. "Nissan is fully committed to doing our part toward building a cleaner, safer and more inclusive society for all.
"It is critical to have industry and government working together to advance consumer adoption of EVs, as well as the manufacturing and infrastructure support to get the next-generation of electrified mobility on the road," said Papin. "First and foremost, we want more American consumers to enjoy the benefits of electrification: lower emissions, lower operating costs and a lot more fun behind the wheel."
Subaru
Currently, Subaru offers an PHEV version of its Crosstrek SUV. Next year, the company will debut the 2023 Subaru Solterra EV, an all-electric model it co-developed with Toyota.
Thomas J. Doll, President and CEO, Subaru of America, Inc, shared the statement below with Newsweek regarding the news;
"Subaru applauds the Biden-Harris Administration's commitment to addressing climate change by moving forward with policies that promote vehicle electrification, spur economic growth, and create new jobs. Together with our employees and over 630 retailers in the United States, Subaru looks forward to working with the Administration to help achieve its ambitious 2030 goals for transitioning the transportation sector to a zero emission future."
Tesla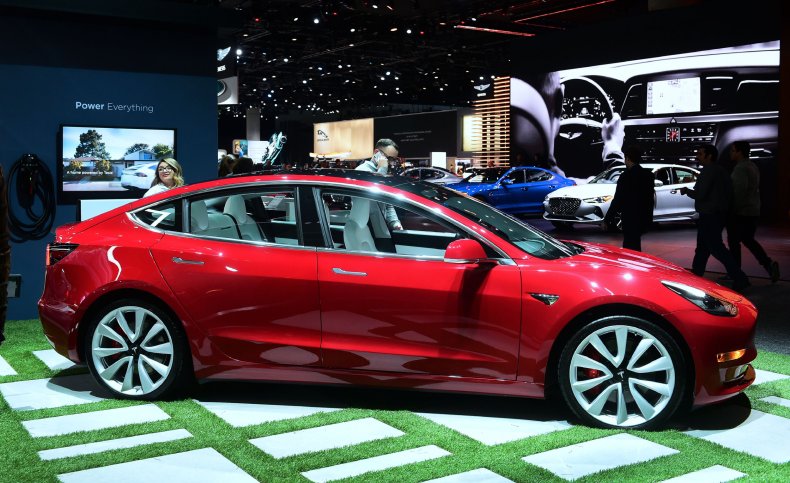 Tesla is currently the only carmaker that mass produces exclusively all-electric vehicles for the U.S. market. The company offers the Model S, Model 3, Model X and Model Y. The second-generation Roadster and Cybertruck are planned for the future.
The automaker did not respond to Newsweek's request for comment regarding the administration's actions.
Volkswagen
The automaker currently sells its Volkswagen ID.4 electric crossover. In an update to its classic VW Bus line, Volkswagen plans to start making a production version of the all-electric ID.BUZZ concept van in 2022. The company sells additional BEVs in other markets.
The company sells the Porsche Taycan and Taycan Cross Turismo under its broader corporate umbrella, and is in the process of launching an EV powertrain evolution within Audi.
Audi of America president Daniel Weissland told Newsweek, "At Audi, our EV roadmap is clear and ambitious. At the end of this year, Audi will have more fully electric plug-in models in the U.S. than any other premium automaker. We are committed to an electrified future and support the Biden administration's push towards dramatically lower transportation emissions. To reach our shared goals, we must work together and Audi is committed to continuing to lead the transition towards zero emissions mobility."
Volvo
The Sweden-based manufacturer sells PHEVs under XC90 Recharge, XC60 Recharge, S90 Recharge, S60 Recharge and V60 Recharge badging. The C40 Recharge XC40 Recharge are the company's full-electric models.
By 2025, Volvo wants 50 percent of its sales volume to come from fully-electric vehicles.