U.S. Says 'Iran Has the Largest Ballistic Missile Force in the Middle East' and Can Target Europe
Secretary of State Mike Pompeo has warned that Iran's unmatched missile capabilities in the region presented a threat to Europe, which has so far advocated for a more moderate approach than the United States to the revolutionary Shiite Muslim power.
Addressing the United Nations Security Council, Pompeo said Wednesday that "Iran has the largest ballistic missile force in the Middle East," including "more than 10 ballistic missile systems in its inventory or in development." The top U.S. diplomat argued that its longtime Middle East foe had "hundreds of missiles that pose a threat to our partners in the region" and some that went even further.
"The U.S. will be relentless in building a coalition to confront the Iranian regime's ballistic missile activity—and other malign behavior, including the abuse of its own people. We will keep standing with ordinary Iranians, who are the regime's longest-suffering victims," Pompeo said in a video he shared on Twitter.
Pompeo went on to cite a report of a nuclear-capable Iranian missile said to be able to travel up to 2,000 kilometers, or about 1,243 miles, far enough to target the capitals of Bulgaria, Greece and Romania, as well as other major European cities.
The Center for Strategic and International Studies describes Iran as having "the largest and most diverse missile arsenal in the Middle East." The Washington-based think tank's Missile Defense Project found the country to have at least a dozen different types of operational weapons with ranges varying from about 186 miles to some 1,553 miles, and up to four more in kinds in development.
Though ballistic missile development did not explicitly violate the terms of the nuclear accord signed by the U.S. and Iran—alongside China, France, Germany and the United Kingdom in 2015—President Donald Trump has used Iran's growing missile capabilities as well as its alleged support for armed movements abroad as justification to leave the deal in May. The agreement's other signatories have opposed this move, and Pompeo has led efforts to convince European allies to join U.S. sanctions imposed on Tehran in the wake of Washington's turnaround.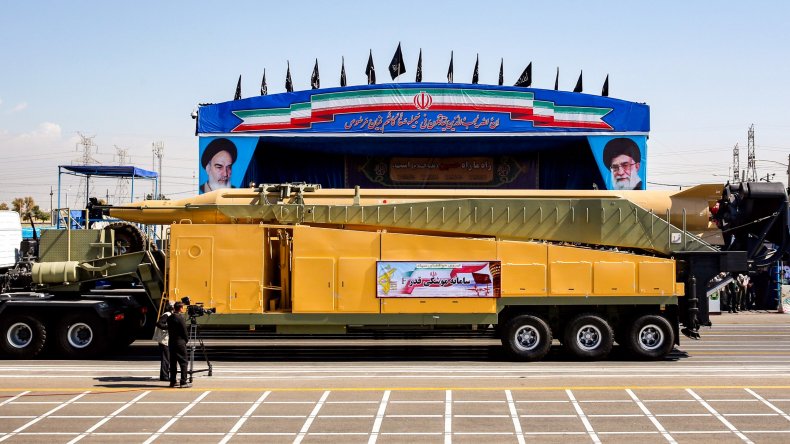 In addition to accusing Tehran of threatening the region with its missiles, Pompeo said that Tehran is "harboring al-Qaeda, supporting Taliban militants in Afghanistan, arming terrorists in Lebanon, facilitating illicit trade in Somali charcoal benefiting Al-Shabab and training and equipping Shia militias in Iraq." The Trump administration has previously estimated that the sum of Iranian funds allocated annually to groups designated as terrorist organizations by the U.S. totaled $1 billion, making it "the world's largest state sponsor of terrorism."
Both the U.S. and Iran have been deeply involved in the battle against the Islamic State militant group (ISIS) and other ultraconservative Sunni Muslim groups across the Middle East, but they have accused one another of destabilizing the region. Iran's ambassador to the U.N. Eshagh al-Habib dismissed Pompeo's remarks, accusing the U.S. of threatening to starve the Iranian people through harsh sanctions and of "fabrication, disinformation and evoking irrelevant criteria" in its statements.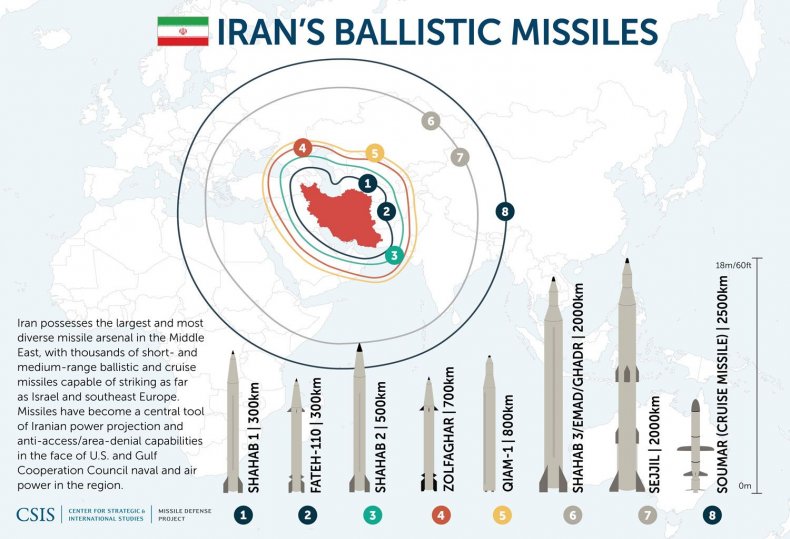 Iran has vowed to continue expanding its missile program, which it views as vital to its survival in the face of foes like the U.S., Israel and Saudi Arabia. Though Iran has denied accusations that it directly supplied Shiite Muslim rebel group known as Ansar Allah or the Houthis with missiles, Revolutionary Guards air force chief Amir Ali Hajizadeh said in October that the elite force had expanded the range of its missile capabilities, touting them as "first in the region and seventh or eight in the world."
On Tuesday, Hajizadeh confirmed that Iran had conducted an "important" ballistic missile test, one of what he claimed was around 50 such launches a year. European powers have condemned such demonstrations, but have sought to continue negotiations in an effort to salvage the nuclear deal.
Iran has previously compared presentations and speeches made by top Trump administration officials regarding Iran to those made by former President George W. Bush in the lead-up to the Iraq War, which was launched in 2003 under the pretext of false accusations that Iraqi President Saddam Hussein was producing weapons of mass destruction and supporting Al-Qaeda.